Books
Please visit the Mac Keith Press website for a full list of titles.
AACPDM members enjoy a 20% discount on all Mac Keith Press books and courses when ordered direct from Mac Keith Press.
Mac Keith Press exists to improve the lives of disabled children by extending the knowledge and understanding of developmental medicine and paediatric neurology through our publications: the monthly journal Developmental Medicine and Child Neurology, books, courses and other resources in related subject areas. These are of interest to researchers, health professionals, clinicians, therapists, parents and all involved in the care of children and young people with neurodevelopmental conditions, as well as those with lived experience.
Highlighted: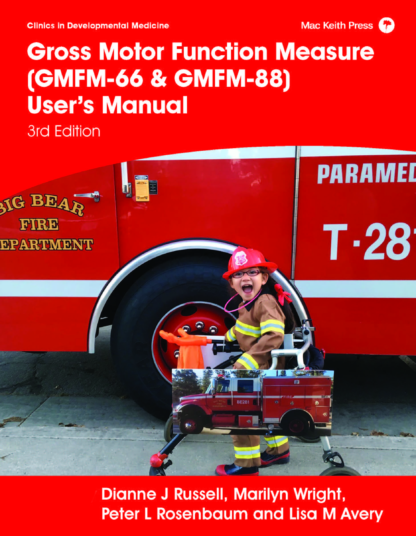 Gross Motor Function Measure (GMFM-66 & GMFM-88) User's Manual 3rd Edition
The third edition of the Gross Motor Function Measure (GMFM-66 & GMFM-88) User's Manual has retained the information contained in the original 2002 and 2013 publications which included the conceptual background to the development of the GMFM, and the administration and scoring guidelines for people to be able to administer this clinical and research assessment tool appropriately. Information is presented on the development and validation of two abbreviated methods of estimating GMFM-66 scores using the GMFM-66-Item sets (GMFM-66-IS) and the GMFM-66-B&C (Basal & Ceiling), and updates are included on the Challenge module and the Quality FM, translations, and the use of the GMFM in populations other than cerebral palsy and Down syndrome.
---
Featured:
2022
The Musculoskeletal System in Children with Cerebral Palsy: A Philosophical Approach to Management | Martin Gough and Adam Shortland
Do we need a paradigm shift in our approach to the assessment and management of the musculoskeletal system in children with cerebral palsy? This book encourages clinicians to reflect on how their thoughts and approaches are shaped by the clinical society. Using new perspectives and expertise, this book will inspire clinicians to rethink conventions about the child with cerebral palsy, consider how they communicate these new concepts to their fellow clinicians, and act to bring about positive change in the management of children with cerebral palsy.

---
2022
SINDA: Standardized Infant NeuroDevelopmental Assessment | Mijna Hadders-Algra, Uta Tacke, Joachim Pietz, Heike Philippi
Is there a way to accurately predict neurodevelopment disabilities within the first year of life? Standardized Infant NeuroDevelopmental Assessment (SINDA) has been developed as a screening instrument for infants aged 6 weeks to 12 months corrected age, to assist early detection of infants at high risk of neurodevelopmental disorders. It is the first developmental instrument to allow a comprehensive (360-degree) approach including "all" dimensions of development. With an assessment in less than 10 minutes, SINDA can be used quickly in virtually any environment and requires only simple equipment.
---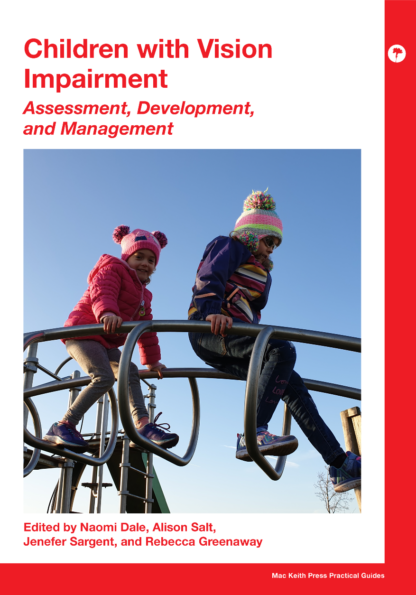 2021
Children with Vision Impairment: Assessment, Development, and Management | Naomi Dale, Alison Salt, Jenefer Sargent, and Rebecca Greenaway
Vision impairment is a long-term condition caused by disorders of the eye, optic nerve, and brain. Using evidence-based knowledge, theory, and research, this book provides practical guidance for practitioners who are involved in the care and management of children with long-term vision impairment and disability. The book is divided into four sections following the ICF-CY model: (1) eye disorders, vision and brain, (2) child development and learning from birth to older childhood, (3) habilitation, orientation, reading and assistive technologies and (4) social relationships and participation in everyday contexts.
---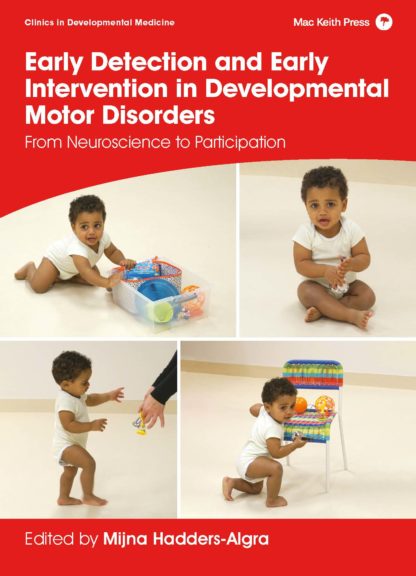 2021
Early Detection and Early Intervention in Developmental Motor Disorders | Mijna Hadders-Algra (Editor)
Critically ill infants in the newborn period are at high risk of developmental motor disorders. Mijna Hadders-Algra comprehensively addresses how best to detect which infants will be later diagnosed and how best to enact early intervention to improve their quality of life. Parts I & II provide an overview of the clinical picture and neurodevelopmental mechanisms. In Parts III & IV basic principles and features governing typical and atypical motor development are explained. Part V summarises assessment methods and Part VI discusses the methods and effectiveness of early intervention.
---
2020
Extremely Preterm Birth and its Consequences | Olaf Dammann, Alan Leviton, T Michael O'Shea, Nigel Paneth (Editors)
The ELGAN (Extremely Low Gestational Age Newborns) Study was the largest and most comprehensive multicentre study ever completed for this population of babies born before 28 weeks' gestation. The authors' presentation and exploration of the results of the research will help clinicians to prevent adverse health outcomes and promote positive health for these children. They have focused on the exposures and outcomes related to the developing brain, inflammation and infection as major risk factors for developmental adversity.
---
---
2020
Principles and Practice of Child Neurology in Infancy, 2nd Edition | Colin Kennedy (Editor)
Management of neurological disorders presenting in infancy poses many challenges for clinicians. Using a symptom-based approach, and covering a wide range of scenarios, the latest edition of this comprehensive practical guide provides authoritative advice from distinguished experts. It now includes revised coverage of disease prevention, clinical assessment, and promotion of neurodevelopment.