Osteoporosis in Cerebral Palsy
Definitions
Osteoporosis: In children, the diagnosis of osteoporosis is based on two criteria: i) the presence of low Bone Mineral Density (BMD) defined as a z-score less than -2.0 on a DXA* scan, and ii) the presence of a significant fracture history (long-bone fracture of the lower extremities, vertebral compression fracture, or two or more long-bone fractures of the upper extremities). *Dual Energy X-ray Absorptiometry (DXA) Scan: Measures bone mineral content per unit of area. In children it is important that results are compared to pediatric reference data and reported as z scores adjusted for the child's age, sex and height.
Why is Osteoporosis Important?
Individuals with a physical disability such as cerebral palsy (CP) are at risk for fragility fractures (osteoporosis) secondary to osteopenia from decreased weight-bearing. Other risk factors often co-exist including poor nutrition with decreased calcium and vitamin D intake, vitamin D deficiency from decreased exposure to sunlight and medications that lower bone density (e.g. some anticonvulsants).

Osteopenia paired with trauma (e.g. falls) can lead to painful fragility fractures. Individuals with CP who are non-ambulatory have a 20% chance of having a fragility fracture. Frequently these involve the shaft of the longbones such as the distal femur.
Target Population: Children/youth with CP who are nonambulatory and at risk for or have osteoporosis
Target Clinical Providers: Physicians, Therapists and Nurses caring for children/youth with non-ambulatory CP
Prevention Strategies
Three prevention strategies are recommended:
Nutrition and Calcium (Ca): Review the child's growth charts and assess for decreasing weight velocity and/or low body mass index and if present provide nutritional counselling. Complete a dietary history to estimate Ca intake (see section 3 for dietary Ca food reference chart) and check that intake is in the recommended range for age (700 mg elemental Ca for 1 to 3 years of age, 1000 mg for 4 to 8 years of age, and 1300 mg for 9 to 18 years of age). If dietary Ca intake is low, provide dietary counselling to increase Ca through the diet (the dietary route is preferred to avoid constipation caused by supplemental Ca).
Vitamin D2/D3 (VitD) Supplementation: Vitamin D is important for healthy bones and can be low in individuals who have poor nutritional intake or decreased exposure to sunlight. Supplement with regular VitD2/3 (800-1000 international units per day) if the individual lives in a northern climate or has decreased sun exposure as the non-hydroxylated version is very safe. If possible check 25-OH vitamin D levels at baseline and then repeat after 6 months to ensure that the individual is in the 'normal' range.
Weight Bearing: Bearing weight increases bone mineral density. Organize a physiotherapy consult to develop a weight bearing program (e.g. use of a standing frame).
Fragility Fracture Treatment
If an individual with CP has a fragility fracture order additional investigations.These can include bloodwork (Ca, Phosphate, Parathyroid Hormone), an X-ray of the fracturesite, and a DXA scan to determine bone mineral density. Ensure adequate nutrition, Ca and Vit D status. Bisphosphonates should also be considered in children although the long-term safety on growing bones is unknown. Bisphosphonates help to build bone density by suppressing bone resorption. Consultation with a bone specialist is recommended. In children, bisphosphonates are typically given intravenously three to four times per year rather than orally.
Algorithm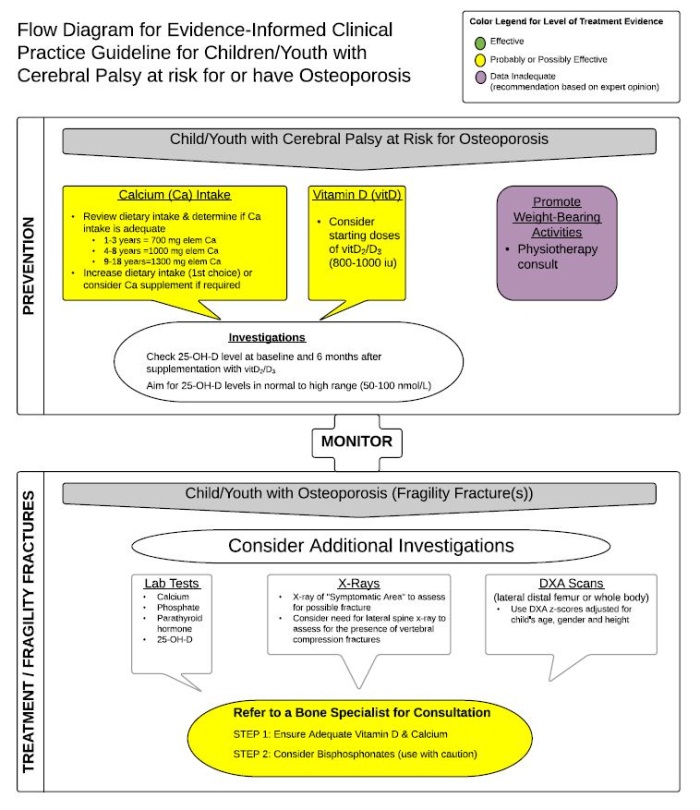 Section II: Published Evidence
Informing evidence-based clinical practice guidelines for children with cerebral palsy at risk of osteoporosis: a systematic review
Authors: Darcy Fehlings1, Lauren Switzer1, Payal Agarwal1, Charles Wong1, Etienne Sochett2, Richard Stevenson3, Lyn Sonnenberg4, Sharon Smile1, Elizabeth Young1, Joelene Huber1, Golda Milo-Manson1, Ghassan Abu Kuwaik1, Deborah Gaebler5
1 Department of Paediatrics, Bloorview Research Institute, Holland Bloorview Kids Rehabilitation Hospital, University of Toronto, Toronto, ON, Canada.
2 Department of Paediatrics, Hospital for Sick Children, University of Toronto, Toronto, ON, Canada.
3 Kluge Children's Rehabilitation Center & Research Institute, University of Virginia School of Medicine, Charlottesville, VA, USA.
4 Department of Paediatrics, Glenrose Rehabilitation Hospital, University of Alberta, Edmonton, AB, Canada.
5 The Rehabilitation Institute of Chicago, Chicago, IL, USA.
Article first published online: 24 November 2011
Developmental Medicine & Child Neurology
Volume 54, Issue 2, pages 106–116, February 2012
DOI: 10.1111/j.1469-8749.2011.04091.x
© The Authors. Developmental Medicine & Child Neurology © 2011 Mac Keith Press


Systematic Review of Interventions for Low Bone Mineral Density in Children With Cerebral Palsy
Authors: Janet P. Hough, BAppSc, PT1, Roslyn N. Boyd, PhD, MSc, PT2, Jennifer L. Keating, PhD, PT3
1 Victorian Paediatric Rehabilitation Service, Monash Medical Centre, Melbourne, Australia
2 Queensland Cerebral Palsy and Rehabilitation Research Centre, School of Medicine, The University of Queensland, Brisbane, Australia
3 Department of Physiotherapy, School of Primary Health Care, Monash University, Melbourne, Australia
Journal: Pediatrics
Issue: Volume 125, Number 3 / 2010
Pages: e670-e678
Online Date: February 1, 2010
© 2010 by the American Academy of Pediatrics

Informing evidence-based clinical practice guidelines for children with cerebral palsy at risk of osteoporosis: an update
Authors: Sezgi Ozel1, Lauren Switzer1, Alex MacIntosh1, Darcy Fehlings1,2
1 Bloorview Research Institute, Toronto, ON
2Department of Paediatrics, University of Toronto, Toronto, ON, Canada
Journal: Developmental Medicine and Child Neurology
Issue: Volume 58, Issue 9
Pages: 900-909
© The Authors. Developmental Medicine & Child Neurology © 2016 Mac Keith Press
Section III: Practical Tools
Plain Language Summary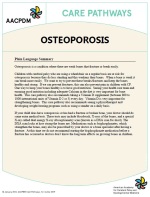 Please click on image above to view plain language summary.
Print Materials
Websites
Section IV: Acknowledgments
Name
Affiliation(s)
Location
Specialty Expertise
Darcy Fehlings, MD MSc, FRCP(C)
Holland Bloorview Kids Rehabilitation Hospital
Professor of Pediatrics, University of Toronto
Toronto, Canada
Developmental Pediatrician
Lauren Switzer, MSc
Bloorview Research Institute
Holland Bloorview Kids Rehabilitation Hospital
Toronto, Canada
Research Project Manager
Sezgi Ozel, BHSc
University of Toronto
Toronto, Canada
MScOT (candidate), Occupational Therapy
Richard Stevenson, MD
UVA Child Development and Rehabilitation Center
Professor of Pediatrics, University of Virginia
Richmond, VA
Developmental Pediatrician
Deborah Gaebler-Spira, MD
Rehabilitation Institute of Chicago
Professor of Pediatrics and PM&R, Northwestern Feinberg School of Medicine
Chicago, IL
Physiatrist
Blythe Dalziel, PT
Holland Bloorview Kids Rehabilitation Hospital
Toronto, Canada
Physiotherapist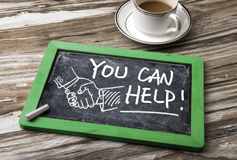 Feedback/Comments
The American Academy for Cerebral Palsy and Developmental Medicine has developed care pathways to assist the busy clinician. Please submit any advice or constructive feedback to make this pathway more useful.
NOTE: Feedback will be directed to the AACPDM Care Pathway Taskforce to review and consider on a queue 6-month basis.