Welcome to AACPDM's 75th Annual Meeting!
The past year has been challenging for everyone; however, the AACPDM continues to be forward looking. In this spirit, we have chosen "On y Va!" as the theme for AACPDM's very special diamond jubilee, 75th Annual Meeting. Inspired by Quebec City, the French phrase meaning "Let's Go!" embodies how AACPDM is ready to emerge from these difficult times, together.
The 2021 Scientific Program Committee is designing the meeting in a way to accommodate all presenters whether you are able to join us in-person in Quebec City, or presenting virtually. We are excited to offer a different submission option for the 2021 Annual Meeting – Mini-Symposia! Mini-Symposia will take the place of breakfast seminars and instructional courses and will be paired with free paper sessions based on similar topics. This option maintains flexibility for various meeting types depending on travel restrictions and the status of the pandemic.
On y va! Let's go!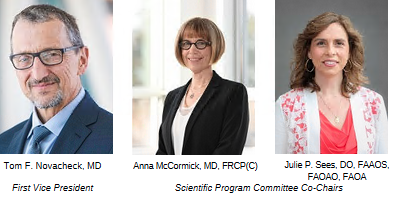 Important Dates
January 31, 2021
Abstract Submission Deadline
May 2021
Online Registration Opens
October 6-9, 2021
75th Annual Meeting