Welcome to AACPDM's 74th Annual Meeting
We are delighted to invite you to the 74th AACPDM Annual Meeting to be held in vibrant New Orleans, Louisiana from September 23-26, 2020. The meeting will convene at the New Orleans Marriott.
In the spirit of New Orleans and the multidisciplinary health care professionals and scientists who attend and participate in the AACPDM annual meeting, the theme chosen for the conference is: "Unmasking Potential".
We urge you and your colleagues to share your knowledge and research by submitting a course or presentation on developmental disabilities throughout the lifespan. We invite you to attend the annual meeting to "unmask your potential" by learning about the cutting-edge developments in clinical care and research to enhance the health and well-being of individuals with childhood-onset disabilities and by exploring the opportunities for networking and collaboration with other experts in the field. Please check the AACPDM website regularly to receive program updates, information about submission procedures and deadlines, as well as things to see and do in New Orleans.
The AACPDM looks forward to hosting this meeting and invite you and your colleagues to attend. Laissez les bon temps rouler (Let the good times roll)!

Sincerely,

Susan Sienko, PhD
AACPDM First Vice President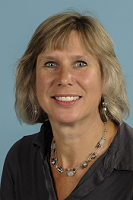 Important Dates
June 2020
Registration Opens
July 15, 2020
Exhibit Booth Application Deadline
August 16, 2020
Online Registration Deadline
August 23, 2020
Hotel Room Block Reservation Deadline
September 10, 2020
Presentation Handout Deadline
September 23-26, 2020
74th Annual Meeting!