AACPDM First Vice President's Update
Winds of Hope
When a third of the city was destroyed by fire, it was hope that allowed Chicago to not just re-build, but to rebuild better and bigger in just a couple of decades! It was hope in a more beautiful future that allowed this city to become the birthplace of Modern architecture and hope for a healthier tomorrow that made this the site of the Nation's first open-heart surgery.
And that doesn't even mention the hope that allows Cubs fans to show up at Wrigley field season after season. And, of course, we can't forget our White Sox fans on the Southside!
AACPDM and all of our members represent hope for so many children and their families and we are thrilled to invite you to experience these Winds of Hope as our 77th AACPDM Annual Meeting comes to The Windy City, Chicago, Illinois at the Chicago Marriott Magnificent Mile, September 10-13, 2023.
Our planning team – Dr. Bhooma R. Aravamuthan, MD, DPhil, and Dr. Theresa S. Moulton, PT, DPT, PhD and I – look forward to presenting an exciting program full of inspiring messages, cutting edge research, and messages of hope from the amazing membership of AACPDM.
The abstract submission website is open and is set to close on Tuesday, January 31, 2023 at 11:59pm EST. https://www.aacpdm.org/events/2023/abstracts. The committee will look favorably on submissions that directly address the following priority topics:
Neurodevelopmental disorders across the lifespan
Mental health and wellness
Neonatal neurology and early identification and treatment
Translational research (e.g. animal/pre-clinical models, changes in brain connectivity/activity with intervention, etc.)
Multidisciplinary approach to the treatment of children with childhood onset disabilities
Please note that the meeting will take place over different days of the week in 2023, meeting from Sunday through Wednesday instead of Wednesday through Saturday. We are all excited to see how this brings out new and different participation.
M. Wade Shrader, MD
AACPDM 1st Vice President (2022-2023)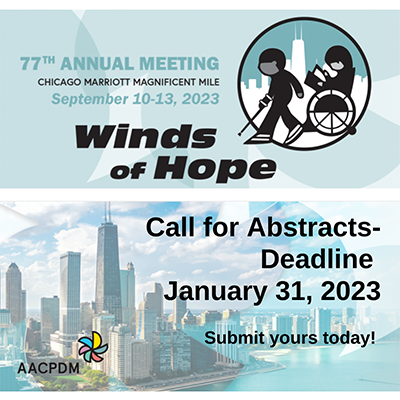 AACPDM Second Vice President's Message
Contribute Through Committees
It is a pleasure to serve the AACPDM this year as the Second Vice President. In this role, it is my responsibility to oversee all committee functions and roles.
The dedication and loyalty of our volunteer committee members are essential elements of the AACPDM foundation. Committee membership is not only a great way to contribute to the Academy, it also enhances personal professional growth by exposing us to new opportunities and colleagues outside of our own institutions. With a wide variety of committees to choose from, there is truly something for everyone.
*To find out more about AACPDM committees, click on any of the links below.*
Adapted Sports & Recreation
Advocacy
Awards
Communications
Complex Care
Education
International Affairs
Lifespan Care
Membership
Research
Publications
In addition to the Committees, we also have opportunities for involvement in the Community Council, Care Pathways Council, or as a member of a committee for the International Alliance of Academies of Childhood Disability (IAACD).
If you would like to volunteer for a committee, you can do so by clicking here: https://aacpdm.execinc.com/edibo/VolunteerApplication
The AACPDM Board of Directors recently provided clarification regarding several policies and protocols related to committee member terms:
The Board approved allowing continuation of up to two terms of three years on each Committee. These terms do not have to be consecutive. If a Committee is interested in a person serving for more than two terms they must seek special approval from the board during the Fall Meeting.


Those who are currently serving in a capacity beyond the six years (in any way) shall be grandfathered in for the 2022-23 year and then asked to rotate off of the Committee when their current anticipated three year term ends to allow for new membership on the Committee.


Due to the variation in Annual Meeting dates, typically the terms of service are input into the database as starting on October 1 and concluding on September 30. For example, the current three year term of service is October 1, 2022-September 30, 2025. If a member joins a Committee after October 1 and prior to June 1, their term will convert to the previous fall date. For example, a person joining on May 15, 2023 will complete the term for the year October 1, 2022-September 30, 2025. If a person joins on or after June, they will bump forward to the next September term date. For example, a person joining on June 1, 2023 will be enrolled in the term renewal cycle of October 1, 2023-September 30, 2026. Whew! That was a lot of detail, but hopefully it is clear and helps with membership tracking for all Committees.
Thank you for all that you do for AACPDM. It is the thoughtful and generous spirits of our diverse Academy that make it such a rich professional home. Please do not hesitate to reach out with questions!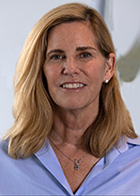 Laurie Glader, MD
AACPDM 2nd Vice President (2022-2023)
AACPDM Treasurer's Update
For nonprofit organizations, including AACPDM, continued economic uncertainty related to the COVID-19 pandemic has resulted in prudent budget planning. While the AACPDM ultimately produced two outstanding virtual annual meetings in 2020 and 2021 and one in-person meeting in Las Vegas in 2022, we still face budgetary uncertainty. Many of these economic uncertainties are beyond our control. Some of these economic uncertainties include a likely US economic recession in 2023, inflation continuing above pre-pandemic trends, and ongoing elevated interest rates, all of which impact not only our Academy but also our members. Furthermore, the stock market has struggled with the S&P 500 closing out its worst calendar year since 2008, which has impacted investment revenue. Overall attendance at in-person meetings was down across the association industry since the start of the COVID-19 pandemic though improving with a 65% increase from 2021. While we expect attendance to continue to improve for AACPDM in-person meetings, industry reports indicate that the average cost-per-attendee for meetings and events in 2022 was around 25% higher than many last in-person events held in 2019. The same association industry report anticipates the cost for conducting meetings will likely increase an additional 7% in 2023. The Academy is clearly not alone in having to be prudent in planning our budget to try to anticipate the ongoing economic uncertainty and rising costs. We are also mindful that rising costs of nearly everything is also impacting the personal budgets of all our members.
While this sounds bleak, we are pleased to let you know that our Academy is still in good standing:
- The revenues generated from the 2020 and 2021 meeting allowed the Academy to remain in a stable financial position. We have only accessed additional funds for strategic planning in 2022.

- While our investment portfolio has had losses this year, leaving our investment portfolio intact during the pandemic allowed the Academy to take advantage of market gains that occurred in 2020 and 2021, which will be helpful to the Academy's overall financial position as the stock market is expected to stabilize with a possible slight increase in 2023.

- Another critical factor that helped our financial health was a reduction in operating expenses and the elimination of discretionary spending from the 2020, 2021, and 2022 budgets. We recognize this has affected some committee work and Academy initiatives. While we were able to reinstate some funding initiatives in 2022 and 2023, AACPDM continues to be cautious with spending, being mindful that many costs for doing business, including our annual meeting, have increased and will need to be addressed.
The board greatly appreciates your ongoing membership and financial support of the Academy and with our refreshed vision, mission, and strategic plan, we can re-evaluate financial priorities needed to continue supporting our mission for years to come.
Moving forward, the board encourages you to support the Academy via the new member challenge initiatives or you can donate directly to one of the endowment funds by visiting aacpdm.org/donate.
Your active participation and encouragement to colleagues to join the Academy is the best way to support our Vision and Mission! We all hope that the worst of the pandemic is behind us, and that the Academy retains a strong financial position. We thank you, the membership, and the board for your dedication to the stewardship of our Academy.
Respectfully,
Joline Brandenburg, MD
AACPDM Treasurer (2022-2023)
Past President's Reflection
Discovering the Archives of the AACPDM Village
A project intended to preserve the stories from the past to shape the future of the AACPDM
What began in 2021 to celebrate the AACPDM's 75th Anniversary has launched an online interview video series designed to create a living history to highlight those who have had a profound impact on the Academy.
"Archives of the AACPCP Village: Past Presidents and Trail Blazers" is now a series currently featuring eight past president interviews, each contributing uniquely to building the AACPDM village. Through their stories, the Academy is reminded of the many different personalities and characteristics that make the Academy village so special and how each past president has contributed to the multidisciplinary and interdisciplinary vision of the Academy. These eight individuals have played an integral role in advocacy, mentorship, cultural expansion, women in leadership, and research excellence.
Each of these past presidents has learned from those who have come before them. They have developed lasting friendships and learned from one another. Their stories often intertwine and remind us of their dedication to the Academy, their fellow members, and the patients and families this project was created to support.
You can access these interviews by visiting the AACPDM website, clicking the "Membership" tab, selecting "Membership Highlights," and clicking "Archives of the AACPDM Village."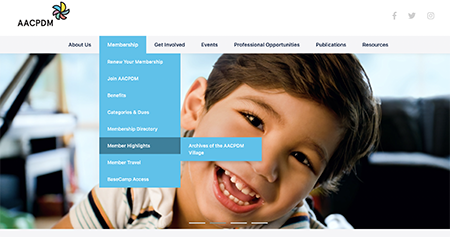 From there, you will find the eight featured full-length interviews, also found on the AACPDM's YouTube channel.
Featured Interviews
Archives of the AACPDM Village: Past President Al Scherzer, MD, EdD (1986)
Listen to Dr. Al Scherzer, Developmental Pediatrician, and health educator, as he shares his favorite memories from his AACPDM Presidency and offers advice to current AACPDM members.
Archives of the AACPDM Village: Past President Robert P. Christopher, MD (1987)
Hear Dr. Robert Christopher recall his experience meeting the "giants" and founding members of the AACPDM and shares his experience of stepping into the role of AACPDM President.
Archives of the AACPDM Village: Past President James (Jim) Gage, MD (1991)
Learn about Dr. Jim Gage's motivation to understand gait analysis, what it takes to be a great cerebral palsy surgeon, how he got his start, and the many lessons he learned throughout his career.
Archives of the AACPDM Village: Past President John McLaughlin, MD (1992)
Hear what Dr. John McLaughlin, mentor to many, has to share about his experience as President of the AACPDM and the lessons he has learned throughout his career.
Archives of the AACPDM Village: Past President Michael Alexander, MD (1993)
Dr. Michael Alexander, CP advocate and long-time AACPDM member, offers advice to current and future Academy members and shares his biggest takeaways from attending the AACPDM Annual Meetings over the years.
Archives of the AACPDM Village - Past President Helen Horstmann, MD (1994)
Dr. Helen Horstmann looks back on her experience as AACPDM President and the many friends and connections she has made over the years thanks to the Academy, especially as a young clinician.
Archives of the AACPDM Village: Past President Charlene Butler, EdD (1995)
Dr. Charlene Butler, the first non-physician AACPDM President shares her insight on being a trailblazer and how working and learning collaboratively lead to meaningful contributions to the Academy and the field of developmental medicine.
Archives of the AACPDM Village: Past President Peter Rosenbaum, MD (1996-1998)
Dr. Peter Rosenbaum encourages young clinicians to always "ask questions, be comfortable to think outside the box, get rid of the box actually" among other important lessons he's learned throughout his career and years of being an AACPDM member.
More videos will follow in the coming months and years. The board would like to express sincere appreciation to the Past Presidents who have donated the time and dollars for this remarkable endeavor to record our history. These video clips include highlights of a Presidential year, aspects leaders have enjoy about their profession, reasons for joining the AACPDM, among other tidbits. Although this was an initiative of the Historian and Past Presidents, it soon became apparent that many other people are trailblazers and thus the scope of the project was expanded. If members have people they would like to nominate for inclusion in the series, please contact the Historian.
These videos are just one more way we can highlight how AACPDM is like no other professional society! The "teamwork" mindset of AACPDM members solidifies a worldwide network that provides the most effective outcomes for patients.
William Oppenheim
AACPDM Historian
Past President - 2007
Committee Corner
Education
Submitted by: Kelli N. Chaviano, DO (Committee Chair)
The Education Committee has been working on several new projects. Our latest project includes the creation of a spring conference. The Education Committee continues to offer self-paced online eCourses for CME and CEU credits. With collaboration from AACPDM members, the committee successfully launched the following course:
Pain and Fatigue in Adults with Cerebral Palsy by Debbie Thorpe PT, PhD; Heidi Haapala, MD; Marij Roebroeck, PhD; Mark Peterson, PhD, MS; Elisabet Rodby Bousquet PhD, PT; David Frumberg, MD; Caitlin Cassidy MD, FRCPC; and Brooke Larabee.
We encourage members to attend and share the current eCourse, available until February 6, 2023 Sports for Children with Disabilities by Georgina Clutterbuck, BPhty, Ricardo Rodrigues Sousa Junior, PT, Sean Tweedy, Associate Professor, Iain Dutia, BSc (Hons), PhD, Hercules Ribeiro Leite, PhD.
LifeSpan Care
Submitted by: Heidi J. Haapala, MD (Committee Chair)
The Lifespan Committee has continued to work diligently to highlight topics and issues relevant to the lives and care of adults with childhood onset disabilities to the AACPDM membership. Our committee members worked with the Education Committee to develop an e-course on Physical Activity and Exercise Interventions for Children and Youth with Disabilities. We continue to contribute to the Lifespan Journal Digest, which is now live on the AACPDM website. In the Digest, you'll find short reviews of 2-3 relevant journal articles each quarter. Our hope is that this will allow people to find "bite-sized" summaries of the information they need to work with this population!
Membership
Submitted by: Michael T. Healy, MD (Committee Chair)
The Membership Committee will continue to host quarterly Zoom webinars for AACPDM members. The webinars focus on discussion and exchange of information with participants. Proposed topics include: submitting grant proposals, submitting a proposal for a course at the Annual Meeting, and discussion focus on how new members can navigate and build connections at their first Annual Meeting. The Advisor/Advisee program matches experienced members with new members. We currently have Advisors willing to help and would like to engage more Advisees.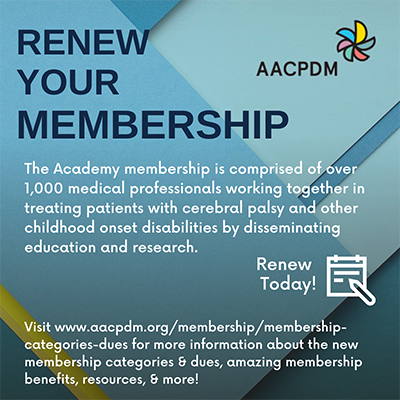 International Affairs
Submitted by: Antigone S. Papavasiliou, MD (Committee Chair)
The International Affairs Committee aims to provide opportunities for continuing education, research and innovation to International colleagues working in the field of CP and Developmental Disabilities; also, to promote their relationships with the AACPDM multidisciplinary community. Travel scholarships are awarded to applicants from resource-limited areas of the world with great potential for spreading knowledge and innovation in patient care; also, to researchers requesting support for international travel. In the coming year the committee aims to discuss survey results received from previous international scholarship winners and to present some exceptional success stories with great impact in the care of patients with CP and Developmental Disabilities that started from a travel scholarship supported by the AACPDM. We encourage members of the international community to actively participate in this committee and to stay connected in order to promote awareness on the great achievements in the diagnosis and care in the field of CP and Developmental Disabilities.
Adapted Sports & Recreation
Submitted by: Marianne A. Mousigian, MD (Committee Chair)
The AACPDM Adapted Sports & Recreation Committee has continued to work hard on multiple initiatives this year! We received approval to create an Adapted Sports and Recreation Special Interest Group, and we are currently working on its implementation. Committee members also continue providing concise summaries of recent adaptive sports original research articles via the Adaptive Sports & Recreation Journal Article Digest, helping busy AACPDM members keep up with recent evidence-based literature. Our committee has also increased its focus in promoting diversity, equity, and inclusion efforts related to adaptive sports and recreation, including highlighting different organizations, resources, or events. Committee members will soon begin thoughtfully planning sessions for the next AACPDM Annual Meeting, including multiple "Let's Move!" physical activity sessions and the adaptive sports and recreation community forum session.
Communications
Submitted by: Brittany D. Hornby, DPT (Committee Chair)
The Communications Committee works to utilize coordinated strategies to disseminate AACPDM announcements and updates across several different platforms to promote its overall mission. We use Facebook, Twitter, and Instagram as our key social media platforms and create our society newsletters. We also work to share information about latest research and education opportunities that are of benefit to our members and the patients and families that we serve. We select the annual Fred P. Sage award winner, congratulations to our previous winners! This year we are collaborating with POSNA regarding a "myth buster" series.

AACPDM SIGs – Specially Designed for You!
AACPDM Special Interest Groups (SIGs)
Submitted by: Caitlin Cassidy MD, FRCPC, AACPDM Adults and Aging SIG Chair
The Adult and Aging SIG is excited to be hosting a virtual meeting on Feb 28 at 4pm ET featuring a group of speakers from CP Research Network including Paul Gross and Drs. Garey Noritz, Amy Bailes, and Mary Gannotti. Come and join us for their talk, titled "Increasing the Quality of Life for Adults with CP: An Improvement Initiative." We'd love to see you there and look forward to the robust discussion this is sure to inspire!
The Adults and Aging SIG is excited to announce our first meeting of 2023.
Topic: "Increasing the Quality of Life for Adults with CP: An Improvement Initiative"
Date: February 28, 2023
Time: 3:00-4:30 PM Central Time (US and Canada)
We are looking forward to (virtually) seeing new and familiar faces alike, but we're also thrilled with the lineup of speakers addressing the SIG.
Paul Gross, President and CEO of CP Research Network
Dr. Garey Nortiz (MD), Medical Director of Complex Care at Nationwide Children's
Dr. Amy Bailes (PT PHD), Clinician Researcher at Cincinnati Children's Hospital
Dr. Mary Gannotti (PT PhD), Professor of Physical Therapy at University of Hartford
Register in advance for this meeting.
After registering, you will receive a confirmation email containing information about joining the meeting.
As always, if you have any questions, please send them along to AdultAgingSIG@aacpdm.org. Also, if you have any news, updates, exciting research reports you'd like to share, please submit them in advance for a roundtable discussion during the meeting!
Hope to see you on February 28!
IAACD Update
International Alliance of Academies of Childhood Disability
Submitted by: Sean Tabaie, IAACD Communications Committee Chair
Recognizing the global gap in the access of expertise provided by professional societies, the American Academy of Cerebral Palsy and Developmental Medicine, European Academy of Child Disability, and The Australasian Academy of Cerebral Palsy and Developmental Medicine agreed to establish an alliance of developmental disability associations, forming the IAACD. This alliance was formed in July 2014 and was designed to combine individual academy strengths and support the creation of further regional/national academies. In addition, the IAACD was created with a mission to promote knowledge transfer, including access to training, educational material, context related research knowhow to clinicians, families, policy makers and all stakeholders. The KT would be supported with appropriate cultural, social, geographic and political contexts and sensitivities access of educational material to families and policy makers that is developed in a manner cultural, social, geographic, and political sensitive manner. The Constitution of the IAACD with details of aims and objectives can be found here.
Current members of the IAACD are professional academies that share the vision and include the following organizations:
American Academy of Cerebral Palsy and Developmental Medicine (Founding Member)
European Academy of Child Disability (Founding Member)
The Australasian Academy of Cerebral Palsy and Developmental Medicine (Founding Member)
Eastern African Academy of Childhood Disability (EEACD) (Member)
Indian Academy of Cerebral Palsy (Member)
Mexican Academy for Cerebral Palsy and Neurodevelopmental Disorders (Member)
Chinese Association of Rehabilitation Medicine: Pediatric Rehabilitation Committee (CARM-PRC) (Member)
Southern African Academy for Childhood Disability (SA-ChilD) (Member)
Sri Lanka Association for Child Development (SLACD) (Member)
2022 was a pivotal year for the IAACD. The organization transitioned leadership from a steering group to an official executive committee under the leadership of Christine Imms as President. Additionally, in the summer of 2022, the IAACD executive committee initiated their first strategic planning process which they anticipate concluding in 2023. The initial phase consisted of a survey that was provided to all committee members, the general council, executive committee, standing committees, and presidents of member academies. Currently, the results of surveys are being analysed by the executive committee and will be discussed at the strategy forming meeting in late winter 2023.
At this time, the structure of the IAACD consists of seven committees which are listed below:
Academy Membership Advisory Committee
Clinical Best Practice Committee
Communications Committee
Conference Planning Committee
Finance Committee
Global Professional Development
Research Committee
Details of the activities and current membership of the committees can be found here.
If you have an interest in being considered as an AACPDM volunteer for the IAACD please indicate that on the AACPDM Volunteer application: https://aacpdm.execinc.com/edibo/VolunteerApplication
Mac Keith Press Update

Partner Society Discounts
Our partner society members are entitled to:
20% off ALL BOOKS from a collection of 150+ titles
Variable discounts on courses
30% off HNE examination annual subscriptions
Just ask your society representatives for special discount codes to apply at checkout.
New Book
We are delighted to announce a new book forthcoming in 2023.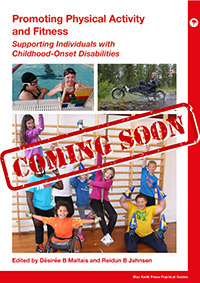 Here's a taster from the foreword written by somebody with professional and lived experience in the field: 'Anyone with childhood-onset disabilities, their parents, trainers in sports associations, assistants, sports teachers, and others who take care of people with childhood-onset disabilities in training or movement contexts should read this book and have it by their side as a guide in all phases of training.' Linda Sandström, Research Assistant and Physiotherapist, Lund University, Sweden. Has unilateral cerebral palsy.
This book provides clear and evidence-based information on how to evaluate, train, and foster physical activity and fitness in individuals with childhood-onset disabilities safely across the lifespan. It is written for frontline service providers, such as clinicians and other rehabilitation professionals, as well as individuals with childhood-onset physical and developmental disabilities and their families. The authors thereby respond to specific needs and enable multiple parties to lead more physically active lives. Themes include physical fitness and activity assessment and training, safe engagement, measurement of activity levels and progress, responses to pain, and specific disorders. Diverse, complex subjects are presented in an accessible and engaging way thanks to cross-referencing and reading aids.
Easy-to-understand, evidence-based information on fitness training and testing.
Information on feasible types of physical activity for different diagnostic groups.
Templates for describing tests and training principles.
Multidisciplinary and international team of co-authors (clinicians and academic experts with specialisms ranging from rehabilitation to oncology).
An essential resource for rehabilitation clinicians, educators, coaches, and other providers; specialists in sports medicine, sports science, or physical rehabilitation; individuals with childhood-onset physical and developmental disabilities, and their families.
To register interest in PRE-ORDERS email alex.mckenzie@mackeith.co.uk with the following text:
To the attention of the Mac Keith Press Team,
I would like to be notified when Promoting Physical Activity and Fitness is available for pre-order in the new year.
Kind regards,
[enter name]
Browse by Topics
We are pleased to launch a new search tool to allow better navigation of DMCN content. Now you can browse by topic, giving more accurate and relevant search results. The tool is available directly here or via the DMCN homepage.
13 core topics have been identified, each with sub-topics that provide highly relevant results for your interests.
Benefits of searching this way include:
Greater content discoverability.
More accurate and relevant search results.
Enhanced user experience, with quicker access to content relevant to a specific topic.
Searches can be refined by very specific concepts using taxonomy facets – with 10 specific articles returned rather than 10,000 returned by normal simple searching.
2022 Editorial Highlights
2022 has been another busy and enjoyable year here at DMCN. We are proud of Volume 64, which includes a diverse range of brilliant papers. Some highlights include an invited review on the neurological effects of COVID-19 in children, an overview of reviews looking at early interventions for autism spectrum disorder in very young children, and a landmark paper on global cerebral palsy prevalence.In his end-of-year round-up, our Editor in Chief Bernard Dan flags many key papers from the past year and discusses some of our own developments. Read his highlights here: DMCN 2022 highlights: Applying global perspectives to paediatric disability research.
Letter from the Editor
Despite challenges presented by the COVID-19 pandemic and its varied effects, the Academy has continued to not just survive but to thrive. As we all adjust to societal changes with hopefully some future stability, the purpose of the Academy remains preeminent; to advance the health and well-being of all individuals with cerebral palsy and other childhood-onset disabilities. World-wide connections are growing allowing more rapid sharing and dissemination of information and good practices, at the same time that research is adding to the knowledge base. Every member from the most passive to the most active has a part in the mission. Of course, we would encourage the more passive to step up their involvement. Attending the annual meeting has historically produced a charge of energy in attendees and is encouraged. The meeting committee is working hard to ensure that the gain from attendance is worth the time and expense. Thank you for reading the newsletter and any submissions will be enthusiastically considered.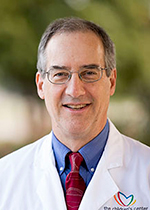 Steve Couch
AACPDM Newsletter Editor