2019 Award Recipients
Corbett Ryan Pathways Pioneer Award Recipient - Jason Benetti
Jason Benetti is a TV play-by-play announcer for ESPN and the Chicago White Sox. He joined ESPN in 2011 and has called college football and basketball for the network along with Major League Baseball, including the 2018 National League Wild Card game. His assignments for ESPN Radio include NFL and MLB games along with college football. Benetti joined the White Sox in 2016 and just finished his third season with the team.
In addition, Benetti has called the NCAA Men's Basketball Tournament for Westwood One radio in each of the past two seasons. He has had broadcasting jobs with Fox Sports 1, the Syracuse Chiefs (Washington Nationals Triple-A affiliate), Time Warner Cable Sports, and High Point University, among others.
Mr. Benetti graduated from Syracuse University in 2005 with bachelor's degrees in broadcast journalism, economics and psychology. He then earned his Juris Doctor at Wake Forest School of Law in 2011.
The Illinois native is a spokesperson for the Cerebral Palsy Foundation, including a new animated campaign he and CPF launched in 2018, entitled "Awkward Moments."
Mr. Benetti has taught sports broadcasting and sports interviewing as an adjunct professor at the S.I. Newhouse School of Public Communications at Syracuse University.
---
Duncan Wyeth Award Recipient - Kyle Pease
A four-time Ironman triathlete, Mr. Kyle Pease has a career total of more than 75 races. Since 2011, he and his brother, Brent, have competed in races across the country, most recently becoming the first brother duo in history to complete the grueling Ironman World Championship in Kona, Hawaii.
Born with Cerebral Palsy, Kyle has strived for life beyond his wheelchair. Through his work with the Kyle Pease Foundation, he's focused on creating opportunities for inclusion in sports for athletes with disabilities. A motivational speaker and greeter at Piedmont Hospital in Atlanta, Kyle graduated from Kennesaw State University with a B.S. in Sports Management.
---
Cathleen Lyle Murray Award Recipient - Judy Heumann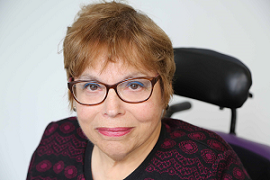 Judith (Judy) Heumann is a lifelong advocate for the rights of disabled people. She contracted polio in 1949 in Brooklyn, NY and began to experience discrimination at 5 years old when she was denied the right to attend school because she was a "fire hazard." Her parents played a strong role in fighting for her rights as a child. Judy determined that she, working in collaboration with other disabled people, had to play an increasing advocacy role as she and others experienced continuous discrimination because of their disabilities.
She is now an internationally recognized leader in the disability rights community and a lifelong civil rights advocate. She has been featured in numerous documentaries on the history of the Disability Rights Movement and recently her story was told on Comedy Central's Drunk History, in which she was portrayed by Ali Stroker, the first disabled woman to play on Broadway and Judy has also delivered a TED Talk. As a Senior Fellow at the Ford Foundation, she is currently working to help advance the inclusion of disability in the Foundation's work and is leading a project to advance the inclusion of disabled people in the media. She also currently serves on a number of non-profit boards of directors and is an Ambassador for Leonard Cheshire based in London.
President Obama appointed Judy as the first Special Advisor for International Disability Rights at the U.S. Department of State, where she served from 2010-2017. Mayor Fenty, District of Columbia, appointed her as the first Director for the Department on Disability Services, where she was responsible for the Developmental Disability Administration and the Rehabilitation Services Administration. From June 2002- 2006, Judy served as the World Bank's first Adviser on Disability and Development. In this position, she led the World Bank's disability work to expand the Bank's knowledge and capability to work with governments and civil society on including disability in the global conversation. From 1993 to 2001, Judy served in the Clinton Administration as the Assistant Secretary for the Office of Special Education and Rehabilitative Services in the Department of Education.
She was also responsible for the implementation of legislation at the national level for programs in special education, disability research, vocational rehabilitation and independent living, serving more than 8 million youth and adults with disabilities. 1982-1993 she cofounded the World Institute on Disability with Ed Roberts and Joan Leon. WID was the think tank run by disabled people focused on research to advance the Independent Living Movement. 1973-1993 Served as a founding member of the Berkeley Center for Independent Living and then on it's Board of Directors. CIL Berkeley was the first Center in the United States and helped to launch the Independent Living Movement in the US and around the World.
Over the course of her life, Judy has been involved on the national and international front working with disabled people's organizations and governments in the US and around the world to advance the human rights of disabled people. She has traveled using her motorized wheelchair to countries on every continent, in urban and rural communities. She has played a role in the development and implementation of major legislation including the IDEA, Section 504, the Americans with Disability Act and the Convention on the Rights of Persons with Disabilities and the Convention on the Rights of Persons with Disabilities.
Judy graduated from Long Island University in Brooklyn, NY in 1969 and received her Master's in Public Health from the University of California at Berkeley in 1975. She has received numerous awards including being the first recipient of the Henry B. Betts Award in recognition of efforts to significantly improve the quality of life for people with disabilities and the Max Starkloff Lifetime Achievement Award from the National Council on Independent Living. She has also been awarded an Honorary Doctorate of Education from Middlebury College (May 2019), Honorary Doctorate of Humane Letters from Long Island University in Brooklyn, an Honorary Doctorate of Public Administration from the University of Illinois, Champaign, and an Honorary Doctorate of Public Service from the University of Toledo, Ohio and an Honorary Degree of Doctor of Humane Letters from Brooklyn College.
Judy's goal in life is to continue to advance the rights and empowerment of ALL disabled people around the world.
---
Important Dates
May 2019
Registration Opens
July 10, 2019
Exhibit Booth Application Deadline
August 7, 2019
Early Bird Registration Discount Ends
August 18, 2019
Hotel Room Block Reservation Deadline
August 21, 2019
Online Registration Deadline
August 22, 2019
Presentation Handout Deadline
September 18-21, 2019
73rd Annual Meeting!