| | | | |
| --- | --- | --- | --- |
| Winter 2018 | Follow us on: | | |
President's Message
Dear Academy Members,

As the chill of winter and the promise of a new year approach, I want to take a few moments to update you in the workings of your Academy.

At our Fall Board Meeting in Cincinnati, we welcomed new members:

Susan Sienko (Second Vice President)
Francisco Valencia (Treasurer)
Joshua Hyman (Secretary)
Golda Milo-Manson (Director-at-Large)
Jan Willem Gorter (Director-at-Large)
Theresa Moulton (Director-at-Large)
Christopher Lunsford (Director-at-Large)
Wendy Sullivan (Community Council representative)
What a wonderful group of enthusiastic and talented volunteers whose service is greatly appreciated!

Speaking of the Cincinnati 2018 Annual Meeting, thanks to all of you who made it such a tremendous opportunity for learning, networking, recharging, and celebrating! We can now report that 944 people attended, representing 38 countries. Moreover, we confirmed that our members and conference attendees still love to dance - - and can fill a large venue for our networking dinner!

The Academy is financially secure and our Endowment Fund has exceeded our goal of $1 million. This means your Academy can continue to pursue new ventures in line with our strategic plan. And a quick note: as the end of the year approaches, please consider donating to the AACPDM to ensure that our efforts can continue for years to come.

It isn't too early to mark your calendars for the 2019 Annual Meeting in Anaheim, California (home of Disneyland!). First Vice President Mauricio Delgado and Scientific Program Committee Co-Chairs Francisco Valencia, Veronica Schiariti, and Diane Damiano are hard at work on an absolutely amazing program. This landmark meeting will be the first time the AACPDM hosts a meeting of the International Association of Academies of Childhood Disability. Therefore, the meeting will welcome even more international attendees from our partner Academies and beyond; the offerings will be more diverse and numerous. So, block off September 17-21, 2019 right now and plan to join your friends – and Mickey Mouse – for a wonderful meeting.

Your Committees remain very productive and have many plans for the coming year - - a few highlights:
The Care Pathways Committee will expand offerings on our website with several pathways in development
The Education Committee will present two e-Courses in 2019
The International Affairs Committee will offer more scholarships for the 2019 meeting
The Membership Committee is exploring increased student/trainee participation at Annual Meetings – look for a new poster type for case studies and clinical observations
Several Committees including Lifespan and Complex Care are working with Board Members to describe options for incorporating Special Interest Groups into our Academy
Stay tuned as your Academy digs into the nitty-gritty of our re-imagined Strategic Plan. Special Interest Groups are on the horizon and so are efforts to grow and develop our membership and to refine and expand our external partnerships. The AACPDM is on the move!

Enjoy this newsletter and, please, keep in touch! We would love your feedback.

Warm wishes for cozy winter,

Jilda Vargus-Adams
President, AACPDM
72nd Annual Meeting WRAP-UP
The AACPDM 72nd Annual Meeting, was well-attended by over 940 participants! The diverse programming options gave an overall well-rounded learning experience.
40 Breakfast Seminars (14/day)
46 Instructional Courses (16/day)
120 Free Papers (40/day with 4 concurrent sessions)
72 Scientific Posters
27 Demonstration Posters
The official Welcome Reception started at the historic Cincinnati Netherland Plaza in the Hall of Mirrors with the Cincinnati Ballet!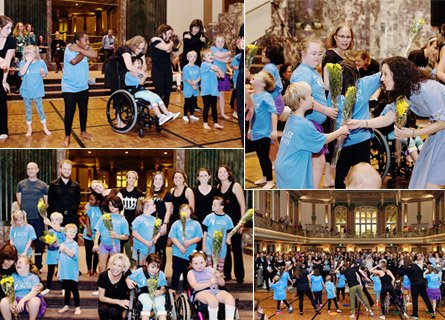 As a complement to the session offerings, Keynote Lectures were a hit!
Beyond formal education, the honored and presented awards, travel scholarship and research grants.
The Networking Dinner and Celebration ended on a high note, hosted at Cincinnati's Music Hall had participants dancing the night away after a delicious dinner.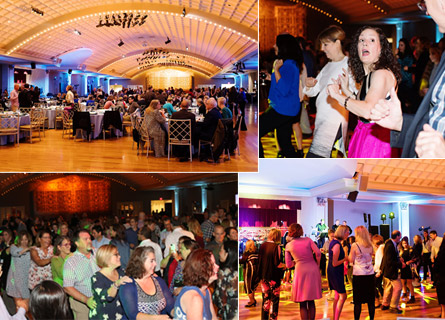 If you missed any of the action, please take a peek at the general sessions which are available online and are viewable on the AACPDM YouTube channel.
AACPDM eCOURSE: Navigating the Journey
Navigating the Journey

DATES: January 21- February 25, 2019 (self-paced online course)

COST: $100 members / $150 non-members.

Registration opens: January 3, 2019
Course Description
This course is designed to be a forum for providers to discuss challenges that families and health care professionals encounter as they work to build a successful family-team relationship over time. Each week focuses on a different topic in the family /provider relationship where conflicts can occur-- living with grief, therapies and equipment, alternative therapies and transition. In Navigating the Journey, participants will meet families talking about the challenges in raising children with disabilities via video interview. Providers will discuss challenging scenarios they faced with families and participants will engage in robust on-line discussion of challenges and strategies to build successful professional relationships with the families they serve.

Presenters:
Hank Chambers, MD; Michelle Tourne PT, DPT, PCS; Dianne Hrubec, MS, PT; Amanda Sarafian, MSOT; Laura Vogtle PhD, OTR/L; Natalie Truba, PhD; Jill Chambers

Learning Objectives:
Participants will gain a better understanding of how to identity and address difficult situations and communications with families.
Participants will develop an understanding of the role grief plays in family decision making in raising a child with a disability.
Participants will develop an understanding of the change in family dynamics and priorities over the lifespan of raising a child with a disability.
Participants will improve communication skills in addressing conflict with patients.
Certificates and Continuing Education Credits:
Certificate of Attendance: All attendees may claim a Certificate of Attendance
ACCME Accreditation Statement: The American Academy for Cerebral Palsy and Developmental Medicine (AACPDM) is accredited by the Accreditation Council for Continuing Medical Education to provide continuing medical education for physicians.
AMA Credit Designation Statement: The American Academy for Cerebral Palsy and Developmental Medicine (AACPDM) designates this internet enduring material for 4 AMA PRA Category 1 Credits™.
Physical Therapists / Physical Therapy Assistants: The American Academy for Cerebral Palsy and Developmental Medicine is recognized as an Approval Agency by the Physical Therapy Board of California. http://ptbc.ca.gov/licensees/cc_agency.shtml
Occupational Therapists / Occupational Therapy Assistants: The American Academy for Cerebral Palsy and Developmental Medicine is an Approved Provider of Continuing Education by the American Occupational Therapy Association (AOTA) #6379. Occupational Therapists and Occupational Therapy Assistants will be able to claim .4 AOTA CEU's.
Note: The assignment of AOTA CEUs does not imply endorsement of specific course content, products, or clinical procedures by AOTA.
Nursing Credits: The American Academy for Cerebral Palsy and Developmental Medicine (AACPDM) is a Provider approved by the California Board of Registered Nursing, Provider # CEP 14720, for 4 Contact Hours.
*Please note: The number of hours is subject to change based on final course material received.
System Requirements: For browsers, we recommend Firefox 3.5+ or IE 8. We no longer support IE 6. Though not optimized for other browsers, eCourses will also work with popular mobile devices, Chrome and Safari. There may be minor visual differences among different browsers, but it shouldn't affect performance or functionality.

For best results, you're encouraged to access your eCourses through a high-speed broadband service, and check to make sure you have adequate audio and video capabilities, including Adobe Flash. eCourses will perform well on either a Mac or Windows-based computer.
73rd Annual Meeting: Call for Abstracts DUE January 31, 2019

The AACPDM is hosting the first ever combined 73rd AACPDM Annual and 2nd IAACD Triannual Meeting. Save the date!

We are now accepting abstracts through January 31, 2019. Please visit the submission website for full details and criteria.
Committee Updates
The Academy wouldn't be here today without the dedication and enthusiasm by volunteers. The work of by the AACPDM committees makes this Academy stand the test of time in accomplishing the vision and mission. Take a moment to read through the committee accomplishments in 2018.
Adapted Sports and Recreation Chair: Talia Collier, MD
The committee is focusing on partnership and collaboration and plan to expand Get Up and Move. They selected the Duncan Wyeth Award winner and would like more social media presence as well improving resources on the website.
Advocacy Chair: Terry Such-Neibar, DO
In relation to the Strategic Plan, they will focus on partnership and collaboration, with the Chair being on the Community Council and continuing to present at the Community Forum. They have reached out to AAP, POSNA and PM&R. They are also working on a strategy for individual members to communicate directly with the Advocacy Committee with ideas and concerns.
Awards Chair: Julieanne Sees, DO
Summarized the committee members and who is rotating off as well as current leadership. Presented the following in relation to their work on the Strategic Plan:
Goal #1 Talent Pool: student scholarship % to include all level trainees, national & international; RN, MD, PT, OT, PostDOC, etc.
Goal #2 Research: TPA Demo Poster & Website Update to Encourage Mentorship for future award applicants
Goal #3 Learning Innovation
Goal #4 Partnership & Collaboration: Propose New Awards in partnership alliance with professional societies sharing interest in CP & developmental disabilities (POSNA, SDBP, AAN, PTA)
Goal #5 Service Delivery & Quality Improvement
Goal #6 Organization Excellence: track student scholarship awardees & academy involvement over 5 year period; accountability for TPA grants with mid year & annual updates
Care Pathways Chair: Darcy Fehlings, MD
Summarized the past years work as follows:
Board approved Ad Hoc Committee for 3 years (est. 2017)
Care Pathway Committee formed with 18 members – new chair Prof. Ros Boyd
4 'Care Pathways' created to date and more on the way
Board approved Care Pathways Development Grant established ($20,000 per year over 3 years with aim to create 2 new pathways per year)
Care Pathways Grant application process established
3 Care Pathway Grants awarded

Respiratory Health in CP (lead M Cooper MD)
Optimizing Peri-operative Health in CP (lead J Berry MD)
Physical Activity Promotion in Individuals with CP (lead JW Gorter MD PhD)

Continuing to work on Care Pathway Guidance Document
Care Pathway committee will help to enact action plans for Strategic Plan with a focus on Goal 5 – Enhancing Service Delivery
Communications Chair: Micah Baird, MD
Selected the Fred P Sage award winner and have been working on website updates as well as social media policy, process and e-Newsletters.
Complex Care Chair: Holly Beth Roach, OTR, ATP (chair-elect)
Provided a summary of the sub-committees work:
Spinal Fusion has transitioned to a Care Pathway
Education - Presenting two presentations at the Annual Meeting
Literature - created a Complex Care track for the Annual Meeting
They also noted the areas of the strategic plan to focus on will be Talent Pool, Learning and Innovation and Partnership and Collaboration.
Education Chair: Michael Healy, MD
Reviewed the past years work including:
Two e-Courses in 2018 and began planning for 2019 courses, which would include (2) 4 hour sessions and (2) 1 hour session, once for each quarter
Proposed an e-Course scholarship for international members
Created needs assessment and practice gaps
International Affairs Chair: Rochelle Dy, MD
They are working on updating the member travel map and including additional questions in a survey that may be helpful to membership. They awarded 16 international scholarships at $1250/each and have updated the International Networking lunch to include very short videos of each recipient. They also reviewed the International Development Grant applications and chose the 2020 Armenia meeting, which is just waiting on Board approval.
Lifespan Care Chair: Lynnette Rasmussen, OTRL
Updated the membership on the committee membership and the work over the past year, including:
4 fact sheets completed this year:

Walking Changes
Sialorrhea
Fatigue
Executive Function

Interpreted in Norwegian
Working on Swedish interpretation
Care Pathway related to a specific aspect of transition to adulthood
Special Interest Group creation for Transition to Adult hood issues
Committee members have 7 various presentations at the conference.
2 openings to join committee
Membership Chair: Gold Milo-Manson, MD, MHSc
Summarized membership, which has been relatively stable but would like to increase student memberships, as these translate to Fellow memberships. They have also worked to increase the number of participants in the Advisor Support Program and will include it in the dues renewal to try an increase visibility of the program. They created a proposal for a research mentorship program, which would likely work hand in hand with the Research Committee. They would like to include a student only option for abstract submissions in 2019.
Publications Chair: Deb Gaebler, MD
Discussed their work on the .03 impact factor, platform of Wiley and Podcasts. They have worked to translate publications to Spanish and Portuguese. They also completed systematic reviews and the policies associated with them. For the Strategic Plan, they will focus on Learning Innovation.
Research Chair: Sharon Ramey, PhD
Summarized the grant winners for 2018:

Kristie F. Bjornson, PT, PhD.MS. Supported mobility across the lifespan in Cerebral Palsy: Joint decision making

Sudarshan Dayanidhi, PT, PhD. Muscle stem cell dysfunction in muscular contractures in children with cerebral palsy

M.Wade Shrader, MD. Participation, mobility, and gait in ddults with cerebral palsy: Relationships with childhood factors

Ariel Schwartz, MSOT,OTR/L. Development and feasibility evaluation of a socially valid peer mentoring intervention for young adults with intellectual/developmental disabilities & mental health conditions

Sarah H. Evans, MD. Home-based lower limb robotic rehabilitation for children with cerebral palsy

They also completed the following work in 2018:
The Mentor Award had many outstanding nominations, and the 2018 award will go to Dr. Roslyn Boyd.
Systematic grant reporting and tracking system in place. Evidence of high productivity in past 6 grants – e.g., 12 publications, many presentations, several large grants. We will seek to disseminate the new knowledge actively to AACPDM membership.
They are engaged in prioritizing and implementing activities to realize Goal 2: Research of the AACPDM Strategic Plan, including innovative mentoring, offering research courses, highlighting discoveries of Academy members, launching new collaborative interdisciplinary groups with shared research interests, and increasing the awareness and presentation of basic research inquiry that is vital to the translational and clinical continuum.
NEW Practical Guide by Mac Keith Press
Children and Youth with Complex Cerebral Palsy
Care and Management
Edited by Laurie Glader and Richard Stevenson

This is the first practical guide to explore management of the many medical comorbidities that children with complex CP face, including orthopaedics, mobility needs, cognition and sensory impairment, difficult behaviors, respiratory complications and nutrition, amongst others.

Uniquely, it also includes contributions from children and parents, providing applied wisdom for family-centered care.
Provides useful summary points of key recommendations at the end of each chapter.
Includes Clinical Care Tools to guide clinicians in evaluation, preventive care and crisis management.
Care Tools include a Medical Review Supplement, Equipment and Services Checklist and an ICF-Based Care: Goals and Management Form.
AACPDM Members receive a discount, type VBR24 in the discount section.
To purchase, click here.

Nov. 2018 / 240 x 168mm / 404 pp / Softcover / ISBN 978-1-909962-98-9 / £39.95
AACPDM Job Postings
Looking for a new career path, please check out the new job postings on the website.
CURRENT OPEN POSITIONS
Full details are located here:
http://www.aacpdm.org/job-postings/view
Now Accepting Care Pathways Applications
DEVELOPMENT GRANT FUNDING TOTALING $20,000 WILL BE AWARDED TO SUPPORT TEAMS CREATING AACPDM CARE PATHWAYS.

We are now accepting applications through February 15th!

The Care Pathways initiative of the American Academy for Cerebral Palsy and Developmental Medicine (AACPDM) has seen much success and now is the time to add to the already growing list of pathways!

To be eligible for the 2019 Grant Funding, you will need to gather information to complete the application:
Care or service that will be addressed with the AACPDM Care Pathway
Worldwide expert team members
Target populations
Methods to gather evidence
Stakeholder engagement
Timeline / Budget
Barriers / Administrative Needs
In addition, applicants will be demonstrating some key elements: significance to the care/services for individuals with childhood-onset disabilities; expertise of the team; approach to the completion including timelines and budget; and feasibility.

To apply for a grant, please read through the Care Pathway Development Guidelines document and complete the online application.
Transformative Practice Grant
We are now accepting applications through May!

Submit application and letter of support to info@aacpdm.org

The intent of the transformative practice grant is to facilitate the translation of evidence-based clinical management strategies into practice. Funding is available to support members to plan and implement specific intervention strategies that are supported by research evidence. The award is based on the premise of 'academic detailing' whereby 'experts' who have been involved in the successful implementation of specific evidence-based management strategies within their facility support the host facility in the implementation of those strategies for changing clinical practice. Research suggests that academic detailing is an effective strategy for implementing changes in clinical practice. The specific objectives of the program are to:

Facilitate sharing of expertise and knowledge regarding implementation of specific clinical management strategies into practice among AACPDM members.
Ensure that implementation of new clinical management strategies is based on established practices such as addressing local barriers to implementation and the involvement of relevant stakeholders in planning.
Assist the development of implementation plans and evaluation plans for determining how successful the initiative was in changing clinical practice.
ELIGIBILITY REQUIREMENTS

Applicants and identified experts must be current AACPDM members.
Applicants must not have received an AACPDM Transformative Practice Award within the past five years.
Proposed management strategies for implementation must be relevant for individuals with cerebral palsy, developmental disorders, or other childhood acquired disability.
Click here to see full application details
Editor's Message
Welcome to the updated newsletter after the annual meeting of 2018, packed with a synopsis of the Academy's committee activities and other events. Look to where you can help by joining a committee, submitting an abstract, reviewing a relevant book, or providing content for the next newsletter such as a conference summary. As always, comments are welcome and thank you for your service to the field.

– Steve Couch