75th Annual Meeting
Due to the current government mandated constraints, including travel restrictions across borders, quarantine rules associated with arrival, and current bans on large gatherings in Quebec City, the American Academy for Cerebral Palsy and Developmental Medicine (AACPDM) Board and 2021 Annual Meeting Planning Team made the difficult decision to move to a virtual only format for this fall. While the AACPDM longs to return to an in-person meeting, this is not the year. The 2021 Planning Team designed the meeting to accommodate either a hybrid or virtual format. This allowed the ability to move quickly forward with a virtual only meeting once we were notified from the Quebec City hotels and Convention Center that they would allow rescheduling of our meeting to 2024. So, we can all look forward to Quebec City in three years!
To be conducive to a virtual meeting, one of the key modifications of the meeting format this year is the introduction of Mini-Symposia to replace Breakfast Sessions and Instructional Courses. Mini-Symposia will be paired with and 'introduce' free paper sessions based on similar topics. Despite the new format, there will be a wealth of learning opportunities and CME/CEU's due to the opportunity to access content after the live meeting. Additionally, the team is creating innovative and exciting ways to engage participants in fun social activities in a virtual environment particularly to celebrate our very special diamond jubilee 75th Annual Meeting,
The 2021 Program Committee specifically called for abstract submissions that directly address the topics
diversity, equity and inclusion
early detection and intervention
adapted sports and participation
genetics in developmental disabilities
innovation and technology
The Committee was excited about the quality and quantity of submissions. Acceptance notifications have been sent out. The 2021 Program Committee is pleased to offer a Plenary Session on Healthcare Disparity and Diversity, Equity and Inclusion. The goals are to dispel myths and better understand demographics, the most important determinants of health, and the connection between poverty, disability, and race.
The past year has been challenging for everyone; however, the AACPDM continues to be forward looking. The "teamwork" mind-set of our members solidifies a worldwide network that provides the best outcomes for patients. This team will continue to support each other through these challenging times. It was for this reason and because the meeting is being hosted in the French speaking Quebec City that the theme for this year's AACPDM meeting is "On y Va!", a French phrase meaning "Let's Go!". It embodies how AACPDM is ready to emerge from these difficult times, together.
On y va! Let's go!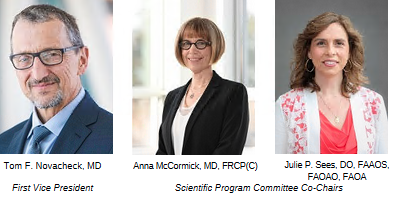 Important Dates
January 31, 2021
Abstract Submission Deadline
March 30, 2021
Abstract Notification Sent Out
May 6, 2021
Virtual Announcement Sent Out
June 2021
Online Registration Opens
July 12, 2021
Speaker Timeline/Tasks Sent Out
August 10, 2021
Speaker Reminder/Timeline/Tasks Sent Out
October 6-9, 2021
75th Annual Meeting