AACPDM First Vice President's Update
After a recording breaking abstract submissions year, all evaluations and scoring has been completed. Abstract submission notifications for the 77th AACPDM annual meeting have now been sent. We are excited about the options that will be available at the meeting, including 120 free paper presentations, 201 scientific posters, 45 demonstration posters, 24 clinical observation/single case study posters, 37 morning sessions, and 39 mini-symposia. We were impressed by the quality of the submissions and inspired by the diversity of the content.
We are also very grateful for the dedication of the 21 members of our Scientific Program Committee. Each abstract was evaluated by three reviewers, including one expert in the specific area of content. We thank them for their time and thoughtful input during the process.
We are now focused on finalizing the schedule and off-site venues for the meeting. Our planning team recently completed a site visit in Chicago and we are very pleased with the conference venue as well as the many options that we explored for social events. We will finalize plans for social activities soon so please stay tuned for more information about what we have planned!
Registration will open mid-May! Visit our website here: https://www.aacpdm.org/events/2023/registration. AACPDM is grateful to all attendees and participants. This year there will be a special Member's Rate for the Annual Meeting, as a thank you for all you have done on behalf of the Academy during the last several years.
Winds of Hope carry our Academy. We see the promise and hope in the information we learn and exchange during the Annual Meeting, and the Hope that is inspired when we return home and the work we do on behalf of our patients.
Looking forward to seeing you in Chicago, September 10-13, 2023!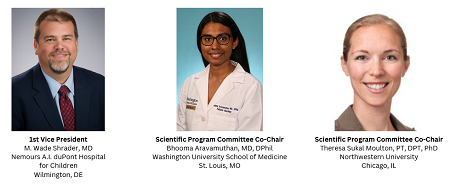 Past President's Reflection
Honoring Our Pioneers – Fred P. Sage the Mentor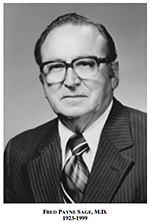 The Sage Award is annually presented by the AACPDM to the best multimedia submission presenting clinical, research, or educational material in a digital format. The award application closes each year in the spring, and is selected by the AACPDM Communications Committee.
We recognize many of the successful recent award winners, including:
2022: Tracy Pickar with "Start Here," a website for parents of children with disabilities.
2021: Dana Anaby, PhD for PREP is an intervention that encourages and empowers children, youth and adults with disabilities to participate in activities they enjoy by addressing environmental barriers and building capacity through coaching.
2020: Kathleen Huth, MD, MMSC for Virtual Home Visit for the Child with Medical Complexity.
2019: Jan Willem Gorter, MD, PhD, FRCP(C) Gross Motor Function Classification System - Expanded & Revised on the CanChild website.
The amazing submissions by these winners help educate and inform about important topics and present it in a digital format. The AACPDM has been presenting this award honoring Dr. Sage since 1982, long before hashtags and social media platforms.
Let's take a moment and reflect on the person who this award is named after, Fred P. Sage, MD, past president (1981) and Chairman of the A/V Committee of the AACPDM. Dr. Sage envisioned the great potential of audio-visual use in the Academy. He advocated for ways to popularize this method of teaching, and this interest eventually lead to the Sage Audio-Visual Award for the best program submitted each year.
The man who once told me that "When they made me president we had $800 in the bank. When I finished we were $400 in debt so they named an award after me." That was Dr. Sage's way, to work hard and have a good humor.
Fred Sage was an old Mississippi country doctor who began his career as a general practitioner in rural Mississippi. Later he decided he wanted to become an orthopaedic surgeon. He applied and was accepted to train at the Campbell Clinic. When he finished he was offered and accepted a position on the attending staff. The orthopaedic chief called in the young surgeon one day and told him that he was to be the Campbell Clinic's expert on cerebral palsy.
Dr. Sage took me to my first AACPDM annual meeting. He introduced me to many of the leaders and researchers in the Academy. As a Past President, everyone knew, respected, and appreciated Dr. Sage. That is one of the amazing things about the AACPDM, an early career person can come to a meeting and feel welcomed to approach any senior member and they would be happy to introduce you around. That is true to this day.
During the Second World War, Fred Sage was a pilot in a secret squadron known as "The Carpetbaggers." These young pilots flew unmarked black bombers across the English Channel at night, navigating by moonlight and the terrain below, to supply the French resistance. Dr. Sage told me how they flew low and at stall speed looking for signals from friendly flashlights below. They dropped their supplies and then high tailed it to the channel coast before the Messerschmitts got airborne. One time when he knew he couldn't get out on time he landed in occupied France, hid himself and his aircraft, and flew out the next night. Many of his compatriots never returned from their mission.
Despite the high regard in which he was held by his colleagues and despite his national and international reputation, it was his down-to-earth approach, his practical advice, and his obvious commitment to the welfare of his patients that endeared him to them and their families. Dr. Sage had a smile that always dispelled the children's fears, and he would get down on one knee to evaluate how the child walked with an eye toward making it better. Dr. Sage never lost his keen mind that was always exploring and evaluating new things for the children he served. Like many of the AACPDM pioneers he knew that ours is a field in which the more you try to shape it the more you realize it shapes you.
Joseph Dutkowsky, MD
Past President - 2012
Committee Corner
Adapted Sports
Submitted by: Marianne A. Mousigian, MD (2022-23 Committee Chair)
The AACPDM Adapted Sports & Recreation Committee has continued to work hard on multiple initiatives this year! We received approval to create an Adapted Sports and Recreation Special Interest Group, and we are currently working on its implementation. Committee members also continue providing concise summaries of recent adaptive sports original research articles via the Adaptive Sports & Recreation Journal Article Digest, helping busy AACPDM members keep up with recent evidence-based literature. Our committee has also increased its focus in promoting diversity, equity, and inclusion efforts related to adaptive sports and recreation, including highlighting different organizations, resources, or events. Committee members will soon begin thoughtfully planning sessions for the next AACPDM Annual Meeting including the adaptive sports and recreation community forum session.
Education
Submitted by: Kelli N. Chaviano, DO (2022-23 Committee Chair)
The Education Committee has been working on several new projects. Our latest project includes the creation of the Spring Symposium, Spring into Technology! Enabling Children in Hospitals, Schools, and Beyond beginning on May 3, 2023. The Education Committee, in collaboration with AACPDM members, continues to offer self-paced online eCourse for CME and CEU credit.
We encourage all AACPDM members to take advantage of the many continuing education opportunities offered throughout the year and spread the word to colleagues. Thank you to all the members who have contributed to the success of these educational initiatives through their dedication to the Academy, and volunteering their time and expertise.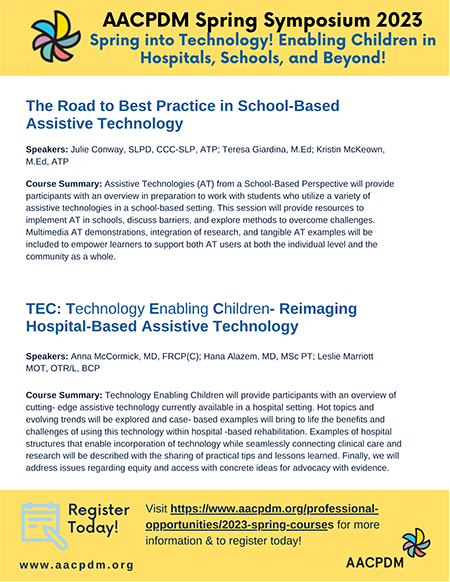 LifeSpan Care
Submitted by: Heidi J. Haapala, MD (2022-23 Committee Chair)
The Lifespan Committee has continued to work diligently to highlight topics and issues relevant to the lives and care of adults with childhood onset disabilities to the AACPDM membership. Our committee members worked with the Education Committee to develop an e-course on Pain and Fatigue in Adults with CP that ran the summer of 2022. We also established a new Lifespan Journal Digest in 2022, which is now live on the AACPDM website (https://www.aacpdm.org/publications/lifespan-journal-digest). In the Digest, you'll find short reviews of 2-3 relevant journal articles each quarter. Our hope is that this will allow people to find "bite-sized" summaries of the information they need to work with this population! Finally, the Adults and Aging SIG group has continued to roll with Lifespan Committee support, with 2-3 virtual meetings planned during the year along with one in person meeting held at the AACPDM annual conference each fall. In addition to the Journal digest, the second educational goal is to work on developing a presentation for the annual conference, for 2023 a Mini-Symposia was submitted and plans are underway to meet to start developing a pre-conference course for 2024.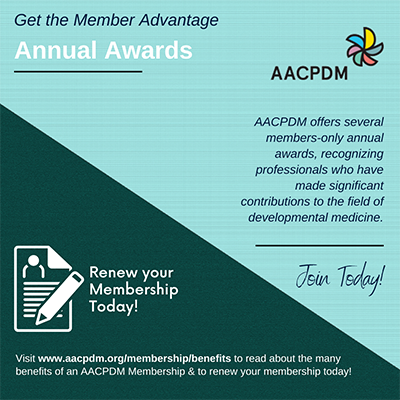 Membership
Submitted by: Michael T. Healy, MD (2022-23 Committee Chair)
The Membership Committee will host quarterly Zoom webinars, offered to AACPDM members only, that will focus on participant discussion and exchange of information. Proposed topics include, submitting grant proposals, submitting proposals for an Annual Meeting course, and tips for new members on how to better navigate and connect with other members while attending their first Annual Meeting.
The Membership Committee is pleased to announce the continuation of the ever popular AACPDM Advisor Support Program! The AACPDM website offers information for members who are interested in enrolling in the program as an Advisor or Advisee.
The Academy membership is comprised of over 1,100 medical professionals working together in treating patients with cerebral palsy and other childhood-onset disabilities by disseminating education and research. If you have not already done so, please renew your membership here: https://aacpdm.execinc.com/edibo. AACPDM is like no other professional society! The "teamwork" mindset of our members solidifies a worldwide network that provides the most effective outcomes for patients. Encourage your friends and colleagues to join our network here: https://aacpdm.execinc.com/edibo/Application
International Affairs
Submitted by: Antigone S. Papavasiliou, MD (2022-23 Committee Chair)
The International Affairs Committee aims to provide opportunities for continuing education, research and innovation to International colleagues working in the field of CP and Developmental Disabilities; also, to promote their relationships with the AACPDM multidisciplinary community. Travel scholarships are awarded to applicants from resource-limited areas of the world with great potential for spreading knowledge and innovation in patient care; also, to researchers requesting support for international travel. In the coming year the committee aims to discuss survey results received from previous international scholarship winners and to present some exceptional success stories with great impact in the care of patients with CP and Developmental Disabilities that started from a travel scholarship supported by the AACPDM. We encourage members of the international community to actively participate in this committee and to stay connected in order to promote awareness on the great achievements in the diagnosis and care in the field of CP and Developmental Disabilities.
Research
Submitted by: Christos Papadelis, PhD (2022-23 Committee Chair)
This year the Research Committee improved the structure of the Academy's application by adding details on the portal about each funder's interest and specific guidelines, as well as including applicant templates to better facilitate the review process and homogeneity of application format.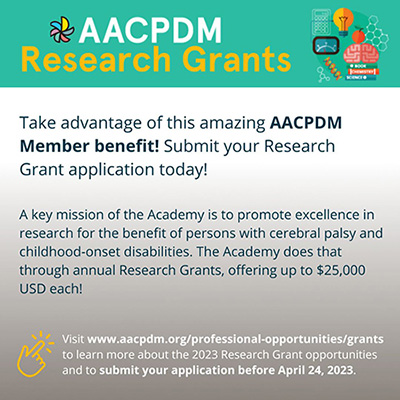 Awards
Submitted by: Desiree B. Maltais, PT, PhD (2022-23 Committee Chair)
The Awards Committee worked to score online posters and in-person free papers at the 2022 AACPDM Annual Meeting. The Committee looks forward to implanting new technologies and strategies to facilitate future award scoring. Please review the AACPDM website here: https://www.aacpdm.org/professional-opportunities/awards for more information on the AACPDM annual awards. The 2023 deadlines are approaching quickly!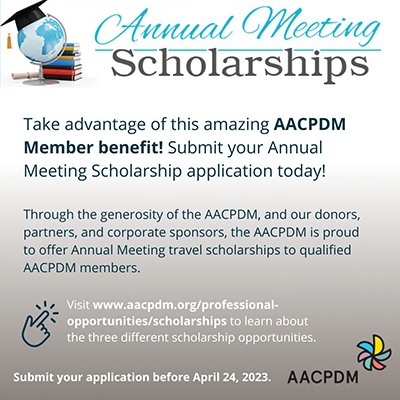 Advocacy
Submitted by: Rishi K. Agrawal, MD, MPH (2022-23 Committee Chair)
The Advocacy Committee has been busy this year! Our exciting projects include the implementation of the Advocacy Toolkit, an online resource, which includes information targeting the state and national level. The Committee continues to collaborate with the AACPDM Community Council to provide the voice of the variety of stakeholders to enhance the mission of the AACPDM with the goal of creating greater opportunities to collaborate for the health, wellness and service towards those with cerebral palsy and other childhood-onset disabilities. We continue to work with the Council to coordinate one of the speaker panels for the Community Forum each year.
Communications
Submitted by: Brittany D. Hornby, DPT (2022-23 Committee Chair)
The Communications Committee works to utilize coordinated strategies to disseminate AACPDM announcements and updates across several different platforms to promote its overall mission. We use Facebook, Twitter, and Instagram as our key social media platforms and create our society newsletters. We also work to share information about latest research and education opportunities that are of benefit to our members and the patients and families that we serve. We select the annual Fred P. Sage award winner, congratulations to our previous winners! This year we are collaborating with POSNA regarding a "myth buster" series, the Community Council regarding travel recommendations and the AACPDM Board of Directors regarding the new AACPDM Communication Strategy, Policies and Procedures.
AACPDM SIGs – Specially Designed for You!
AACPDM Special Interest Groups (SIGs)
Submitted by: Heidi J. Haapala, MD AACPDM Lifespan Care Committee Chair
The Lifespan committee continues to work on promoting information relating to the care of adults with childhood onset disabilities. The Journal Digest and Adults and Aging SIG have worked on their initiatives through updates on recent publications and education via Zoom meetings. The Lifespan Journal Digest continues to collate articles relating to lifespan care with quarterly summaries of some of the most relevant recent publications. You can find the articles on the AACPDM publications site at: https://www.aacpdm.org/publications/lifespan-journal-digest. The Adults and Aging SIG also continues to sponsor meetings relating to the care of adults. The previous meeting was held in February 2023 and the next meeting is scheduled for May 2023. For more information regarding the meetings please contact the SIG at AdultAgingSIG@aacpdm.org.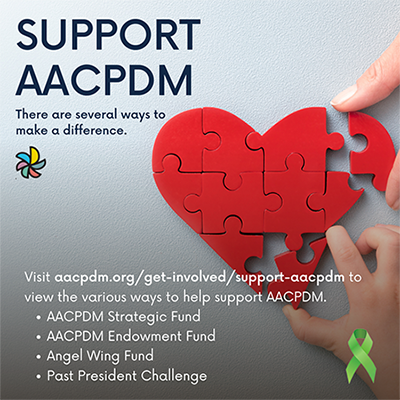 Elements of Data from NINDS

Submitted by: Joline Brandenburg, MD, Chair, CP CDE Oversight Committee & Carolina Mendoza-Puccini, MD, NINDS CDE Program Officer, National Institute of Neurological Disorders and Stroke (NINDS), National Institutes of Health (NIH)
The NINDS Cerebral Palsy Common Data Elements (CP CDE) Oversight Committee wants your help. Please visit the CP CDEs, and scroll down the webpage to view categories of particular interest to your research, clinical practice, or quality improvement initiatives. Click on the categories to see the recommended CDEs collated as Case Report Forms (CRFs) and measures. Measures are listed with their Notice of Copyright (NOC) forms that provide a brief overview of the instrument(s). Let us know if there are measures or CDEs you don't see but think should be included; why you think these measures should be included and; if there are updates to the measures that are missing. Please provide us with updates and any supporting references.
How do you submit your feedback and comments? It's easy! At the top of the NINDS CP CDE website is a "Connect with Us." Click on this to send an email with regard to your feedback and suggestions. Include "CP CDE" as part of the email message title which will direct your comments to the CP CDE Oversight Committee. Your feedback and comments will be reviewed by the Committee and we will work to provide a response to let you know the outcome to your feedback and comments.
We are also delighted to report that the CP CDE Oversight Committee will be presenting "The National Institute of Neurological Disorders and Stroke (NINDS) Cerebral Palsy Common Data Elements (CDE): What they are, ways to use them, and gaps" as a mini-symposium on Monday, September 11th at the 2023 AACPDM Annual Meeting in Chicago. We encourage you to come to this interactive presentation; hear the various ways you can use the CP CDEs; and provide feedback on CP CDEs.
Mac Keith Press Update

New Book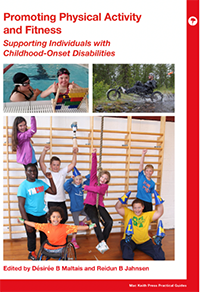 We're delighted to announce the publication of a new book, edited by Désirée B Maltais and Reidun B Jahnsen. Here's a quick snippet and glowing review from the foreword:
'Anyone with childhood-onset disabilities, their parents, trainers in sports associations, assistants, sports teachers, and others who take care of people with childhood-onset disabilities in training or movement contexts should read this book and have it by their side as a guide in all phases of training.'
We're also extremely grateful to our incredible editors for providing a clear and lively introduction to the book in the below video: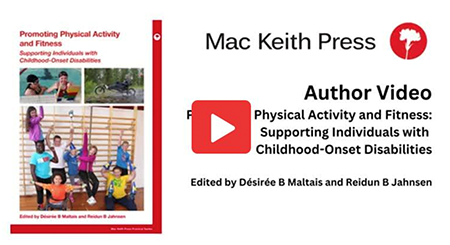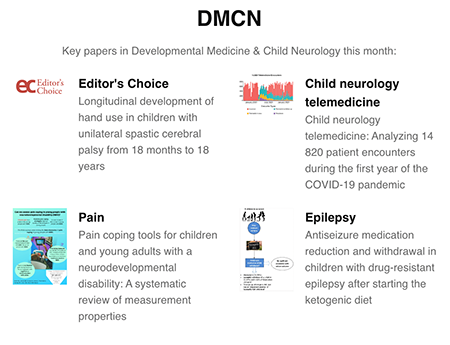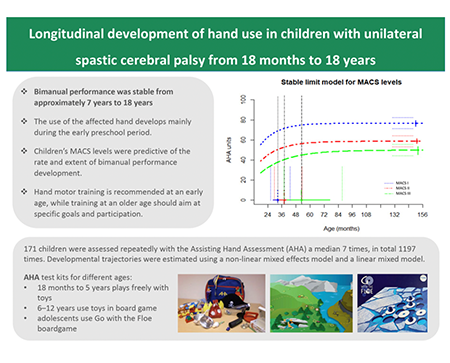 Editor's Choice Paper
This month's Editor's Choice by Eliasson et al. is a longitudinal study of the development of hand function in children with unilateral spastic cerebral palsy spanning from 18 months to 18 years.
The authors found children's Manual Ability Classification System (MACS) levels were predictive of the rate and extent of bimanual performance development. They also recommend hand motor training is performed during the early preschool period to optimise development.
Key podcast
In this podcast, Lynore McLean, Ginny Paleg, and Roslyn Livingstone discuss their paper:

Supported-standing interventions for children and young adults with non-ambulant cerebral palsy: A scoping review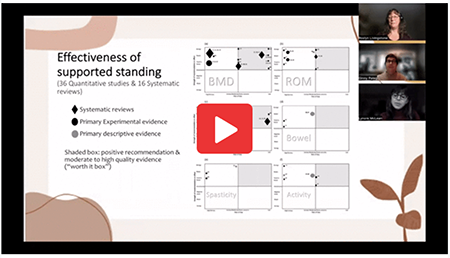 Letter from the Editor
Dear Members,
As life turns away COVID-19, the Academy is continuing to grow in range and influence. Although coronavirus seems will always be with us, we can move on to interpersonal activities. Holding the annual meeting in early September this year should avoid the expected fall recurrence. There are quite a number of active initiatives within the Academy; look closely for where you can contribute. I would recommend looking at the NINDS Common Data Elements to add improvement, but you should choose your own areas. As always, feedback is appreciated.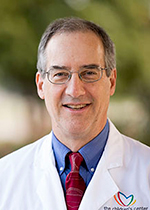 Steve Couch
AACPDM Newsletter Editor