Committee Updates
Complex Care
Submitted by: Kurtis Sobush, MD (Committee Chair), Kilby Mann, MD (Committee Chair-Elect)
The Complex Care Committee is a broad, multidisciplinary committee that has been active in addressing goals that align with the AACPDM mission over the past few months. One key objective relates to the dissemination of important clinical management updates for children and adults with medical complexity. This is being accomplished in multiple ways. Work has included the conversion of past AACPDM conference material to enduring e-course content including respiratory care management and pain management updates for those that are medically complex.
For the upcoming AACPDM annual meeting, our committee has adopted the "Make it Matter" theme by exploring collaboration between health care and educational providers with a course titled "Schools as Members of the Complex Care Team." We are looking forward to meeting with others in the Academy in person in Las Vegas where our Complex Care Track will allow for dynamic learning and networking. Have a wonderful summer and we will see you there!
Education
Submitted by: Amanda Sarafian, EdD, OTR/L. (Committee Chair)
The Education Committee continues to offer self-paced online eCourses for CME and CEU credits. This year, in collaboration with AACPDM members, the committee successfully launched the following courses:
Management of Children with Achondroplasia by Penny Ireland, PhD, and Leanne Johnston, BPhyt, PhD
Practical Approaches to Complex Care: Building Your Clinical and Teaching Toolkit for Respiratory Care by Kilby Mann, MD; Kurtis T. Sobush, MD; Matthew Sadof, MD; Naomi Lorch, PhD, PT; Emily Goodwin, MD; Kathleen Huth, MD; and Irene Dietz, MD.
COVID and Children with Disabilities by Maurice Sholas, MD, PhD; Mitul Kapadia, MD, MSc; Irene Deitz, MD; Brenda Agnew; and Ana Ortiz Santiago, MD.
We encourage members to attend and share the current eCourse, available until September 12, 2022, Pain and Fatigue in Adults with Cerebral Palsy by Debbie Thorpe PT, PhD; Heidi Haapala, MD; Marij Roebroeck , PhD; Mark Peterson, PhD, MS; Elisabet Rodby Bousquet PhD, PT; David Frumberg, MD; Caitlin Cassidy MD, FRCPC; and Brooke Larabee.
Lifespan Care
Submitted by: Caitlin Cassidy, MD (Committee Chair)
The Lifespan Care Committee has been working hard on a few major projects this year. We're very excited to let you know that our Lifespan Journal Digest is now available on the AACPDM website! Please remember to visit the site regularly to check for our quarterly updates summarizing important research in the area of Lifespan care for people with childhood onset disability.
Members of the Committee also took on the task of organizing and preparing an e-course, titled "Pain and Fatigue in Adults with CP: From State-of Science to Treatment Options," which will be open as of July 12. Finally, the Committee continues to support the ongoing operation of the Adult and Aging SIG. The SIG planning committee (comprised of Committee members and non-members) is looking forward with great anticipation to only our second in person meeting in Las Vegas, and we hope that many of you will come and join us there!
Membership
Submitted by: Michele M. Tourne, PT DPT PCS (Committee Chair)
The membership committee has selected the 2022 scholarship recipients for the OrthoPediatrics Travel Scholarship. This scholarship funds travel for AACPDM members who are Residents/Fellows in training, Physicians in their first year of practice, and Allied Health professionals (nurses, physical, occupational, speech, and recreational therapists) who are at any point in their career. Congratulations scholarship winners!
The membership committee will be launching quarterly roundtable discussions for new members, with the purpose of increasing engagement and promoting networking. Proposed topics include how to engage as a new member, benefits of joining a committee, information on applying for scholarships and grants, as well as tips on how to collaborate with authors to submit a course for the annual meeting. Our first discussion will be in August 2022.
Join us on Wednesday, September 21, 5:30-6:00 pm for a Meet & Greet!
The meet-and-greet will be held in the Poster and Exhibit Hall and all Committee Chairs/Chair-Elects and AACPDM Board Members are asked to attend. Invitees will have the option to mingle with committee leadership and learn more about your work, expand their AACPDM network, and explore increased engagement with the Academy. Each committee will have a table and Committee Chairs/Chair-Elects are asked to attend and represent their group. Handouts are welcome but must be created and produced by each committee.
Research
Submitted by: Christopher M. Modlesky, PhD
The AACPDM Research Committee completed the reviews of 22 grant proposals and is waiting on funding decisions. We appreciate the generosity of our partners, Pedal with Pete, C-Progress, and the Cerebral Palsy Alliance Research Foundation, for the funding they offer and the applicants for the excellent proposals they submitted. To enhance the review process, we successfully piloted a new procedure meant to offer funders more extensive reviews and applicants more extensive feedback than during prior cycles. We thank everyone involved.
The Research Committee is also planning the research-focused pre-conference course "Establishing a Research Program Focused on Cerebral Palsy or Other Child-Onset Developmental Disabilities: Transitioning from an Early-Stage to an Independent Investigator." The course will be offered on September 21, 2022 from 8:00 am to 12:00 pm as a preconference of the 2022 Annual Meeting.
Please note that the National Institutes of Health (NIH) is hosting a workshop on cerebral palsy research on August 17 and 18: https://grants.nih.gov/grants/guide/notice-files/NOT-NS-22-105.html. The Research Committee worked with the board of directors to contribute comments to the NIH's Request for Information (RFI).
Adapted Sports & Recreation Committee
Submitted by: Stephanie Tow, MD (Committee Chair)
The AACPDM Adapted Sports & Recreation Committee has been hard at work this year! Committee members continue providing concise summaries of recent adaptive sports original research articles via the Adaptive Sports & Recreation Journal Article Digest, so that busy AACPDM members can keep up with recent evidence-based literature. Our committee has also increased its focus in promoting diversity, equity, and inclusion efforts related to adaptive sports and recreation, including highlighting different organizations, resources, or events. Committee members have also been thoughtfully planning sessions for the AACPDM Annual Meeting, including multiple "Let's Move!" physical activity sessions and the adaptive sports and recreation community forum session. We hope to see many members at our sessions at the Annual Meeting in Las Vegas!
Advocacy
Submitted by: Jason M. Edinger, DO (Committee Chair)
The Advocacy Committee has been busy this year! Our current exciting projects include building a reference toolkit on the AACPDM website that provides members with the information they can use to advocate for their patients at the healthcare, state, and national level. We plan for this to go live on the website in 2022 and it will be updated regularly.
We continue to collaborate with the AACPDM Community Council to identify the needs of persons with disability as well as their families, and will again coordinate an Advocacy Panel for the Community Forum this year. The Advocacy Committee will also present a mini-symposium that we would like to present at the 2022 Annual Meeting to be held in Las Vegas focused on various advocacy topics.
Finally, we continue to identify important current issues or initiatives that are relevant to the membership. After a vetting process, we relay these to the communication committee for dissemination to the membership.
Care Pathways
Submitted by: Lynne Romeiser-Logan, PT, PhD (Committee Chair)
The Pathways committee has been meeting regularly to review topics important to the development of Pathways. We are very excited to have the first Pathway completed with the new methodology. Darcy Fehlings and the Dystonia group have done a great job. The Pathway will soon be up for public comment on the Pathways committee page for 30 days. Please take this opportunity to look through it and ask questions or make comments. The Respiratory Pathway is also newly up on the website and was completed using the original methodology.
The committee has at least 2 liaisons for each Pathway under development to assist the teams in using the new methodology and ensure communication between the teams and the committee. We also are using this opportunity to get new members of the committee intensively involved in the development process of a Pathway.
We encourage you to consider the preconference to be held on September 21 at the 2022 Annual Meeting in Las Vegas entitled, "PC5: Quality Matters: How to Evaluate a Systematic Review of Intervention (And Learn to do a Good Quality One)".
Communications
Submitted by: Ginny S. Paleg, DScPT (Committee Chair)
The Communications Committee works to utilize coordinated strategies to disseminate AACPDM announcements and updates across several different platforms to promote its overall mission. We use Facebook, Twitter, and Instagram as our key social media platforms and create our society newsletters. Our goal is to not only inform our members and the public of our society's work, but to also promote research, tech, disability awareness and rights, and more!

Community Council
Submitted by: Lynne Fogel, Chair of the Community Council
The primary purpose of the AACPDM Community Council is to provide the voice of lived experience from a variety of stakeholders to enhance the mission of the AACPDM. Our goals include pursuing opportunities to collaborate for the health, wellness and support of those with Cerebral Palsy and other childhood-onset disabilities. We are excited to welcome Benjamin Shrader from Delaware, and Amy Cutler from Illinois as new members to the Community Council!
The Council has identified a Family Track to provide recommendations on family centered sessions during the AACPDM Annual Meeting. All final tracks will be available on the Annual Meeting website here: http://www.aacpdm.org/events/2022
The AACPDM Community Council hosts an annual Community Forum, which is a FREE educational event for families and individuals with cerebral palsy or other childhood-onset disabilities. We invite you to explore these events by visiting here: http://www.aacpdm.org/get-involved/community-forum. The 2022 Community Forum is excited to announce that we will be virtual again this year to best accommodate the travel needs of families. Stay tuned for the registration notice. We will release one panel a day from September 12-15. The four panel topics will include:
Bone Health
Advocacy
Adapted Sports
Youth with Lived Experience
Elements of Data from NINDS

Submitted by: Joline Brandenburg, MD, Chair, CP CDE Oversight Committee & Carolina Mendoza-Puccini, MD, NINDS CDE Program Officer, National Institute of Neurological Disorders and Stroke (NINDS), National Institutes of Health (NIH)
The public review and comment period for the drafts of the NINDS Cerebral Palsy Common Data Elements (CP CDE) Chronic Pain Instruments and Orthopedic Case Report Forms closed on June 1. Thank you to all who reviewed and provided feedback. We are in the process of reviewing the feedback, updating the instruments and forms, and providing responses to those who submitted comments.
The Chronic Pain Instruments and Orthopedic Case Report Forms will be published in August 2022. These will be the newest addition to the NINDS CP CDEs Version 1.0. We encourage all to visit the website and provide feedback. The CP CDE Oversight Committee uses the feedback to facilitate reviewing and updating the CP CDEs.
For all attending the 2022 AACPDM Annual Meeting in Las Vegas Nevada, the CP CDE Oversight Committee is delighted to be able to share more information on the CP CDEs and the most recent updates. On Friday, September 23 from 4:00 to 6:00 PM we will be presenting "Pain Matters! NINDS Cerebral Palsy Common Data Elements, International Classification of Functioning, and Measures of Pain in Children with Cerebral Palsy." On Saturday, September 24 from 8:15 to 9:15 AM we will be presenting "NINDS Cerebral Palsy Common Data Elements for Lower Extremity Orthopedic Interventions."

Introducing Archives of the AACPDM Village: Past Presidents & Trailblazers
A project intended to preserve the stories from the past to help share the future of the AACPDM.
In celebration of the AACPDM 75th Anniversary, last year the Academy launched a new video series highlighting those who have made a difference in Academy history: Archives of the AACPDM Village: Past Presidents and Trail Blazers.
This video series now features seven Past Presidents each of whom contributed to building the AACPDM village in unique ways. Through their stories, we are reminded of the many different personalities and characteristics that make up a village, and how each contributes to the multidisciplinary and interdisciplinary vision of the Academy.
Each of these Past Presidents learned from each other, grew together, and often developed lasting friendships. Their stories frequently intermingle, and we learn that each cares deeply about this Academy, their fellow members, and the patients and families this Village was built to support.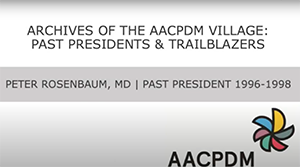 Click the image to watch a preview of the latest addition to the Archives of the AACPDM Village: Past Presidents and Trail Blazers video series, Peter Rosenbaum, MD.
Please visit the AACPDM website to watch all of the full length Past President interviews.
Mac Keith Press Update

June Highlights from Mac Keith Press
New AACPDM members area and course offer
We are in the process of building a dedicated AACPDM members page on our website which will highlight key content and free material that will be useful for AACPDM members. Do you have any ideas about other content you'd want to see? Please let us know at admin@mackeith.co.uk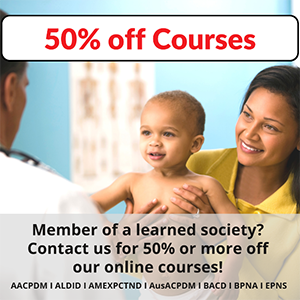 We're pleased to offer 50% off our online courses for AACPDM members! Contact the team by email or by clicking the image.
Paediatric Neuropsychology within the Multidisciplinary Context
Rhonda Booth, Tara Murphy, and Kathy Zebracki
Rhonda Booth, Tara Murphy, and Kathy Zebracki present exciting new critical insight on neuropsychological theory and its influence on clinical practice in this accessible and forward-looking publication. With new research and theory on brain-behaviour relationships supported by instructive case studies, this Practical Guide demonstrates how neuroscience and other important factors are driving clinical formulation in paediatric neuropsychology.
Key papers this month:
Financial cost and quality of life of patients with spinal muscular atrophy identified by symptoms or newborn screening
This article compares the societal financial costs and quality of life of untreated spinal muscular atrophy (SMA) patients and treated patients identified because they presented symptoms or were identified by early testing (sibling or newborn screening). Dangouloff et al. found that early identification and treatment offers the opportunity to reduce total societal costs of SMA where treatments are available for pre- and post-symptomatic patients.
Early intervention for very young children with or at high likelihood for autism spectrum disorder: An overview of reviews
This overview of reviews by Franz et al. synthesizes early intervention literature for very young children with or at high likelihood for autism spectrum disorder to identify which interventions are supported by evidence and the quality of that evidence.
Lived experiences of adolescents with fetal alcohol spectrum disorder
Through semi-structured interviews, Skorka et al. explored the lived experiences of adolescents with fetal alcohol spectrum disorder (FASD) to understand the ways in which their challenges influence daily functioning and participation. They argue service providers should consider incorporating strengths-based approaches with an explicit focus on facilitating the development of positive self-identities to better support adolescents with FASD.
Remember to check out Early View for the very latest from DMCN.
Letter from the Editor
Greetings and welcome to mid-summer. It is hot here, 102-103°F (38.5-39°C) and increases appreciation for technology to manage the temperature indoors, as well as appreciation for the added difficulties of the mobility impaired. Technology has provided amazing benefits (and problems) and one wonders what additional technology is coming in the future. Technology has also allowed us to communicate when not physically present. We hope to see you at the 76th Annual Meeting and explore what can be done, or is in development, for yourself! Blessings and peace to you.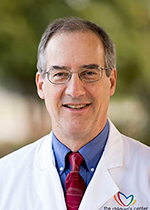 Steve Couch
AACPDM Newsletter Editor