Community Council
The Community Council and Developmental Medicine & Child Neurology have been collaborating since March 2020, bringing the perspective and input from people with lived experience (patients and families) to the editorial process of the Journal. They thus reviewed a number of research papers and/or or provided commentaries published alongside accepted articles on a variety of topics from quality of life and participation, barriers and facilitators to the relevance of outcome measures. Additionally, patients and carers have had the opportunity to discuss issues openly with the editor. For the members of the Community Council, this collaboration has proven to be tremendously meaningful in that the opportunity to thoughtfully review or provide commentary on current research demonstrates that stakeholder thoughts, ideas and opinions are appreciated and add value to field while also fulfilling the mission of the Community Council to serve the AACPDM. The Council looks forward to more opportunities as they arise.
Complex Care Committee
Please join the AACPDM Complex Care Committee on October 6th from 10am-2pm EST for Practical Approaches to Complex Care: Care of Medically Complex Non-Verbal Children with Suspected Pain Behaviors. This 4-hour virtual pre-conference seminar will focus on a multidisciplinary approach to assessing, diagnosing, and caring for medically complex children with pain behaviors and their families. The course will allow exploration and understanding of the GRASP tool to diagnose underlying pain generators, use of behavioral and pharmacologic interventions and current research, family-focused support tools, and an interactive discussion with a panel of providers and families. Attendees will take away concrete tools for diagnosing and providing family support, up-to-date recommendations for treatment and management, and enjoy multiple viewpoints and family perspectives.
Lifespan Care
Over the last 3 months, the Lifespan Care Committee continued to work on their agenda of encouraging knowledge sharing and leadership on lifespan care issues for those aging with developmental disabilities. The committee are currently working on a pre-conference workshop to address the important issue of mental health and wellbeing in this population, as well as hosting virtual SIG events in March and scheduled for June 2021. Identification of a suite of pain outcome measures (suitable for those with and without intellectual disability) has also been completed for use in adults. This work will strengthen the future development of a care pathway for management of pain in adults with cerebral palsy.
Membership Committee
The Membership Committee oversees several programs, and the Orthopediatrics Scholarship, as well as approves new members applications on an ongoing basis.
Goals achieved this year include:
Re-writing of the (OTS) Orthopediatric Travel Scholarship Application
Development of objective scoring rubrics for portion of the OTS
Development of an OTS "Buddy" Program, that pairs each scholarship winners with a committee member that will assist in networking, act as a resource, and encourage continued activity within the Academy
Re-writing of the Advisor Program guidelines, and development of suggested timelines
Clarification of membership category qualifications
Our next very large task is to analyze the membership data and put it into context, then begin to devise a long-term membership retention and recruitment plan.
Lastly, the Membership committee continues to work toward having a roster that reflects the diversity of the AACPDM overall and are now actively trying to recruit members from the nursing, physician assistant, orthotic, neurology and surgery professions. If you read this and fall into one of those categories, please contact us! We need you.
Research Committee
The AACPDM Research Committee was excited about another record number of grant submissions again this year!
A key mission of the Academy is to promote excellence in research for the benefit of persons with cerebral palsy and childhood-onset disabilities. One way in which the Academy promotes research is through the annual Research Grants. This year AACPDM partnered with the Pedal with Pete Foundation, the Center for Progress and the Cerebral Palsy Alliance Research Foundation to fund multiple grants, up to $25,000 USD each!
Research grant funding supports high-quality, clinical research projects/programs. The Principal Investigator on the grant must be an AACPDM member in good standing. Only one grant application per member will be considered in a given budget year. Thank you to all those who have submitted and continue to make this a robust and competitive opportunity!
Research Spotlight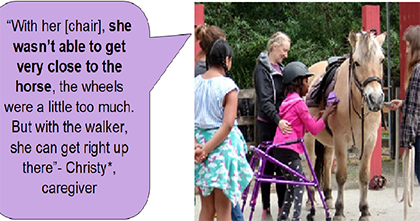 Funding by the Pedal with Pete Foundation supported the grant, "Supported Mobility Across the Lifespan in Cerebral Palsy: Joint Decision Making," from the lead researcher Kristie F. Bjornson, PT, PhD, MS. The study documents important issues related to supported mobility devices (SMD) in children and adults with cerebral palsy (CP). Structured interviews documented that SMD can be liberating as well as restricting, are needed across the lifespan, SMD needs are ever changing and process of obtaining an area for future collaborative work with all key stakeholders.
AACPDM SIGS – Specially for you!
The Adults and Aging SIG met virtually on June 23 and were treated to a wonderful talk by Dr. Anne Berndl, the director of the Accessible Care Pregnancy Clinic at Sunnybrook Health Sciences Centre in Toronto, Ontario, Canada. Dr. Berndl reviewed a number of the unique needs of individuals with physical disabilities as they navigate pregnancy, and shared her experiences with developing and running the Accessible Care Pregnancy Clinic with a strong focus on family centered care. We also heard about the health care needs of adolescents and adults with Spina Bifida from MSc Candidate, Jessica Starowicz. Our next SIG meeting will be held virtually during the AACPDM's annual meeting in October, and we're hoping to see many of you there! We're recruiting leaders and participants for a number of different breakout sessions focusing on different elements of caring for adults, and would love to hear from you about what you might like to participate in. Please consider filling out the survey found at the link below:
Survey link
In Memorial
It is with sadness that I inform you that Robert K. Rosenthal passed away on Thursday February 25th in Sarasota, Florida after a short illness.
Dr. Rosenthal, or "Rosy" to those who knew him well at Boston Children's Hospital was a wonderful colleague, mentor and friend. He was always willing to teach and his kind and gentle demeanor put both patients and colleagues at ease.
Dr. Rosenthal graduated from Tufts University Medical School and after an internship at New England Medical Center, he entered the US Air Force, serving our country for two years. Upon return he completed his Orthopaedic Surgery residency at St. Joseph's Hospital in NJ and fellowship training at the Hospital for Special Surgery in New York. He then returned to Boston to begin his career at Boston Children's Hospital. In 1972 he started as the United Cerebral Palsy Clinical Fellow and spent the next 45 years treating children and families with cerebral palsy and neuromuscular conditions.
Dr. Rosenthal was instrumental in starting the Cerebral Palsy clinic at Boston Children's Hospital. He worked with enthusiasm, tireless energy and was passionate about educating residents and fellows in the care of children with Cerebral Palsy. He was a member of many pediatric orthopedic national organizations but he was most proud of his work for the AACPDM, where he served as committee chair, Treasurer, Vice President and President (1993-1996). He was an active Past President and was seen at most annual meetings.
He was generous with his time and philanthropy, serving on the Endowment Committee of the AACPDM and creating an endowment fund for the Robert K. Rosenthal Lectureship at BCH during our annual multi-discipline CP educational conference. However, his deepest passion was his family. He was married to Esther his wife for 60 years. Their children Geoffrey, Emily and Jocelyn, along with their spouses and children will miss him dearly.
Bob will be remembered for his smile, his generosity, his friendship and his vision to improve the care of children with Cerebral Palsy. The AACPDM extends condolences to Esther and the entire extended Rosenthal family.
Written by Benjamin Shore MD MPH FRCSC - Mentee and Friend to Dr. Rosenthal
Associate Professor in Orthopaedic Surgery
Program Director, Pediatric Orthopaedic Fellowship
Co-Director Cerebral Palsy & Spasticity Center
Harvard Medical School
Staff Orthopaedic Surgeon
Boston Children's Hospital
AACPDM Board Announces The Return of the Webmaster!
The AACPDM Board enthusiastically welcomes Dr. Julieanne P. Sees, DO, FAAOS, FAOAO, FAOA to serve the Academy in the position of official "Webmaster".

Dr. Sees, a pediatric orthopaedic surgeon specialized in care of children and young adults with neuromuscular conditions, is the Fellow of Osteopathic Medicine for the National Academies of Medicine (NAM) in Washington DC and 1st Vice President of the American Osteopathic Association (AOA) Board of Trustees. Her academic affiliations include Associate Professor of Sidney Kimmel Medical College of Thomas Jefferson University School of Medicine, Campbell University Jerry M Wallace School of Osteopathic Medicine, Rowan University, and Midwestern University Chicago College of Osteopathic Medicine.
Dr. Sees has been an active member of the AACPDM since 2013 as a presenter of Scientific Papers, Instructional Course Lectures, Symposia and/or Breakfast Sessions. She proudly serves the Academy on the Awards Committee as a member (2014-present), and this year as the 75th Anniversary Meeting Scientific Program Co-Chair (2020-21).
The research and educational efforts of Dr. Sees has focused on outcome studies of neuro-orthopaedics and developmental disorders, motion analysis and gait abnormalities, neuroscience academics, physician professional development, emerging leadership in health and medicine, graduate medical education excellence, and clinician resilience and well-being with national and international scholarly leaders and medical professionals.
The volunteer role of Webmaster has historically been a position appointed by the AACPDM President. The webmaster will be responsible for the content and all the information that goes into the website. The voluntary role was phased out of the Academy more than ten years ago, but the Board of Directors requested another Webmaster who will be a volunteer from the membership to keep up with the website needs. The Webmaster works in cooperation with the AACPDM Communications Manager and other staff on the project.
Welcome Dr. Sees!
Mac Keith DMCN Member Webinar
On June 22, 2021 AACPDM held the first ever, Member's Only, free informational webinar highlighting the many benefits and features of AACPDM's official journal, Developmental Medicine and Child Neurology.
To view the webinar, or to access the newly added Frequently Asked Questions section, please log-in to the AACPDM website under the "Member Login" option at the top of the homepage www.aacpdm.org. Once in your account, you will see a screen that highlights the webinar and the FAQ's.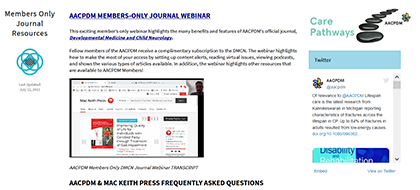 The webinar provides information on how to make the most of your DMCN access by setting up content alerts, reading virtual issues, view podcasts, and the various types of articles available.
Mac Keith Press Update
Mac Keith Press Courses
Mac Keith Press and the European Paediatric Neurology Society (EPNS) present two interactive online learning courses that support paediatric health professionals to develop best clinical practice for all neurological problems in infancy. The authors are distinguished experts drawn from all over Europe and the emphasis throughout is on clinical methods, the use of appropriate investigations and treatments, and the avoidance of unnecessary or potentially harmful interventions.
Complements your clinical training to improve knowledge and clinical practice.
Interact with the material by answering reflective activities to create a digital workbook.
Test your knowledge with a Multiple-Choice Questionnaire.
Read further with references and free access to videos and six classic paediatric neurology textbooks.
Receive a PDF certificate on completion with EACCME® accreditation points (can be converted to AMA PRA Category 1 Credit™).
You can download the course companion here.
You can try the trial course for free here.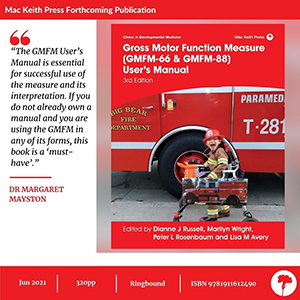 Mac Keith Press Forthcoming Book: Gross Motor Function Measure (GMFM-66 & GMFM-88) User's Manual 3rd Edition
Clinics in Developmental Medicine
Edited by Dianne J Russell, Marilyn Wright, Peter L Rosenbaum & Lisa M Avery
The third edition of the Gross Motor Function Measure (GMFM-66 & GMFM-88) User's Manual has retained the information contained in the original 2002 and 2013 publications which included the conceptual background to the development of the GMFM, and the administration and scoring guidelines for people to be able to administer this clinical and research assessment tool appropriately. This includes information on the development and validation of two abbreviated methods of estimating GMFM-66 scores using the GMFM-66- Item sets (GMFM-66- IS) and the GMFM-66- B&C (Basal & Ceiling) and a chapter providing a longitudinal case illustration of how the measure and the short forms of the GMFM can be applied and interpreted in clinical practice.
The new edition includes information and an Appendix on the updated version of the Gross Motor Ability Estimator scoring program (GMAE-3), which is available through the GMFM App+ (see the CanChild website at (https://www.canchild.ca/en/shop/38-the-gross-motor-function-measure-app).
Mac Keith Press Featured Book: Participation: Optimising Outcomes in Childhood-Onset Neurodisability
Clinics in Developmental Medicine
Edited by Christina Imms & Dido Green
This unique book focuses on enabling children and young people with neurodisability to participate in the varied life situations that form their personal, familial and cultural worlds. The book provides the reader with knowledge about the concept of participation, the interplay between context and outcome, how to measure and promote meaningful participation, and discourse on future directions and challenges.
Currently 50% with coupon code AACPDMSUMMER50
Newly Published: Early Detection and Early Intervention in Developmental Motor Disorders
Clinics in Developmental Medicine
Edited by Mijna Hadders-Algra
The book provides a comprehensive overview of assessments and interventions applied in young children with or at high risk for developmental motor disorders. It provides an evidence-based practical guide for health professionals working in the field of early detection and early intervention.

Developmental Medicine & Child Neurology
Recent publication highlights from the journal include:
Nintendo Wii Balance Board therapy for postural control in children with cerebral palsy: a systematic review and meta-analysis by Montoro-Cárdenas et al.
This systematic review reveals therapy based on the Nintendo® Wii Balance Board can help improve balance in children with cerebral palsy. When discussing the paper, corresponding author Esteban Obrero-Gaitán said: "virtual reality-based rehabilitation using Nintendo® Wii is considered a multi-sensory and active therapy that encourages the child's participation, increasing motivation and adherence to therapy due to its playful nature. It is a low cost tool that can be used at home for therapeutic purposes, a fact that is of great relevance during the COVID-19 pandemic."
Quality appraisal of systematic reviews of interventions for children with cerebral palsy reveals critically low confidence by Kolaski et al.
This paper evaluates the methodological quality of recent systematic reviews of interventions for children with cerebral palsy in order to determine the level of confidence in the reviews' conclusions. The authors findings are concerning, as few reviews are considered reliable according to AMSTAR-2.
Sleep problems in children with cerebral palsy and their parents by Hulst et al.
The importance of good quality sleep for optimal child health and development is increasingly recognized. The authors of this paper compare sleep outcomes of children with cerebral palsy and typically developing peers, and call for sleep assessment to be integrated into routine paediatric health care practice.
Check out more on the DMCN homepage and the very latest releases on Early View.
Podcasts
Neurodevelopmental Profiles of Children with Unilateral Cerebral Palsy | Fehlings | DMCN
Cerebral Palsy in Twins and Higher Multiple Births | Sellier & Smithers-Sheedy | DMCN
Hand Function and Self-Care in Children with Cerebral Palsy | Burgess | DMCN
Check out more podcasts on the DMCN YouTube channel.
Letter From the Editor
I hope this newsletter is as informative for you as it is for me. As described, the annual conference will be virtual this year but the meeting committee has added a number of social events to allow us to meet from across the world, so it would be great for you to register. Despite international changes and disruptions, the work continues and new information is appearing daily.

As always, comments, critiques, and content are welcome and encouraged.

Steve Couch
AACPDM Newsletter Editor