Register Now!
Mac Keith Press News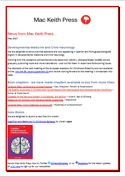 Care Pathways

| | | | |
| --- | --- | --- | --- |
| Summer 2017 | Follow us on: | | |
European Academy of Childhood Disability Highlights
Sarah Winter, MD

I bring you all greetings from the Annual Meeting of the European Academy of Childhood Disability (EACD). This year's meeting was held in beautiful Amsterdam at the RAI Convention Centre on May 17-20, 2017. Our host was Jules Becher (President) and his local organizing committee; Annemieke Buizer, Annet Dallmeijer, Joke Geytenbeek, and Vincent de Groot. Dr. Becher's program highlighted some of the same challenges and opportunities we face in the AACPDM. Christopher Morris discussed involving families as meaningful partners in childhood disability research, Andrea Guzzetta presented on the active ingredient of early intervention. Richard Leiber talked about the pathophysiology of the muscle in CP, Tim Theologis presented on recent developments in gait analysis, and Martha Grootenhuis led us through her e-mental health interventions supporting kids, siblings and parents when facing medical challenges. As is the case with the AACPDM, there were active rich discussions around all of the posters every day and more interesting important presentations than any one person could possibly attend.

It is just the kind of meeting we wish to create in Montreal for the Annual Meeting of the AACPDM. Mark your calendars for September 13-16, 2017 when I invite you to "Dare Greatly: Enter the Arena". Wednesday, September 13 is a day of pre-conference seminars including a full day symposium on Epigenetics that you will not want to miss. There is also a full day hands-on ultrasound course. We also have scheduled a half day morning Gait and Clinical Movement Analysis Society symposium, and two afternoon options: pain in adults or collaborative development monitoring. This all happens before the official meeting begins on Sept 14! We look forward to a varied program, meeting the educational needs of our members and guests and anticipate a large crowd for this meeting given the location and beauty of our host city, Montreal. Registrations are rolling in and you will not be disappointed. This year, our keynote speaker, Sue Swenson, will speak to us regarding the educational needs of students with disabilities and what she sees happening from her vantage point as former acting assistant secretary for special education and rehabilitative services in the Obama administration. In addition, we will hear from John Lonstein, Editor in Chief of Spine Deformity, about the history of treatment of neuromuscular scoliosis, from Robin Ohls, neonatologist, about what is being done to protect the fragile preterm infant's brain, from epidemiologists around the world about pertinent findings on CP prevalence, a parent panel perspective. We will hear from McGill University experts Michael Meaney on epigenetics and behavior and Michael Shevell, neurologist, on diagnostic considerations, from expert fathers of kids with CP, and from ESPN and other networks sports broadcaster, Jason Benetti, alongside inspiring award recipients. This does not include the contributions from all of you who have submitted the largest number of abstracts in the history of the Academy. The quality of papers and posters will be outstanding.

I would like to encourage you all to make plans to join us in Montreal. Restaurant recommendations are being prepared as I write this. The meeting co-chairs, Susan Sienko and Jacques D'Astous and their Scientific Program Committee have assured us a varied and fascinating group of presentations, instructional courses, and breakfast seminars. Please visit the full preliminary program and register today at http://www.aacpdm.org/meetings/2017/program.
71st Annual Meeting - Save the Date!

Join us in Montreal, Quebec, Canada for the
AACPDM 71st Annual Meeting
September 13–16, 2017
The preliminary program and registration is available, detailing a dynamic program consisting of: 5 pre-conference sessions, 30 breakfast seminars, 120 free papers, 40 instructional courses, 68 scientific posters, 42 demonstration posters, and 5 general sessions with keynote addresses (Exact numbers subject to change).
The Welcome Reception kicks off the 71st Annual Meeting on Wednesday at the Montreal Convention Center (Palais des congrès de Montréal) where you will be able to connect with colleagues from around the world! On Friday, the Networking Dinner will take place at Cirque Éloize providing an evening of fabulous entertainment, cuisine and company!
Please visit the AACPDM 71st Annual Meeting website to explore the resources available to you, including passport and visa information.
Did you miss the AACPDM 70th Annual Meeting

We have highlights of the General Sessions available online, with a lay summary attached for you to easily share the information: http://www.aacpdm.org/resources/multimedia#AM-highlights.
Care Pathways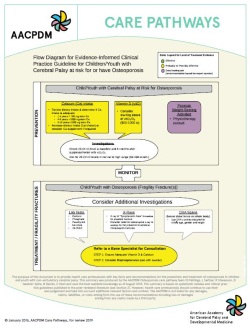 You are only 3 clicks away from evidence-informed bottom line summaries!
The Academy has developed online care pathways!
An AACPDM Care Pathway is a practical summary, including an algorithm, of evidence informed guidelines or the best evidence for an aspect of care/services for individuals with childhood-onset disabilities to inform clinical practice.
Check out the first care pathways for individuals with cerebral palsy on:
Dystonia
Osteoporosis
Sialorrhea

More care pathways are in development:

Contracture Management
Early Detection
Hip Surveillance
Book Nook
"The Management of ADHD in Children and Young People"
By Claire Davies
Edited by Val Harpin Mac Keith Press 2017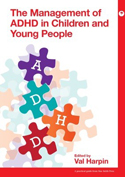 The prologue sets the stage for a very thorough look at ADHD amongst children and young people from both the clinical perspective and the "eye of the beholder" view. Many of the chapters provide case studies or dialogues with parents and children themselves that offer perspectives that might otherwise be missed.
Each chapter can be read to stand alone, allowing the clinician to read parts of the book without having to read the book in its entirety to fully understand specific issues. The book follows the life of a child, with a thorough discussion on the evolution of the disorder through understanding early symptoms, leading to diagnosis, co-existing conditions, medication, early childhood issues, and progressing into difficulties within adolescence and the transition years.
Within each chapter, "boxes" exist to provide take-home messages to the reader. These are synopses or figures that highlight the key diagnostic tools, indicators, programs, techniques, recommended practices, or summaries of each chapter or part thereof. Various intervention strategies can be found within these boxes allowing the clinician to reflect on how ADHD can best be managed within the multi-faceted lives of families.
One aspect of the book that I found particularly interesting was the reflections as the child reaches the transition years. Youths with ADHD have even more difficulty "finding themselves" than other teens with increased prevalence of substance abuse and misuse, issues with judgment when driving, misunderstanding the criminal justice system, and associated stressors leading to anxiety, depression and self-harm. Having a better understanding of the teenage years can increase awareness by both clinicians and parents of potential hurdles in the child's life.
This book was a very good read with great references and websites for the average parent and the clinician.
The Epilepsy-Aphasia Spectrum From Landau-Kleffner Syndrome to Rolandic Epilepsy
By Thierry Deonna and Eliane Roulet-Perez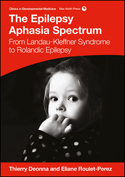 This is a very readable summary of the literature and comprehensive knowledge gained through a career of study of acquired epileptic aphasia. The 15 chapters cover the entire subject from history and classification to aspects of language and specific impairment, consistent and not consistent features, diagnostic efforts, and treatments both medication and therapy. Included throughout are clinical case histories both personal and from the literature of children and later adults remembering childhood illustrating the considerably variable presentation and commonly fluctuating symptoms, and reminding us of the child and family involved in this very difficult problem.
The authors make the convincing case that the Landau-Kleffner syndrome as historically taught is but a severe form of what should be thought of as epilepsy-aphasia spectrum disorder of childhood. Included throughout the book are the limits of current knowledge and suggestions of areas of further research needed. This book was very helpful to understanding this area and why it is hard to understand. This would be recommended reading for anyone with questions about the epilepsy-aphasia link.
Social Media
Please like us on Facebook. AACPDM
and follow us on Twitter @aacpdm https://twitter.com/aacpdm
Academy members: Do you use Twitter? Would you like to tweet for the AACPDM? We need a few folks who will consistently tweet for us. We are developing a policy to guide you and are looking for 3-4 tweets or retweets/day from several people. Contact Lynne Romeiser Logan at logan@upstate.edu if you are interested.
New Job Openings
Looking for a career change? The AACPDM posts open positions each month.
Check out the recent openings:
Visit the AACPDM Job Openings for full details.
AACPDM Advisor Support Program
The AACPDM Advisor Support Program promotes career development and provides networking opportunities for students (Advisees) and experienced AACPDM members (Advisors) within the Academy. Individuals interested in serving as an Advisor will be paired up with students, once they have selected you from the online profile section.
Advisors and Advisees will be able to meet and converse at the Annual Meeting in Montreal on Thursday, 14 September for the breakfast Meet 'N Greet. This event provides a forum for the exchange of knowledge in a relaxed atmosphere.
For more information on this program, visit: https://www.aacpdm.org/membership/advisor-program
NEW TO YOUR AACPDM ONLINE ACCOUNT
A new section has been added to your account, My History. This section provides a wealth of information about your membership history with the Academy! There are four tabs which provide helpful information to you, and they are detailed below:
The Overview tab contains:
Your member ID number, current member type and join date
A link to print a certificate of membership
Your contact information with a link to edit that information
The Dues/Donations tab contains:
Your dues history from 2006 - present
Your donation history from 2006 - present
The Meetings/Events tab contains:
Your Annual Meeting registration history from 1994 - present
Links to claim your CME certificates from 2006 - present
The Volunteer Service tab contains:
Your history of service on AACPDM committees and Board of Directors from 1995 - present
You can access the new My History section from the Members Only homepage, or directly at http://aacpdm.execinc.com/edibo/MembershipHistory.
When logged in, please take the time to update the My Profile section too. If you have any questions, please contact the AACPDM office at info@aacpdm.org.
Committee Updates
Adapted Sports & Recreation Committee
Submitted 2 courses (1 Breakfast session, 1 instructional course) for the Annual Meeting
Submitted two other recreational ideas including STEPember for the Annual Meeting
Discussed partnering with local organizations to provide childcare/activities for children of those attending the Community Forum
Advocacy Committee
Finalized lay summaries of the general sessions of the 2016 Annual Meeting
Will assist with coordination of STEPtember for the Annual Meeting
Looking at how to present courses for helping practitioners to advocate for patients
Awards Committee
Student Scholarship Award criteria for students travel reimbursement has a goal to support the most realistic and valuable applications for the award. The accepted paper submission should be to the free papers or poster sessions not for other form of presentations as breakfasts or courses.
Transformative Practice Award includes not only evaluation of the new submissions but also the TPA final evaluation and its outcome measure.
Wish to improve the reliability of grading papers for the Gayle Arnold Award.
Communications Committee
Website has been updated and managed currently by Kate Doughty, Brad Landry agreed to be vice-web master.
Committee creating a policy on website information.
Twitter has been run by Lynne Romeiser Logan, but needs more input from multiple people.
eNewletter has been edited by Lynne for many years but moving to Steve Couch for now.
Sage award for multi-media had five submissions and the winner will be announced soon.
Reminding members to add to their profile to their online account via eNewsletter.
Complex Care Committee
Working to convert the Instructional Course - "Team management to optimize outcomes of scoliosis surgery in children with cerebral palsy and progressive Neuromuscular scoliosis" presented at the annual AACPDM meetings in 2015 & 2016 into an eCourse. The eCourse is currently in progress.
Created a Fact Sheet for Neuromuscular scoliosis and proposing a care pathway.
Education Committee
Practice Gap questions were developed for the 2017 Annual Meeting. Pre and post meeting surveys indicated increased familiarity with emerging diagnostic and treatment modalities. The committee recommends keeping the same questions from 2016.
Scheduling three eCourses after the successful launch in 2016. The final course is scheduled for October with a focus on Austism.
International Affairs Committee
Looking to extend the International Networking Luncheon
Scholarships for 2016 included 34 applicants, 17 awarded scholarships. The committee acknowledged a need to increase the total sum to cover increased prices of airfare, food, and accommodations.
Accommodations for scholarship winners is a challenge. Will seek to identify a local link in Montreal who has information on members willing to host or share accommodations.
Continue efforts to support scholars, provide clinical experiences for scholars, need to continually reach out and keep in touch.
Lifespan Care Committee
Membership Directory search was enhanced
Developed several Fact Sheets for Board approval
Sponsored e-course "Transition to Adulthood for Youth with Chronic Needs: Challenges and Rewards." Will sponsor pre-course at annual meeting," Pain in Adults with CP."
Membership Committee
Added internal procedures for reviewing membership applications by committee members.
A subgroup to monitor and encourage the advisors and advisees in the Advisor Support Program.
Explored strategies to retain scholarship recipients as members and to encourage non-member attendees of the 2016 Annual Meeting to become members.
Worked on various member recruitment ideas discussed last Fall.
Publications Committee
Reviewed responsibilities of publication chair and committee, solicited comments on book proposals.
Research Committee
Discussed possible interaction and collaboration with CPRN.
Pedal-With-Pete to provide research grant funding in 2017 for 2 applications. Deadline for next cycle submission of BOTH PWP and CP Alliance was April 15 2017; all applicants were automatically considered for both.
Grant tracking reporting standardized.
CDEs published on NINDS website; a summary slide was prepared and disseminated to assist with dissemination of the project to colleagues.
Reviewed the current charter on the website and find it is out of date with respect to current responsibilities; suggestions provided.
Give Today!

Make a difference, donate to the AACPDM and give someone wings!
Help support young investigators or colleagues that reside outside North America to attend the AACPDM Annual Meeting by giving them "wings".
As an Angel Wing Supporter, your donation will assist in funding the AACPDM Student and International Scholarships! Our scholarships offer researchers and clinicians from around the world a chance to attend our Annual Meeting when they might not otherwise have been able to. AACPDM believes that encouraging these members to attend our Annual Meeting ultimately improves the care of people who have childhood-onset disabilities by providing access to evidence-based research and inter-professional care for as many healthcare providers as possible.
Submit a nominal donation today and make a difference for tomorrow.
A Step Closer to Prevention and Cure of Cerebral Palsy
Top U.S researchers will focus on breakthroughs for cerebral palsy, thanks to $1.4 million worth of grants announced today.
Cerebral Palsy Alliance Research Foundation USA has presented funds to eight research projects and four special U.S awards.
Head of the Foundation, Bronya Metherall said that the research projects focused on four key areas of cure, prevention, intervention and specialized assessment.
"These projects will push the boundaries of what we know about cerebral palsy. Our aim is to unlock new discoveries in each of these important areas," Professor James Blackman, Medical Director for Cerebral Palsy Alliance Research Foundation said.
"The applications were outstanding, which is a reflection of the exceptional caliber of researchers in the field. Narrowing it down to eight was a difficult process for our experienced panel of experts.
"We are only able to fund these important and often life-changing studies thanks to the generous support of our donors who are dedicated to finding answers. As we raise more much-needed funds, we can financially support more research that is changing the lives of people with cerebral palsy and their families."
Bronya Metherall said that the Cerebral Palsy Alliance Research Foundation USA opened in 2015 to continue growth started in Australia.
"Over the past ten years the Cerebral Palsy Alliance Research Foundation in Australia has built a foundation that has made great progress in prevention strategies and treatments, and put cerebral palsy on the map of rate world's research community," Ms. Metherall said.
"We have seen an exponential improvement in our understanding of cerebral palsy and our ability to treat it but there is more work to be done."
The eight research projects awarded funds are:
$190,000 to Prof. Evan Snyder MD, PhD, FAAP, Sanford Burnham Prebys Medical Discovery Institute, for Pre-IND-enabling studies: Evaluating the synergistic vs antagonistic actions of human neural stem cells in combination with hypothermia for neuroprotection in perinatal hypoxic-ischemic brain injury.
$190,000 to Prof. Zinaida Vexler, PhD, University of California, San Francisco, for Mesenchymal stem cells-derived extracellular vesicles for repair of neonatal stroke.
$180,000 to Dr. Donna Ferriero, MD MS, at University of California San Francisco, for Metabolic identification of at risk new-borns.
$180,000 to Prof. Jane Huggins, University of Michigan, for Innovative assessment of receptive language in people with cerebral palsy who are nonverbal: A comparison of eye-gaze interface and brain-computer interface test administration methods.
$180,000 to Prof. Shenandoah Robinson, MD, Johns Hopkins University, for Making the most of mother nature: Neonatal combinatorial therapy with endogenous neurorepair agents.
$107,000 to Prof. Nathalie Linda Maitre, MD, PhD, for RCT of Feeding intervention with pacifier activated device and mother's voice in infants at high-risk for cerebral palsy.
$22,214 to Dr. Vedant A. Kulkarni, MD, at University of Michigan, for the development of a Smartphone App to enable community-based hip surveillance for children with cerebral palsy.
Career development award grant of $9,798 to Prof. Jane Huggins, Department of Physical Medicine and Rehabilitation Research Assistant, University of Michigan.
Special U.S. awards:
Five year grant of $125,000 to the American Academy for Cerebral Palsy and Developmental Medicine.
$45,000 to Duke University for a multi-site study of autologous cord blood cells for hypoxic ischemic Encephalopathy.
$30,000 to NYU Langone Medical Center for General Movements Assessment / Early Detection of Cerebral Palsy Training Support.
$10,000 to Dr. Donna Ferriero and Dr. Susan Vannucchi towards the 2017 Hershey Conference on Developmental Brain Injury.
About Cerebral Palsy Alliance Research Foundation USA
Cerebral Palsy Alliance Research Foundation was proudly established in the United States in 2015 to fund the world's best research to treat, prevent and ultimately find a cure for cerebral palsy. A decade earlier, in 2005 Cerebral Palsy Alliance launched its Research Foundation in Australia to fund the best CP research around the world – to assist the lives of the 17 million+ people around the world living with cerebral palsy. We are building on this 11 year history of global leadership in cerebral palsy research and working collectively to accelerate research findings.
For more information visit www.cparf.org
Steptember

Step up to the challenge! Children and adults living with cerebral palsy take on physical challenges every single day. Join teams from around the world and challenge yourself to take 10,000 steps for 28 days and raise vital funds for research to treat, prevent, and ultimately find a cure for cerebral palsy.
To get started, you will create a team of up to four members to begin fundraising, keep you accountable, and maybe even have a bit of friendly competition!
Money raised benefits the American Academy for Cerebral Palsy and Developmental Medicine (AACPDM) through funding research grants. The campaign officially runs September 4th through October 1st, and the AACPDM 71st Annual Meeting will also have daily activities to help get your steps in and stay motivated while you're in Montreal!
For more details and to register, please visit: www.steptember.us
AACPDM Code: AACPDM17
Resources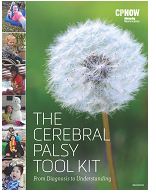 Have you seen this resource?
I gave them my email and address and downloaded a 92 page comprehensive document on cerebral palsy. Some of our members were consultants on the project. Check it out!
Letter from the Editor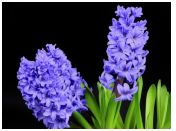 This will be my last letter as Steve Couch will be taking over as your editor. I've learned how to write a bit better, found lots of great resources to share with you and generally enjoyed being your editor. The greatest difficulty in this job is finding content! So all of you nascent writers out there get cracking and submit something to Steve!
In this edition we have an op-ed piece by Clare Davies, a letter from the APTA (American Physical Therapy Association) detailing funding opportunities, a link to a journal article, committee updates, and two book reviews. I'd like to thank Mac Keith Press for their continued support of the newsletter, one of the perks of working on it is being able to read and review these wonderful professional books as they are published.
For the upstate weather and doings: spring has been early this year and as usual the weather changes greatly every day. I'm looking forward to sailboat racing soon as well as getting back on my bike and rollerblades. In case you were wondering what I do in the winter since I stopped playing hockey, it is now dance, dance, dance 3-4 nights a week. Salsa and swing. I highly recommend it.
Thank you for the opportunity to edit this newsletter. I look forward to future endeavors with the Academy.

- Lynne