| | | | |
| --- | --- | --- | --- |
| Winter 2016 | Follow us on: | | |
Presidentís Message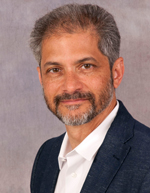 Greetings to my fellow members. It is a great honour to serve as the 70th President of the American Academy of Cerebral Palsy & Developmental Medicine. I follow Eileen Fowler who has provided outstanding leadership over the past year, and look forward to continue to work with Eileen and the dedicated members of the Board of Directors, as I take over the baton for the next lap of this amazing relay that is the Presidency of this Academy
This past year as 1st vice President, my focus was largely on the organization of the annual meeting that was held from September 20 to 24, 2016 in Hollywood, Florida. By any measure the meeting was a great success, in no small part due to the efforts of the Program Committee led by the co-chairs, Sarah McIntyre and Joshua Hyman, who breathed life into the theme and content of the meeting that challenged us with the question: "Making a Difference – Are We?" Every year, I come away from the annual meeting energized and excited by the breadth, depth and quality of work that we have come to expect from our members. This year was no exception, with outstanding preconference symposia, breakfast seminars and instructional courses in addition to the high quality papers and posters that were presented. We had an extraordinary slate of plenary speakers whose presentations were provocative, inspiring and informative; covering a broad range of subjects of interest to our diverse membership.
I anticipate a busy and productive year ahead. We are in the fifth and final year of our five-year strategic plan that was established under the leadership of Maureen O'Donnell. The strategic plan has been an invaluable road map to prioritize and implement a number of initiatives with many successes. I look forward to working with the Board and our various committees to see the strategic plan through to its completion in 2017. Within the 6 buckets of priorities, I plan to focus my attention specifically on three areas: expansion of the talent pool; fostering of research; extending partnership & collaborations. During my mandate, one of my major priorities will be to engage the Board and the membership at large, in discussions about ways to include and involve more formally, parents and persons with childhood onset disability in the activities of the Academy.
To accomplish these goals, I have the good fortune of working with an incredibly dedicated, thoughtful and talented group of people on the Board, and supported by Tracy Burr, our executive director and the staff at EDI. Over the next year, you can expect to hear through the newsletter and special e-mail updates about the progress we are making in the efforts the Academy is pursuing to fulfil its mission. Just as importantly we want to hear from you about your priorities. When you receive an invitation to participate in a survey, we hope you will take the time to respond to make your views known. I look forward to an exciting year ahead serving as your president.
Finally, it's that time of the year when we get a chance to take stock of the events of the past 12 months and look forward to a new year. We get to reminisce and be appreciative of milestones and successes in our lives and those of our family, friends and colleagues. We get to reflect on our losses, our struggles, or on what could have been better in our personal and professional lives. I hope that for all of you the year ends with a final tally that provides more cause to celebrate than commiserate. In this newsletter, you will have the chance to read about some our amazing Academy's and our members' successes. My best wishes to all of you and your families for the Holidays. I wish that for all of us, we can make 2017 a memorable year in every positive way. Till then,
Unni Narayanan, MBBS MSc FRCS(C)
President
70th Annual Meeting Highlights
Over 950 attendees from 44 countries gathered at the AACPDM 70th Annual Meeting at the Diplomat Hotel in Hollywood, Florida this past September, where we witnessed Eileen Fowler pass the gavel to Unni Narayanan to serve as President 2016-2017. Dr. Narayanan challenged presenters and attendees to ask "Making a Difference… Are We?"

On Wednesday evening, the Welcome Reception was held at The Landings where attendees got to experience local culture- through taste and humidity- with a scenic backdrop of palm trees and the Intracoastal Waterway! The Royal DJs kept the crowd entertained throughout the reception.

Innovative, inspiring, and thought-provoking speakers and award winners captivated the audience from the General Session stage. Videos of all General Sessions are available online.
An abundance of educational opportunities were offered each day with 5 Pre-Conference Sessions, over 60 course options, over 100 poster displays, and 120 Free Paper presentation options. We are also grateful to the supporters and exhibitors who helped make this meeting a success.
The 70th Annual Meeting closed with the Networking Dinner on the oceanfront, followed by the return of the Royal DJs to celebrate the platinum anniversary of the AACPDM Annual Meeting.
The Community Forum hosted an all day program for local families and community members to learn more from AACPDM members and leaders. Thanks to the support of CP Now, the videos are available online.
We sincerely thank all who shared their time and expertise to plan and present this unforgettable educational event. The dedicated group of volunteers that made up the Scientific Program Committee, Local Hosts and Board of Directors made the 70th Annual Meeting nothing short of a celebration of excellence!
The abstract submission site is now open for the 71st Annual Meeting: http://www.aacpdm.org/meetings/2017/presenters. We look forward to seeing you in Montreal, Canada on September 12-16, 2017!
Memoir Now Available!

Frustrated at failure to gain medical school acceptance following college, Alfred Scherzer never relinquished that lifetime goal. His work in Southeast Asia and the South Pacific as a public health educator and graduate training in education and sociology combined to ultimately produce a unique medical career in developmental pediatrics long before this field had a recognized professional status.
| | |
| --- | --- |
| On Amazon: | LuLu.com |
Care Pathways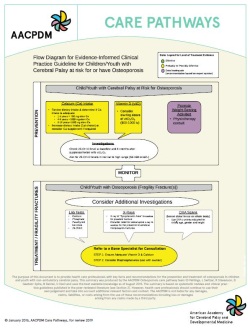 You are only 3 clicks away from evidence-informed bottom line summaries!
The Academy has developed online care pathways!
An AACPDM Care Pathway is a practical summary, including an algorithm, of evidence informed guidelines or the best evidence for an aspect of care/services for individuals with childhood-onset disabilities to inform clinical practice.
Check out the first care pathways for individuals with cerebral palsy on:
Dystonia
Osteoporosis
Sialorrhea

More care pathways are in development:

Contracture Management
Early Detection
Hip Surveillance
Book Nook
In this issue we are privileged to review 3 books of note! Thanks to Mac Keith Press for sending review copies of Neuroendocrine Disorders in Children and Ethics in Child Health: Principles and Cases in Neurodisability. I purchased a copy of "The Boy Who Could Run but Not Walk" by Karen Pape. In the spirit of full disclosure; I have worked with Dr. Pape off and on for many years. We have not always agreed, but have remained respectful colleagues.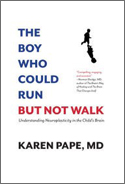 "The Boy Who Could Run but Not Walk: Understanding Neuroplasticity in the Child's Brain"
By Karen Pape, MD
Dr. Pape has inspired a great deal of discussion and debate over the years, some of that within our academy. Her book chronicles the path of a thoughtful physician and extraordinary timing. She had the great fortune and fortitude to study with mentors who were on the cutting edge of diagnosis and treatment and the insight to take what she learned and move forward with it. This book moves through a logical sequence both chronologically as the science of diagnosis and treatment of children and adults with cerebral palsy and brachial plexus injury has advanced as well as Dr. Pape's education and integration of treatment research and results. She uses patient examples to illustrate treatment principles. Fortuitously, I was present for several of these examples and we often discussed their implications far into the night, using the available research and our observations to postulate possible longer-term treatment potential. These discussions have informed my reading, writing and treatment organization principles. I know she has done the same for many colleagues. She has a gift for finding bright, thoughtful, energetic therapists and physicians (as illustrated in her book) and nudging, budging and thrusting them to their best potential and the potential of their patients. This book is a personal and professional reflection of that winding path. I continue to be impressed with Dr. Pape's wide and deep investigation and her willingness to credit improvements in treatments for children with cerebral palsy such as SEML's (single event multi-level orthopedic surgery), CIMT (constraint induced movement therapy) and HABIT (hand-arm bilateral intensive therapy) as examples of intensive interventions that are proven to work.
I urge you to pick up a copy of this book (use Amazon Smile for the AACPDM!) and gain an appreciation for making long term plans for improvement for children and adults. Think about the principles of intensity, alignment, and integrated treatment within your own practice and move forward.

Clinics in Developmental Medicine-Neuroendocrine Disorders in Children
Edited by:
Femehul T Dattani, UCL Institute of Child Health London, UK
Peter C Hindmarsh, Institute of Child Health, London, UK
Lucinda Carr, Great Ormond Street Hospital for Children, London, UK
Jaincaf Robinson, National Institute of Medical Research, London, UK
2016 Mac Keith Press
The Clinics books are intended to be an in-depth, up-to-date study of a particular topic. This book fills the bill. Each chapter provides a review of a specific topic then presents the most current research with a view to clinical application. The forward by Mitchell E. Geffner says it best "a one-stop shop for brain-hypothalamic-pituitary hormonal physiology and pathophysiology".
In each section the interplay between genetics and neuroendrocrine systems are an essential component. The effects of endrocrine disorders on the brain are also discussed in detail.
Chapters 1 and 2 discuss growth hormone secretion and deficiency. Chapter 3 logically follows with a discussion of the effect of growth hormone on the brain. Chapter 4 continues with the general and specific impact of growth hormone and insulin-like growth factor-1 (IGF-1) on the neurological systems. The controversies, unknown and probably known effects are explored in some detail. Chapter 5 looks at disorders of salt and water balance including central diabetes insipidus and other causes of hyper and hyponatraemia. Chapters 6, 7, 8, and 9 investigate the hypothalamic-pituitary thyroid axis. Chapter 10 and 11 discusses genetic childhood obesity syndromes and the treatment thereof. I found the diagrams and tables in this section particularly helpful. Chapter 12 tells us that endrocrine complications can affect between 20 and 50% of childhood cancer survivors. Strategies for early detection and treatment are offered. Chapter 13 concerns craniopharyngioma, the commonest supra-sellar tumor in childhood. The table of symptoms and signs frequencies will be be eye-opening to all pediatric practitioners. Similarly the risk of post-treatment endrocrinopathathies is important to consider. In chapters 14 and 15 we consider the hypthalamic-pituitary-adrenal axis. The effects of stress related damage on the organizing brain and neurological system is discussed from the micro to the macro level. Chapter 16 moves to adrenoleukodystrophy and the neurological consequences including spastic paraplegia. The importance of genetic screening and brain MRI for boys with Addison's disease is emphasized. Chapter 17 discusses Cushing disease diagnosis and management. The incidence of pediatric onset Cushing syndrome is 10% of the adult prevalence. Changes in the diagnostic regime and management strategies are offered. Chapter 18 moves on to the hypothalamic-pituitary-gonadal axis. Once again the most up-to-date understanding of the feedback and feed forward loops are illustrated. Clinical and research findings are linked to illustrate disorders. Chapter 19 logically discusses the inherited basis of hypogonadrotropic hypogonadism. Chapter 20 moves on to something we have all seen in practice, precocious puberty. The table describing clinical characteristics of central precocious puberty is particularly helpful. Chapter 21 describes the psychological and behavioral consequences of hormonal abnormality during early development. Chapters 22 and 23 discuss diabetes and insulin on the developing brain and the central actions of insulin. The most and least understood of the neuroendocrine disorders.
In summary, I learned what we should be looking for in children we suspect may have neuroendocrine disorders but I also gained an understanding of how this system drives us and our patients to homeostasis, or not and the far reaching consequences of errors in the system.
Ethics in Child Health: Principles and Cases in Neurodisability
Edited by:
Peter L. Rosenbaum
Gabriel M. RonenM
Eric Racine
Jennifer Johannesen
Bernard Dan
Questions of ethics can be obvious when a dilemma arises, but can also be a subtle part of everyday clinical practice in childhood neurodisability. This book is a well-curated collection of essays addressing both scenarios and is intended for a clinical audience. One does not need a background in ethics to enjoy this text, but having such training further enhances the value of the book. The editors state that the book is not meant as a textbook on medical ethics or simply a book of 'answers.'
The book can be read straight through and is also helpful as a reference for journal clubs and specific clinical scenarios when they match a chapter's subject matter. The writers of this text represent a wide range of disciplines and sub-specialties, resulting in an interdisciplinary offering. The editors aim for the text to foster discussions on ethical topics in child health and to help this aim, all of the case-based chapters are supplied with a "themes for discussion" section.
The organizational structure of the text is helpful with six sections that each have multiple chapters. The first section is a great introduction and overview that includes a wonderful parent perspective chapter. Two of the other five sections are focused early childhood and transition to adulthood. The other three sections review ethical considerations of family priorities, social and cultural issues, as well as therapies and interventions themselves.
The ethical mind is a knife always in need of its whetstone and any provider treating children with neurodisability needs an ethical mind. Perhaps, the most salient point of this text is that the principles of ethics can and should be applied to everyday clinical practice in the care of children with neurodisability. Given the vastly different levels of training that medical providers receive in ethics, this book is to be commended in its accessibility. This text is highly recommended to all members of the AACPDM.
New Job Openings
| | |
| --- | --- |
| POSITION | LOCATION |
| BE/BC Developmental Pediatrician | Phoenix, Arizona |
| Child Psychologist | Baton Rouge, Louisiana |
| Associate / Full Professor Kinesiology & Applied Physiology | Newark, Delaware |
| BC/BE Pediatric PM&R physician | Akron, Ohio |
| Child Neurologist | Dallas, Texas |
| Physical Therapist | Tampa, Florida |
| Pediatrician for Children with Medical Complexity | Kansas City, MO |
Visit the AACPDM Job Openings for full details.
International Alliance of Academies of Childhood Disability (IAACD)
We have great pleasure to submit the first report on behalf of the Global Professional Education Programme (GPEP) sub-group of the International Alliance of Academies of Childhood Disability (IAACD). Please review the report here.

The report has a summary of the survey done among professionals from across the globe to try and map some of the existent international partnerships and collaborations. The survey also captures some of the priority training needs felt by the respondents.

We have provided a summary of the discussions of the first meeting we had at the 1st international congress of the IAACD in Stockholm this year. A good number of participants from across various corners of the world, and covering all continents, attended (except Antarctica, of course!). We discussed some of the survey findings and brainstormed ideas regarding the next steps for progressing the work on global teaching and training.

Two key areas of work have emerged. The first being creation of a global archive resource of good quality learning, teaching and training material which is available free of cost to any user. The second is development of regional teaching/training faculties who can act as knowledge brokers and who will provide a true cultural translation and be honest to the cause.

From the survey results we already know many of you already give freely of your time, knowledge, energy and enthusiasm. We are also aware that many others are willing to join when the opportunity arises. We certainly can make a much larger impact if we can bring together all our energies and all push in the right direction. We hope you will join.

Happy reading! We will be in touch again soon.

Best regards, on behalf of the Global Professional Education programme sub-group of the IAACD:

- Arnab Seal, Jenny Carroll, Peter Rosenbaum, Diane Damiano, Mauricio Delgado, Kath Benfer and Sarah Love
COMMITTEE UPDATES
Adapted Sports & Recreation Committee

The Adapted Sports and Recreation Committee is currently working on developing several instructional courses, one of which will likely transform into a fact sheet as well. With diverse professional backgrounds, a subcommittee is synthesizing educational and public legislative to help providers, families and patients advocate for resources and opportunities for adapted sports and recreation opportunities within their own communities.

Additionally, the committee has an exciting nominee for the Duncan Wyeth award and is working to be involved with the Community Forum in providing activities for children, perhaps a fitness challenge for the annual meeting, and adding to the Lifeshots photos.

- Erin Conlee, Chair



Advocacy Committee

During the annual meeting in September, the Advocacy Committee discussed first who our target group includes which has helped us outline our plans for the next 3-4 years. This year, we are part of the meetings for creating of a Community Council. As part of that we are going to be helping with putting together a session for the Community Forum (formerly the Family Forum) at the meeting in Montreal in 2017. We are finalizing edits for the CP factsheet. As a way to help clinicians advocate for their patients, we are planning on creating a survey to ask the membership about what resources they give their families in their region and see if this something we can put on our website.

- Wendy Pierce, Chair



Awards Committee

During the past year, the Awards Committee collaborated about realizing the main goals of activity: selection of the best candidates for student scholarships from almost 25 applications; assessment of papers selected on the basis of Scientific Program Committee scores to nominate one for the Guy Arnold Award; election of candidates to the Transformative Practice Award; and monitoring the management and finalization of two projects awarded in the past.

At the time of the last Academy Meeting in Hollywood, FL, there was also some awarded tasks to be performed concerning the selection and nomination for: Best Scientific Poster from the candidates indicated by scores of Scientific Program Committee; Promising Career on the basis of onsite assessment made by committee members during the free papers sessions and scientific posters presentation – the candidates were indicated during abstract submission among the eligible (age limited) authors; and the last Best Demonstration Poster on the basis of popular vote results.

The committee intends to increase the interest of the Transformative Practice award in the coming year. The main purpose of this award is to facilitate the translation of evidence–based clinical management strategies into practice by supporting members of Academy to plan and implement the specific interventions strategies in their centers. We are looking forward for new applications for this award.

- Marek Jozwiak, Chair



Communications Committee

The Communication Committee has oversight responsibility for several Academy communication tools. The webpage has been updated and has an update plan for revisiting the current content. The Twitter account, which is very interesting and you should follow, is increasing current content, adding podcasts and TED talks. The Facebook account has continued with more personal interest items. The Fred P. Sage award given at the annual meeting, originally called best audio-visual but now multi-media, was presented this year to the HipScreen App by Vedant Kulkarni, MD, available free at the App store (iOS only). This newsletter is also a product of the committee, to help the members stay in touch with the activities of the Academy. We are also helpers for using the meeting app at the annual meeting, although not responsible for its function or content.

- Steve Couch, Chair



Complex Care Committee

The Complex Care committee has 2 subcommittees: Neuromuscular Spine and Complex Care Education & Competency. The Neuromuscular Scoliosis subcommittee is working to complete the neuromuscular scoliosis Fact Sheet for submission to the Lifespan committee. They also plan on converting the ICL into a 3-hour e-course by spring 2017. The Complex Care Education & Competency subcommittee is working to prepare an ICL for the AACPDM 2017.

- Mohan Belthur, Chair



Education Committee

The Education Committee's main project is to continue developing the e-courses. Last year, we had two successful courses and this year we are planning to have three. The first will be in mid-February on Lifespan Issues and Complex Care will have a course in the spring. We encourage all members to be on the look-out for future announcements and consider taking a course or two.

We will also be reviewing the evaluations and feedback regarding practice gaps from last year's annual meeting. This information will be used to design and tailor future meetings and continuing education offerings.

- Francisco Valencia, Chair



International Affairs Committee

The International Affairs committee has been revising the online application forms for the International Scholarship with the goals of getting better information about the applicants, and ensuring that we are giving awards to the candidates whom would benefit most.

Additionally, we are developing an interactive map which will show where past scholarship winners came from, and also where Academy members are working internationally.

Finally, working on the scholarship has made our team examine the goals of the scholarship (and the committee in general). For example: do we wish to award a few deserving applicants; or are we trying to develop "care teams" with needed expertise within each region. With that in mind, in the coming months our committee will be working on a mission statement.

- Robert Cooper, Chair



Lifespan Care Committee

The Lifespan Care Committee is working on fact sheets titled: Executive Function, Physical Activity, Fatigue, GI (currently tabled). Walking Changes Across the Lifespan for Individuals with Cerebral Palsy. They also plan to propose a pre-course for the 2017 meeting on Pain in Adults with CP. They are working on a Transition Care Pathway as well as an e-course on Transition.

- Susan Laphard, Chair



Membership Committee

Greetings to the members and friends of the AACPDM! The second year of the Advisor Support Program kicked off during the annual meeting. We go forward into this year making improvements based on valued feedback from both Advisors and Advisees. We are specifically encouraging long standing members of the AACPDM to consider being involved in the program so that students/trainees can glean knowledge from their experiences. Advisors/Advisees are encouraged to connect at least monthly with their partners to build strong relationships that can last throughout their careers.

Additionally, we have been working on strategies to recruit new members and retain our current membership, including encouraging our current members to contact non-member colleagues or other specialists in their institutions, local area, states, provinces or countries, who can benefit from the knowledge we share, and encourage them to also become members. Our hope is that through personal communication, all interested providers will see the benefits that our Academy can provide in caring for our most valuable commodity, our patients and their families. We will also be formulating a survey to send our non-member attendees to explore reasons they may not have formally joined the AACPDM.

We are also encouraging that for 2017 abstract submissions that at least one author be a member of the AACPDM. This is new to the AACPDM but not an unusual part of submissions for other Academies.

And last but not least, Golda Milo-Manson, MD MHSc, is our new Chair Elect.

- Mary Ann Nelin, Chair



Publications Committee

The Publications Committee is an interesting committee as the members are chosen not only for their service to the academy and their interest in publications, but they are chosen for their expertise in their fields as all members of the committee are also on the Editorial Board of our official journal: Developmental Medicine and Child Neurology. The current editor-in-chief is Dr. Bernard Dan from Belgium and the North American Editor is one of our past presidents: Peter Rosenbaum, MD. Hank Chambers MD, a past president, has been the chair of the committee for the past 6 years and will hand off the committee to Deb Gaebler-Spira, MD, also a past president. The other new members of the committee who will be assuming their roles at the next meeting will be Jean Stout, MSc and Mauricio Delgado, MD.

The committee's charge is to provide the liaison between the board of the AACPDM and the Editorial Board of the journal. We are also working with the Latin American CP groups to help spread the journal through translations of key articles and abstracts.

- Hank Chambers, Chair



Research Committee

Research grant. The Research Committee reviewed 24 excellent grant applications for the Pedal-with-Pete sponsored research grant. A full review was completed and the top scorers have been sent to Pedal-with-Pete. We await information about their funding choice, which we anticipate before the end of the calendar year. New for 2017, we will be coinciding the application schedules for both Pedal-with-Pete and CP Alliance sponsored research grants so that AACPDM members will have the opportunity to apply for both grants at once. Look for the announcement in January!

Common Data Elements. Many members of our committee continue to be involved in the CDE efforts in collaboration with NINDS. We've made adjustments to the initial release based on the public review period, and anticipate the 1.0 version to be published by NINDS this month. We encourage all members to use these vetted data elements and outcome measures in their new and ongoing studies, and we look for ways to foster their use among our membership and the scientific community.

https://www.commondataelements.ninds.nih.gov/CP.aspx#tab=Data_Standards

Mentorship Award. As in previous years, call for applications will be announced in the spring, keep your eyes and minds open for mentors deserving of this honor.

- Theresa Moulton, Chair


Give Today!

Make a difference, donate to the AACPDM and give someone wings!
Help support young investigators or colleagues that reside outside North America to attend the AACPDM Annual Meeting by giving them "wings".
As an Angel Wing Supporter. Your donation will assist in funding the AACPDM Student and International Scholarships! Our scholarships offer researchers and clinicians from around the world a chance to attend our Annual Meeting that they might not otherwise have. AACPDM believes that encouraging these members to attend our Annual Meeting ultimately improves the care of people who have childhood-onset disabilities by providing access to evidence-based research and inter-professional care for as many healthcare providers as possible.
Submit a nominal donation today and make a difference for tomorrow.
Letter from the editor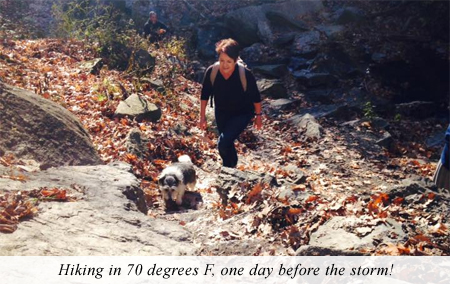 This issue of the newsletter is an experiment in collective editing. It is a process not without glitches. We have an embarrassment of riches in our book review section; please forgive this editor her attempt at understanding Neuroendocrinology! Closer to home, I reviewed Karen Pape's thoughtful combination of science and anecdote in "The Boy Who Could Run but Could Not Walk". Similarly, Christopher Lunsford has reviewed Peter Rosenbaum's "Ethics in Child Health".

For those of you who have followed my adventures in house renovation: my kitchen is done and numerous parties have followed. I know that the received wisdom is that those who have a fabulous kitchen do not cook, but like much received wisdom, in this case that is wrong! I've had numerous open houses, parties and holiday celebrations with wonderful food and such an appreciation of the space in which to cook and clean up. I am still so thankful to those who supported me during the process.

I am, as always, thankful for so many things including the opportunity to be the editor of this newsletter. I continue to learn something daily. In case you miss the weather report, Syracuse had 28" of snow in the first storm of the season; it has now melted in several days of cold rain. The Little Free Library continues to be well loved by many in the neighborhood, although I've had to return to stamping each book so they are not grabbed for resale.

- Lynne



Social Media
CONNECT WITH US!