First Vice President's Update
Abstract submission notifications for the 76th AACPDM annual meeting have now been sent! We are excited about the options that will be available at the meeting, including 120 podium presentations, 99 scientific posters, 32 demonstration posters, 16 clinical observation/single case study posters, 25 morning sessions and 36 mini-symposia. We were impressed by the quality of the submissions and inspired by the diversity of the content.
We are very grateful for the dedication of the 23 members of our Scientific Program Committee. Each abstract is evaluated by three reviewers. The entire process involved over 1200 reviews and two full days of review by our planning team.
As you are already aware, we are planning for an in-person meeting. We are now focused on finalizing the off-site venues for the meeting. Our planning team, AACPDM Executive Director, and the AACPDM Senior Meetings Manager completed a site visit in Las Vegas April 24-26, 2022. We are very pleased with the conference venue as well as the many options that we explored for social events. The conference centre is spacious and will allow us to spread out; a great location for our first meeting since the beginning of the pandemic. We will finalize plans for social activities soon so please stay tuned for more information about what we have planned!
Amongst all of the challenges we have experienced over the past two years, the pandemic has encouraged us to reflect on what matters to us, personally and professionally. We see this meeting as an opportunity to continue on the path of reflection and to celebrate the opportunity to reconnect with our colleagues. Our hope is that annual meeting will also provide many opportunities to develop new connections and collaborations. We cannot wait to see you all in September!
Lesley Pritchard PT, PhD, MD, FAAP
Ben Shore MD, MPH, FRCSC
Laurie Glader MD
AACPDM 1st Vice President
AACPDM 76th Annual Meeting Program Co-chairs

Past President Reflections
Remembering Tracy Burr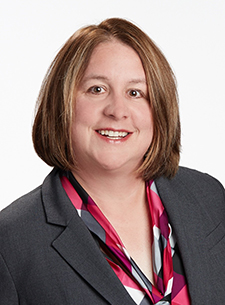 "Like a deep sad note
played beneath the ocean
waving through the orb
the memories of you
the bittersweet echoes
infixed forever in my heart"
― Pawan Mishra
The history of the AACPDM is similar to most academic medical groups. It started out as a group of doctors who had similar interests in caring for children with cerebral palsy. They decided to start an organization to get together to discuss their treatments and potential research. This group morphed into a much larger organization and was one of the first multidisciplinary medical organizations in the country. As with most nascent groups, they sought to do their own administration. Dr JD Russ, a pediatrician from New Orleans, took the role of Secretary and Executive Director. He managed the organization by referring to 3x5 cards with the members name and data. (Al Scherzer) They quickly realized that they needed someone who wasn't a doctor doing it and had a small firm manage their organization and finances. Unfortunately, in the late 1980s, it was clear that we needed better management as we were almost bankrupt. The AACPDM Board explored several options, not simply for an executive manager, but for a management company. The American Academy of Orthopedic Surgery, which was managing many smaller and similarly situated affiliated groups, was engaged and offered initial structure and services. However, management fees escalated beyond our capabilities. So a few years later the Board of Directors conducted a new search and awarded the contract to Executive Director Inc. (EDI) who identified Tracy Burr to be our first Executive Director in 2006.
Tracy was a Wisconsin native and brought the Midwest stereotypical hard-working, nice, no-nonsense sensibility to this new position. She was new to EDI and this was her first important role there. I had just been elected 2nd Vice President, so we learned our positions together. I was fortunate to have many meetings with her and the presidential line and we were all impressed by her commitment to our organization and her insistence that we always remembered our mission statement. We all had different ideas of where we wanted to go, but she would kindly ask us if that was really what our goals were. In this way, she kept us on the straight and narrow while allowing us to expand our aspirations in a controlled manner.
Notes from many of the Presidents who worked closely with her during her time as our Executive Director:
Tracy was the thread that ran through the years as members of the presidential line arrived and departed. She was the glue that kept us on course through an ever changing environment. She was always brave, kind and engaged. Then, as now, even thinking of Tracy always brings a smile to my face.
- Bill Oppenheim
She was indeed one of us not only in running the organization but in the day-to-day operations of the Executive Committee, mid-Year Meeting, specialty committees, and indeed whenever we met. In a real sense she functioned in every real sense as a deeply involved member of the Academy and far beyond any previous Executive Director.
I had a special personal relation with her in her final time with us. Becoming aware of her cancer diagnosis I reached out to her to share the experience of my youngest daughter who at age 40 was a breast cancer survivor who had many problems. Over many phone calls Tracy shared with me her initial uncertainty about the diagnosis and eventual acceptance of what was ahead for her. She was strong and always concerned about the Academy. Even under these conditions it was obvious that one of her life's experiences she would miss was her role in our Academy.
– Al Scherzer
I really loved Tracy and she was fantastic to work with. She was the behind the scenes person who made us all look good. When I was diagnosed with cancer in 2016, she wrote me one of the most heartfelt messages telling me of her previous bout with cancer when very young. I was so fortunate to recover, but soon after her cancer came back and we were in touch quite a bit. She was as upbeat and strong about that as with everything else. She was a truly wonderful person.
- Diane Damiano
Tracy had that down to earth, plain speaking, Midwest work ethic that was just part of the fabric of her being. I very much appreciated her. There was no mistaking her Wisconsin accent nor her football preferences (staunch Green Bay Packers fan, of course). When I was leaving Milwaukee one trip, I noticed a sign on the other side of the TSA line and I took a picture of it and sent it to Tracy. And at least my experience with Tracy during my presidential years was that whenever stuff felt "discombobulated", I would call her and she helped "recombobulate" it with me.
I think Tracy was our Executive Director at a very important time in our Academy History as we came out of a low point (Pre-EDI) and then into our own as an Academy. I think there were some concerns about her youth and experience when she first took us on, but I think she grew into her role nicely over the years. She was a key part of that 2012-ish Strategic Plan under Maureen that in many ways set the bar for moving us forward. So I appreciate us highlighting her as an important part of our history. She was an essential piece of my years on the Board and in the presidential line. She was pretty understated most of the time and respected very much our academy structure and leadership during an important time, and so did not take any of the limelight, but she was a vital part of the "engine" that made us go.
- Rich Stevenson
She was a fantastic support/colleague to me during my tenure as president. I was unsure of how anyone could keep track of the multiple issues and needs of the Academy but I should not have worried. Tracy and I met every other week and she kept me and the Academy on track. She was knowledgeable about the budget, the history, the personalities, the processes, and the values of the Academy. We were so lucky to have her for the time that we did.
– Sarah Winter
Tracy was an incredible team player. She came to each meeting with a great smile that would light up the room. Tracy was highly professional and was always open to any feedback that would make the AACPDM stronger. She was a great partner and actively supported me in my leadership role on the AACPDM executive from 2014-2016.
- Darcy Fehlings
Tracy was new in this role but immediately we saw that she gave us 110% of what she had. She cared about us, about our society, and about our mission and what we are doing. There wasn't a time when she was unavailable, or didn't go out of her way to make things work that were above and beyond typical expectations. She became synonymous with who we are and became one of us.
- Scott Hoffinger
Tracy was humble, kind and from my viewpoint devotedly much of her efforts to really engaging and understanding what AACPDM did and what we were all about—though EDI represented many organizations I always felt Tracy was partial to our organizations.
She was realistic and fun, when I visited her in Milwaukee, we could gab like girls. But would get down to business and work through thorny issues. I represented AACPDM. With her coaching, when we had a review of the AACPDM CME process with ACGME, She prepared me as if I were going into argue a Supreme Court case and easily taught me basic principles that I had never really mastered prior, which got us past a hurdle in: Accreditation.
- Deb Gaebler
I was fortunate to work with her in another organization that I started called Pediatric Research in Sports Medicine (PRiSM). We were a small group of pediatric sports specialists with almost no money. Executive Director, Inc. (EDI) graciously agreed to take on our small group and even more graciously gave me Tracy to be my Executive Director. With her experience, our personal history. and our multidisciplinary By-Laws (stolen by me for use in PRiSM) we have grown to over 400 members.
The Boards and past Presidents of both AACPDM and PRiSM got together to give her some Wisconsin sports gifts while she was going through chemotherapy. I can't tell you how many thank you emails she sent me as it really cheered her and her family up during those trying times.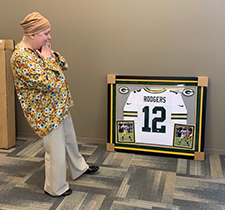 Tracy passed away on February 4th 2020. She was survived by her husband of 25 years, Ed and their daughter, Elise. She will always be in our hearts and in the fabric of the organizations that she touched, especially the people and friends she made over her short life.
Hank Chambers, MD
(AACPDM President, 2009)
Committee Corner
Call for Committee Volunteers
The AACPDM is seeking volunteers for open committee positions.
Committee membership is not only a great way to contribute to the Academy, but it will also:
Develop your leadership skills
Enhance your knowledge and help you grow as a healthcare professional
Facilitate networking and share best practices
How Can I Get Involved?
If you are interested in volunteer committee service, please visit our website: https://www.aacpdm.org/about-us/committees to fill out the volunteer application. We will do our best to find placements for as many applicants as possible.
Who Is Eligible?
Current members of the AACPDM
Have access to email/internet
Have access to telephone
If you have any questions about volunteer committee service, contact the AACPDM office at 1-414-918-3014 or info@aacpdm.org. More information about each committee can be found on our website at: https://www.aacpdm.org/about-us/committees
Complex Care
Submitted by: Kurtis Sobush, MD (Committee Chair), Kilby Mann, MD (Committee Chair-Elect)
The AACPDM Complex Care Committee is comprised of an international, multidisciplinary provider group with broad ranges of professional experiences that serve children with medical complexity and their caregivers. The Committee embraces the tasks of promoting academic discussion, sharing resources and publications pertaining to complex care needs, collaborating with medical and non-medical members of a complex care team and advising the AACPDM on advocacy matters related to children with medical complexity. Members of the committee remain active in establishing a complex care track for the AACPDM Annual Meeting and have established a process that brings novel educational content to expanded pre-course contributions while further formalizing that content into sustainable e-courses for members and their colleagues. The Complex Care Committee has been a proud host for the Complex Care Special Interest Group (SIG) with multiple members contributing to content with plans to continue this offering at the 2022 Annual Meeting. New members have been added to the committee in the fields of physical medicine and rehabilitation as well as developmental medicine.
Education
Submitted by: Amanda Sarafian, EdD, OTR/L. (Committee Chair)
The Education Committee, in collaboration with AACPDM members, recently launched two successful eCourses.
Management of Children with Achondroplasia was presented by Penny Ireland, PhD and Leanne Johnston, BPhyt, PhD November 10, 2021 through December 10, 2021.
Practical Approaches to Complex Care: Building Your Clinical and Teaching Toolkit for Respiratory Care was presented by Lifespan Committee members Kirby Mann, MD, Kurtis T. Sobush, MD, Matthew Sedof, MD, Naomi Lorch, PhD, PT, Emily Goodwin, MD, Kathleen Huth MD, and Irene Dietz, MD January 20, 2022 through February 20, 2022.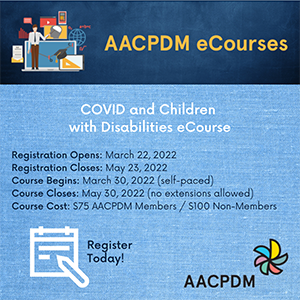 There is still time to register for the current eCourse entitled, "COVID and Children with Disabilities". Registration is open until May 23, 2022 and the course can be viewed until May 30.
The next eCourse will focus on "Pain and Fatigue in Adults with CP". The course will open July 2022.
International Affairs
Submitted by: Sandra J. Hollung, PhD (Committee Chair)
The International Affairs Committee (IAC) congratulates the 2021 international scholarship winners. In addition to the complimentary registration to the annual meeting, the winners were also given the opportunity to present their work; successes and challenges within their institutions/countries during the International Networking Luncheon. Although the 2021 luncheon was virtual, there were over 80 attendees who were highly engaged in conversations with the winners. The IAC looks forward to welcoming many new applicants to the 2022 International Travel Scholarship program, and supporting the work of clinicians in the field of childhood-onset disabilities from around the world.
Lifespan Care
Submitted by: Caitlin Cassidy, MD (Committee Chair)
The Lifespan Committee has been hard at work this year on a few major projects designed to highlight the needs of adults living with childhood onset disabilities. After the major interest and success of our preconference course on Pain and Fatigue in Adults with CP a few years ago, we're pleased to have partnered with the Education Committee on an e-course focusing on this important topic. Information about how to register for this summer e-course will be out soon, so keep an eye on the AACPDM website. We're also thrilled that this year will see the publication of the inaugural Lifespan Journal Digest on the AACPDM website. Taking inspiration from our colleagues in the Adapted Sports Committee, members of our committee have been scanning journal articles all year so that we can present to you small, bite sized summaries of those pertaining to aging with a childhood onset disability. We hope you'll enjoy them! Finally, our committee continues to support the growth and development of the Adults and Aging SIG, which has hosted a number of exciting talks this year. We thank the AACPDM for their support and look forward to seeing you at the annual meeting!
Membership
Submitted by: Michele M. Tourne, PT DPT PCS (Committee Chair)
The AACPDM has gained 71 new members this year, but overall we have noted a slight drop in new applications from this time previous years. If your membership has lapsed, please take a moment to renew. (https://aacpdm.execinc.com/edibo/Application) If you have colleagues that would benefit from becoming an AACPDM member, please encourage them to consider joining - word of mouth recommendations tend to be more persuasive than email blasts or paper flyers!
The membership committee has started reviewing the applications received for the OrthoPediatrics Travel Scholarship. Six scholarships in the amount of $1,500 will be awarded to support attendance to the Annual Meeting in October 2022. Our committee is also working on the Advisor Support Program, which matches Advisors (member of the AACPDM for 10 or more years) with Advisees (member of the AACPDM for less than 5 years). If you are interested in becoming an Advisor please enroll online at https://aacpdm.execinc.com/edibo/AdvisorEnrollment. For newer members, the committee encourages you to take advantage of the knowledge of the Advisors and sign up to participate as an Advisee by Friday, July, 1.
Research
Submitted by: Christopher M. Modlesky, PhD
The Research Committee is committed to supporting the research mission of the AACPDM. One of our primary roles is to invite and evaluate research grant proposals and then recommend the best proposals for funding. We want to remind our members of the April 15, 2022 deadline to submit grant proposals. These funding opportunities are provided by our partners: Pedal with Pete, the CP Alliance, and the NIH-funded National Pediatric Rehabilitation Resource Center (C-PROGRESS). The AACPDM is extremely grateful for their research support! We are also piloting the formation of 4 subcommittees (Grant Review, Grant Management, Research Course, and Research Expansion). We believe they will help us expand the research support we provide to the AACPDM community.
Publications
Submitted by: Unni G. Narayanan, MBBS, MSc, FRCS (Committee Chair)
Please read the excellent piece on "AACPDM and the Red Journal" under the Past President Reflections section of the Winter 2022 AACPDM Newsletter. This captures the history and the people behind the success of our journal and its relationship with the Academy.
Adapted Sports & Recreation Committee
Submitted by: Stephanie Tow, MD (Committee Chair)
The AACPDM Adapted Sports & Recreation Committee has been working hard with the efforts of its various subcommittees: The Journal Article Digest subcommittee continues to review and summarize recent original research articles related to adaptive sports and work with the Communications Committee to promote these reviews. In preparation for the 2022 AACPDM Annual Meeting, the Community Forum subcommittee is planning the adaptive sports community forum in collaboration with the Community Council and their requests for topics to cover. The Let's Move! subcommittee is developing ideas for exercise/fitness sessions for the Annual Meeting, and the Duncan Wyeth Award subcommittee is considering award candidates. The Equity & Participation subcommittee is identifying resources related to diversity, equity, and inclusion in adaptive sports to share via the Communications Committee. The Opportunities & Resources subcommittee is working on developing a comprehensive resource to identify different adaptive sports resources in different geographic locations and routinely promote these resources or events via the Communications Committee.
Advocacy
Submitted by: Jason M. Edinger, DO (Committee Chair)
The advocacy committee has been busy this year! Our current exciting projects include building a reference toolkit on the AACPDM website that provides members with information they can use to advocate for their patients at the healthcare, state, and national level. We plan for this to go live on the website in 2022 and it will be updated regularly. In addition to the toolkit, we plan to send a survey to ask the membership how we can best meet their advocacy needs. We continue to collaborate with the AACPDM Community Council to identify the needs of persons with disability as well as their families. The advocacy committee also submitted a proposal for a mini-symposium that we would like to present at the educational conference in 2022 focused on various advocacy topics. Finally, we continue to identify important current issues or an initiative of great work that another organization is putting forward that are relevant to the membership. After a vetting process, we relay these to the communication committee for dissemination to the membership.
Awards
Submitted by: Eugenio Monasterio, MD, (Committee Chair)
The awards committee was able to score awards in virtual format for the 2021 Annual Meeting. Members were able to review the presentations and score the projects when the meeting was posted through the online platform. Award winners were notified and their selection was honored on the AACPDM social media sites.
Care Pathways
Submitted by: Lynne Romeiser-Logan, PT, PhD (Committee Chair)
The Care Pathways committee is very busy assisting multiple Pathway updates (all Pathways using the older methodology are up for revision this year), reviewing a new Pathway (Dystonia), and fostering the development of additional Pathways. Our Pathways and the methodology used to develop them is available on the AACPDM website under Publications then Care Pathways. If you have ideas for new Pathways, or questions about the process, please email info@aacpdm.org.
Communications Committee Update
Submitted by: Ginny S. Paleg, DScPT (Committee Chair)
The Communications Committee works to utilize coordinated strategies to disseminate Academy communications broadly and to promote its overall mission and that of each sub-committee. We use Facebook, Twitter, and Instagram as our key social media platforms and create our society newsletters. Our goal is to not only inform our members and the public of our society's work but to also promote research, tech, disability awareness and rights, and more! Please contact us if there is something you would like to share with the world.
Facebook: https://www.facebook.com/aacpdm
Twitter: @AACPDM
Instagram: @AACPDM
AACPDM SIGs – Specially Designed for You!
AAACPDM Special Interest Groups (SIGs)
Submitted by: Caitlin Cassidy MD, FRCPC
AACPDM Adults and Aging SIG Chair
The AACPDM Adults and Aging SIG would like to thank everyone who was able to join us at our April 13 meeting. We had a wonderful, interactive discussion about the importance of focusing on participation for adults with CP led by Drs. Prue Morgan and Sarah Reedman.
Please stay tuned for information about our next SIG meeting, which will take place live during the AACPDM Annual Meeting! We're so excited to see friends, colleagues and collaborators in person! Stay tuned to the website https://www.aacpdm.org/events/2022 for details on the annual meeting program as it is released closer to the summer. We hope to see you all there!
Elements of Data from NINDS
Updates to the NINDS Cerebral Palsy Common Data Elements are here and we want your feedback.

The Cerebral Palsy (CP) Common Data Elements (CDE) Working Groups and the National Institute of Neurological Disorders and Stroke (NINDS) CDE Team developed Version 1.0 of the CP CDEs in 2015, they were published in 2016, and the CP CDE Oversight Committee has been reviewing and updating the CP CDEs since that time.
In 2019 the CP CDE Oversight Committee convened to review validated instruments in the domain of chronic pain and research standardized orthopedic surgeries and assessments for new CP CDEs.
The public review and comment period for the draft CP CDEs will take place April 27, 2022 - May 18, 2022.
The Public Review of the draft CP CDEs include:
Chronic Pain instruments
Bath Adolescent Pain Questionnaire (BAPQ) and BAPQ-P (Parent Report)
Body Diagram
Brief Pain Inventory (BPI) – Long and Short Forms
Child Activity Limitations Interview (CALI)
Child Activity Efficacy Scale (CSES) – Child and Parent
Face, Legs, Activity, Cry, Consolability Scale (FLACC)
Faces Pain Scale-Revised (FSP-R)
Noncommunicating Children's Pain Checklist-Revised (NCCPC-R)
Numeric Pain Rating Scale (NPRS)
Pain Interference Index (PII)
Pediatric Pain Profile (PPP)
Pediatric Pain Questionnaire (PPQ)
PROMIS v1.1 Pain Behavior Short Forms
PROMIS v1.1 Pain Interference Short Forms
Visual Analog Scale (VAS)
Surgical CRFs:
Gait Analysis
Lower Extremity Passive Range of Motion Physical Exam
Orthopedic Surgical Procedures – Ankle
Orthopedic Surgical Procedures – Hip
Orthopedic Surgical Procedures – Knee
Pelvic Radiographs
The final CP CDE recommendations will be posted by July 2022.
Respectfully submitted,
Joline Brandenburg, MD
Chair, CP CDE Oversight Committee
Carolina Mendoza-Puccini, MD
NINDS CDE Program Officer, National Institute of Neurological Disorders and Stroke (NINDS), National Institutes of Health (NIH)

The Elsass Foundation Research Prize 2023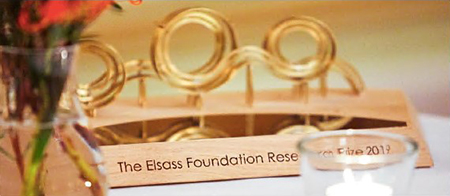 Call for nominations is open until May 31st, 2022. Nominate your candidate now!
Every second year the Elsass Foundation Research Prize is awarded by the protector of the Elsass Foundation, Her Royal Highness Princess Benedikte at the foundations' premises in Charlottenlund, Denmark.
The prize recognizes researchers that have - and continue to make - an exceptional contribution within the field of cerebral palsy (CP).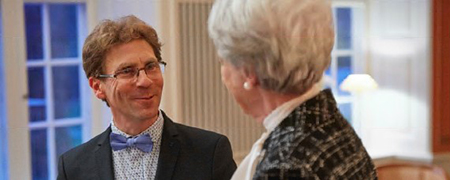 "We have founded this sizeable award in the hope of motivating skilled international and national researchers to increase knowledge in the field of cerebral palsy – and, in the end, to enhance quality of life for people living with CP."
NICK ELSASS, CHAIRMAN OF THE BOARD, THE ELSASS FOUNDATION
Prize amount:
The prize is DKK 1.000.000 (equivalent of 150.000 €). It is a combined personal prize of DKK 250.000. (37.500 €) and a research grant of DKK 750.000. (112.500 €).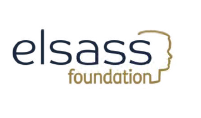 Selection Committee:
Members of the committee are appointed among internationally recognized researchers with extensive expertise and knowledge in the field of CP:
Thomas Sinkjær, Chairman and Professor in Neurorehabilitation and Neurotechnology, DK
Roslyn Boyd, Professor of Cerebral Palsy Research, PhD (PT), AU
Giovanni Cioni, Professor of Child Neurology, IT
Darcy L. Fehlings, Professor, CA
Bernard Dan, Professor and former prize recipient, BE
Call for nomination:
The nomination is open now. To be considered, nominations must be submitted in English before May 31st, 2022.
CLICK AND NOMINATE YOUR CANDIDATE
Mac Keith Press Update

Book Highlight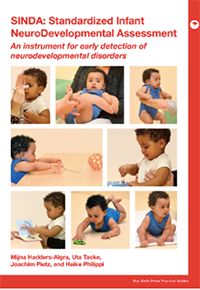 SINDA: Standardized Infant NeuroDevelopmental Assessment
Mijna Hadders-Algra, Uta Tacke, Joachim Pietz, Heike Philippi
SINDA: Standardized Infant NeuroDevelopmental Assessment – Mac Keith Press
Is there a way to accurately predict neurodevelopmental disability within the first year of life? Standardized Infant NeuroDevelopmental Assessment (SINDA) has been developed as a screening instrument for infants aged 6 weeks to 12 months corrected age, to assist early detection of infants at high risk of neurodevelopmental disorders. It is the first developmental instrument to allow a comprehensive (360-degree) approach including "all" dimensions of development. With assessment in less than 10 minutes, SINDA can be used quickly in virtually any environment and requires only simple equipment.
Podcasts
(149) What is Cerebral Palsy? - YouTube
Key Papers this Month:
Conceptualization of quality of life in autistic individuals. This study by Evers et al. reviews 174 articles examining the concept of quality of life in individuals with autism. The authors found that parents report a lower quality of life compared with autistic individuals themselves and argue that self-report should be the criterion standard for quality of life. Eye movements and stress during eye-tracking gaming performance in children with dyskinetic cerebral palsy. The majority of children with dyskinetic cerebral palsy rely on eye-tracking technology for communication and computer access. In this study, Bekteshi et al. highlight the importance of early provision of eye-tracking technology to maximize its benefits in activities of daily living.
DMCN News:
We are very saddened to hear of the passing of Professor Richard Robinson. Richard contributed a great deal to Mac Keith Press over the years and he will be dearly missed. Our thoughts are with his family at this sad time.
Letter from the Editor
We have always been aware of events beyond our control affecting our daily lives and plans as we travel the road of our lives. Although there feels like more turmoil recently, history suggests turmoil is always present or just around the corner. The flexibility to respond positively to unanticipated changes has been a hallmark of persons successfully managing disability, either personal or in others. Sometimes, change can be overwhelming and withdrawing for a time to rest and recover is necessary. The fellowship and support of fellow persons travelling along the road is usually very helpful, encouraging, even invigorating. The Academy remains healthy, and one would believe that this year's annual meeting will be the best ever even if only for the novelty of being together again. Please come and be refreshed as we continue to "Make It Matter".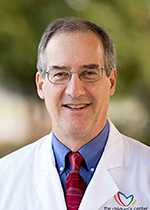 Steve Couch
AACPDM Newsletter Editor