| | | | |
| --- | --- | --- | --- |
| Summer 2020 | Follow us on: | | |
President's Message
Dear Academy Members,

So far, 2020 has proven to be a year of great adversity that has challenged all of us, not only on how we do things but who we are. Despite the great amount of distress the COVID-19 crisis has caused, it has opened great opportunities to explore new technologies and approaches to the care we provide to our patients. I want to recognize and thank all of you for your commitment to keep marching on taking care of those with childhood onset disabilities.
While the pandemic has reminded us of our fragility, it has also demonstrated how everything, and everyone is interconnected in this world of ours. Eradicating the virus in one community cannot be achieved unless it is done in all communities. Our Academy's commitment to equal access to knowledge is manifested by our continuous efforts to reach out to professionals around the world through our partnership with the IAACD. We were very glad to welcome the Indian Academy of Cerebral Palsy to the IAACD last Fall.

My most sincere appreciation and admiration goes to the 2020 Scientific Program Committee, who facing unprecedented uncertainty has turned adversity into opportunity. The theme for the meeting is "Unmasking Potential" and it has really done that. The virtual format of the meeting will provide you with the opportunity to obtain more CME credits than ever before, allowing you to do it at your own pace and at an incredibly affordable price. I hope you all participate in this especial event and help us promote it with your professional contacts around the world.

I cannot finish this message without saying that I have always loved our Academy for its multidisciplinary nature and its continuous effort to live our core values of inclusion and non-discrimination. Our Academy not only believes in this statement, but strives to live these principles every day in everything we do based on a fundamental respect of human life.

Stay safe and keep going,

Mauricio R. Delgado, MD
President, AACPDM

AACPDM is Committed to Equity, Inclusivity, and Respect for Human Dignity
At the AACPDM we oppose disparities in medical care and systemic racism against Black people and other people of color. We will use our platform to elevate and amplify all voices around health disparities, including the voices of our individual members. We will be staunch allies with children and adults of color against systemic racism. We will do this not only because it is the right thing to do, but because medical research shows that it directly affects the health and wellness of people of color in our society, including those with and at risk for cerebral palsy and other childhood onset disabilities. We are committed to taking an active and conscious role in this process. We will use these principles to continue to fulfill our mission to promote excellence in research and services for the benefit of people with and at risk for cerebral palsy and other childhood onset disabilities.
74th ANNUAL MEETING – Breaking News!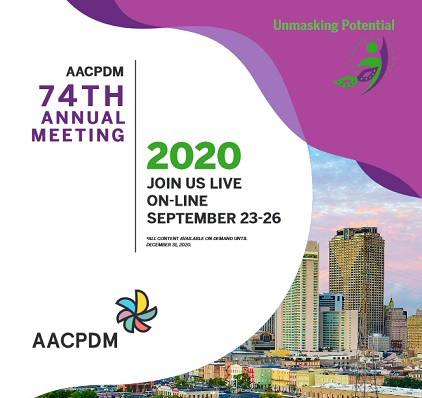 September 23–26, 2020


2020 Annual Meeting Update
In 1948, the AACPDM held the first annual meeting in Baltimore bringing together a small group of professionals devoted to the inter-disciplinary education of clinicians interested in improving care for children with Cerebral Palsy (CP). Over the years, the annual meeting has grown into an important annual event that provides professionals the opportunity to hear about the most up to date research, learn from experts at breakfasts and instructional courses and connect with colleagues old and new. The connections created at the annual meeting have blossomed into research collaborations and long-standing friendships.
While the program committee and the AACPDM board have been closely monitoring the situation associated with the current pandemic and considered all the options related to holding our traditional in-person meeting; the AACPDM Leadership has made the difficult decision to cancel our in-person meeting, and opt for the first ever virtual meeting. We believe this is the best decision to protect the health and safety of our members and attendees.
Although we are unable to come together for an in-person meeting, the program committee is thrilled to announce that we will offer a virtual program in a similar format to our traditional meeting. As all of our keynote speakers, and the vast majority of speakers for pre-courses, scientific presentations, breakfasts, and instructional courses have agreed to participate in our virtual meeting, our program will offer a similar educational experience through both live and pre-recorded options. Attendees will be able to meet with our vendors and ask questions following live presentations. Should you be unable to attend the meeting during the live session, you will still have the opportunity to ask questions of the presenters and engage with our vendors and other attendees at the meeting. In keeping with this years' theme of the meeting, "Unmasking Potential", we are creating fresh, new opportunities for networking and collaboration with other professionals passionate about enhancing the health and well-being of individuals with childhood-onset disabilities around the globe.
By registering for the AACPDM Annual Meeting, you will have the ability to earn over 89 educational credits at your convenience by giving you virtual access to all Annual Meeting sessions until December 31, 2020! This is more than double the usual annual meeting CME/CEU value!
Please check the AACPDM website regularly to receive program updates. The AACPDM Leadership would like to thank each of you for your support in this decision.
Save the dates of September 24-26 so that you can attend the AACPDM live virtually!
Susan Sienko, PhD
AACPDM First Vice President
AACPDM SIGs
As part of the AACPDM Strategic Plan process, Special Interest Groups (SIGs) were identified as an important mechanism to promote engagement with the Academy and to facilitate professional development within the broad strategic plan pillar of Learning Innovation. Due to the high level of interest in SIGs, the AACPDM Board of Directors authorized and supported some initial activities.
In 2018, the Board developed a provisional SIG description or guidelines for development and solicited applications for pilot SIGs. By spring of 2019, two groups were approved to explore models of SIGs within the Academy. These groups arose from within the Lifespan and Complex Care committees and have been called the Adults & Aging SIG and the Complex Care SIG. As these pilot SIGs were formed, our goals were to:
Explore the level of interest and involvement
Learn about what structure and offerings seem appropriate and effective
Have the SIGs define themselves and provide feedback
Obtain similar feedback from their associated Committees
Evaluate the potential utility, benefit, resource needs, and direction of SIGs
The pilot effort with the Lifespan and Complex Care SIGs began in earnest by our 2019 Annual meeting in Anaheim. Each group was provided with support starting in mid-2019 so that they could communicate with potential members and to inform the Academy membership about their formation. The SIGs had their first in person meetings in Anaheim with 2 hour sessions that were open to all interested parties, Academy members and non-members. The SIGs were instructed to pursue whatever activities they found meaningful within some broad mandates (develop a leadership mechanism, focus on education and collaboration, and create an agenda for the meeting). The Board asked that they provide regular updates on their activities and seek to respond to some key questions including:
Following the Anaheim meeting, the SIGs reported on their success.
Adults & Aging had 45 attendees, about a third of whom were not Academy members. The Complex Care SIG had 64 attendees and 50% were not Academy members. Both groups reported a vibrant multi-disciplinary makeup, robust discussion, and significant ongoing interest from the attendees. Although both had identified a chairperson, specific leadership models were not yet solidified. Opportunities for more support and resources were identified including things like online platforms, funding for awards, and organizational help for meetings during the Annual meeting and virtually in between.
Committee leadership also offered useful feedback identifying that the SIGs seemed to fulfill a separate need from the Committees because Committees advance the AACPDM organization tasks and the SIGs were providing discussion and ongoing support for a range of members and non-members. The value of the SIG as an interest group with no term limits or restriction in number of members was acknowledged.
At this time, the Board is delighted with the progress of the first two trial SIGs. The need remains to better define our SIGs and their role within the Academy. Moreover, as our Academy wrestles with limited resources and unpredictable finances in the climate of COVID19, we must be prudent. Thus, for the rest of 2020 and into 2021, the Academy will not expand our SIGs. We will use the time to learn more about how the SIGs might develop and monitor the costs of supporting them.
The Board is interested in learning more about how the membership would like to see the SIGs develop, especially in terms of how SIGs interact with Committees. Questions about this will be incorporated in an upcoming member survey.
The AACPDM has crossed into new territory with our foray with SIGs. Stay tuned for further developments!
Updates from AACPDM Committees
(Winner of the 2019 AACPDM Lifeshots Photo Award)
Complex Care Committee:
The Complex Care Committee has a robust interprofessional team that has been working hard to uphold our mandate of promoting academic discussion, scholarship, collaboration and mentorship for clinicians in the care of children with medical complexity. Our Education & Training subcommittee has supported a number of successful submissions to the AACPDM Annual Meeting, including hosting a second annual Complex Care Pre-Conference Course entitled "Practical Approaches to Complex Care: Building your Clinical and Teaching Toolkit for Respiratory Care"; and facilitating a breakfast session on Practice Changing Publications in complex care. This subcommittee is also working to adapt educational materials in complex care for broader dissemination as webinars or an e-course. The Membership & Outreach subcommittee represents a new initiative to promote valuable interprofessional, trainee and family voices in our committee work, and to liaise with other professional organizations and special interest groups with similar mandates in complex care. We have developed a formal partnership with the Community Council with the goal of bringing the patient/family perspective and focus on advocacy to our efforts as a committee.
International Affairs Committee:
Many of you may have noticed one of the actions of the International Affairs Committee when you renewed your membership. In an effort to offer opportunities to network among members who work outside their own country, questions regarding international work has been added to the membership renewal process. These data will allow members with similar interests to connect and share ideas and expertise. Minor changes were made this year in the review process of international scholars in an effort to select the most qualified applicants. The number of applications was lower than previous years and the Committee will continue to work with the Board to offer as many qualified international scholarships as possible during these rapidly changing times.
Care Pathways:
The Care Pathways Committee put a pause on accepting new applications in 2020 to focus on redesigning the process for creating an AACPDM Care Pathway. New pathways will be developed using GRADE (Grading of Recommendations Assessment, Development and Evaluation) methodology. Instructions for submitting a proposal and detailed guidelines on the required steps to develop a pathway using GRADE are being finalized. Additional resources and templates will be gathered and made available to Care Pathway teams to support the new methodology.
The Committee wishes to thank all members who took the recent survey seeking to evaluate use of the Care Pathways. The aim was to determine the extent of usage of the pathways in clinical practice and potential barriers and strategies to increase implementation. To aid in future prioritization of pathway development, the Committee also asked for your feedback on possible future topics. We look forward to sharing the results with the membership in the coming months.
View the newest pathway on Early Detection of Cerebral Palsy on the AACPDM website. Four pathways remain in development: preparing for surgery, respiratory health in cerebral palsy, promoting physical activity for individuals with cerebral palsy, and osteoporosis in transitional care and adulthood.
Book Reviews
Children and Youth with Complex Cerebral Palsy Care and Management by Laurie J Glader, Richard D Stevenson

Book Review by Ginny Paleg, PT, DScPT

This book will be a much-used reference for every clinician who works with people with CP. Drs. Glader and Stevenson have created the first comprehensive guide for children with complex medical needs and cerebral palsy (CP) that focuses on children at Gross Motor Function Classification Levels (GMFCS) IV and V.
Most of the chapters offer the latest information with excellent references and will improve care in many settings. The chapters are organized by topic and written by leading experts in a language that all professionals can understand.
Both experienced teams and novice providers will find new information to help them deliver state-of-the-art coordinated care. The highlights of this book are the helpful forms and care charts.
The dedication and two chapters offer important voices of parents, siblings and people with CP about how they would like to be approached and included. The first chapter is an overview in which the important point is made that all children with lifelong sensory and motor impairments, that are not degenerative, can be considered CP if they meet the criteria. There are many families whose children have anatomical, genetic, metabolic or trauma causes of CP, who have not understood they could be included under the CP umbrella. These families are often not aware of assessments and interventions that could be helpful because they do not know to seek out information on CP.
Key Features:
Each chapter has helpful key points at the end
Important information for attaining a diagnosis of CP and assessing all high incidence comorbidities
Excellent case stories throughout
Information about GMFCS
Detailed information about ICF with a thoughtful consideration of environmental factors
Detailed care pathway from Cincinnati Children's Hospital that every clinician should adopt (let's add overground mobility aids such as canes, walkers and gait trainers to the mobility section)
Each chapter builds and leaves the reader with new information and challenges all members of the team to keep up to date with the literature as well as be sensitive to child and family experiences
---
Aicardi's Diseases of the Nervous System in Childhood, 4th edition, edited by Alexis Arzimanoglou with Anne O'Hare, Michael Johnston and Robert Ouvrier. (2018)

Book Review by Steve Couch, MD

The 4th edition of Aicardi's textbook has been released by Mac Keith Press through the Clinics in Developmental Medicine. Edited by Alexis Arzimanoglou with able assistance of other contributors from around the world, it represents the latest version of this authoritative volume.
Organized into 32 chapters in 12 parts, it retains the emphasis on clinical orientation of previous editions with new sections and organization without increasing the size, now 1475 pages but includes extensive references to give direction for further investigations and learning.
"Our aim was not to provide an exhaustive review for each disorder; . . . We . . . favoured a comprehensive description of clinical findings to permit diagnostic orientation, prognosis and management." (p.XXV). This textbook continues the objective of previous editions to cover all significant neurologic-based disorders of children from the common to the rare with current understanding of etiology, genetics, outcomes, and treatments succinctly presented. This should be a valuable tool for providers to understand unfamiliar neurologic features in children as well as guidance for in depth exploration of familiar disorders.
Letter From the Editor:
I hope you gain some information and enjoyment from this edition of the newsletter. In these times of abrupt change (rather than the less abrupt changes that is always with us), staying connected is even more important. I would encourage members to reach out to others. I would also encourage you to check the contact information on file through the webpage for accuracy. I look forward to a time when we can meet again in service to the children and families we serve.

Steve Couch
AACPDM Newsletter Editor