| | | | |
| --- | --- | --- | --- |
| Special Edition | Follow us on: | | |
Dear Members, in this special edition of the AACPDM Newsletter, we want to highlight our partners on the Community Council Task Force. Read about the impressive and complementary spectrum of activities that these organizations are involved with, that benefit the populations we serve. The Academy is proud to engage with all of them.
Cerebral Palsy Alliance Research Foundation
| | |
| --- | --- |
| | The Cerebral Palsy Alliance Research Foundation is based in Australia but has a global outreach for research on cerebral palsy. A satellite office was proudly established in the United States in 2015 to fund the world's best research to treat, prevent and ultimately find a cure for cerebral palsy. |

CPARF aims to:

Fund the most promising research projects for cerebral palsy worldwide
Support the work of CP Registers and Surveillance Programs
Connect investigators to enable data sharing
Provide standardized data collection tools and outcome definitions to support prospective and longitudinal data collection that can be more easily shared, compared and pooled
Explore opportunities for collaborative research
Coordinate efforts to seek funding and provide seed funding as resources become available
An annual call for research proposals runs each year from July 1 to August 31. Proposals undergo rigorous review with funding decisions made by the end of the calendar year.
Staff:
Rob White, CEO
Prof. Iona Novak, Director of Research
Prof. Nadia Badawi, Chair of Cerebral Palsy
U.S.A. Office
Bronya Metherall, Head of Foundation
Dr. James Blackman, Medical Director
Visit: https://cparf.org/
The Cerebral Palsy Collaborative
The CP Collaborative is a diverse and volunteer coalition of existing cerebral palsy related organizations who represent: individuals with CP, their families, caregivers, researchers, physicians and therapists. Members include CP Alliance, CPF, Cure CP, CP NOW, CPRN, UCP, Reaching for the Stars, Three to Be, AACPDM, AAPM&R, and APPTA. The Collaborative recognizes and values the diverse strengths and missions of each organization and strives to provide an inclusive and open-minded forum for organizations to present and discuss initiatives and find opportunities to work together.
Our mission is to provide a unified voice of cerebral palsy related organizations to strategically affect mutually agreed upon research, education, awareness, support and public policy initiatives for the benefit of individuals with cerebral palsy across the lifespan.
The CP Collaborative was created in 2015 in response to identified community needs during the 2014 NIH State of Science in Cerebral Palsy Workshop. One specific need was to create a unified voice to advocate for CP surveillance in the US. Since then, the Collaborative has had a presence at several conferences and educational seminars providing exposure and information about member organizations and the resources and/or services they provide. The Collaborative has provided support for member grant applications and the dissemination of related information, as well as continued support of the advocacy efforts towards funding for CP research and surveillance.
Most recently Collaborative members provided support of the advocacy efforts of Reaching for the Stars to advance the 2018 LHHS Appropriations Cerebral Palsy language to the CDC and NIH.
Further, the CP Collaborative has expanded to include the CP Collaborative of Western New England, led by Mary Ganotti, PT, PhD, which held a symposium for clinicians, researchers, families, and agencies on June 23rd, 2017 with the goal of impacting policy, service delivery and education for those impacted by CP.
Looking forward, the CP Collaborative aims to strengthen our advocacy and public policy initiatives, as well as support, communicate, and disseminate results and information about member organizations' research, education and support projects.
Cerebral Palsy Foundation
The Cerebral Palsy Foundation: Leading efforts to empower patients, inform professionals, and spearhead research with short-term impact.
The expertise within AACPDM is diverse and extraordinary. Academy members have the ability to help so many. However, in the US, the CP ecosystem is rarely structured for effective knowledge transfer and information dissemination.
As such, CPF is leading efforts not only to create meaningful research initiatives, but also to build innovative ways to deliver results and information which can empower us all.
Our "Insights from Experts" video series, featuring many AACPDM members, and providing critical information about disabilities, is designed to build engagement and usage among general practitioners, patients and family members.
In its first year, this series has had over 750,000 views.
CPF's goal-oriented research initiatives include:
Transforming Healthcare for Women with Disabilities: A multi-site effort to develop new approaches to basic healthcare delivery. Two-year project funding over $1.5 million at four sites.
Early Detection and Intervention: A breakthrough effort to significantly lower the age of recognizing potential for developmental delay by implementing improved techniques and addressing barriers to adoption. One-year multi-site funding of $800,000.
"Just Say Hi" in Schools: A novel collaboration, with NYC Department of Education and NYU Child Study Center, to improve inclusion. Two-year project funding of $200,000.
CPF is also leading other critical work, such as a pain initiative, which will result in a book from MacKeith Press.
Communication of our work and perspective are then shared through diverse media. Our full video library has had over 45 million views in the last six months and has gotten nearly $10 million in donated media.
This means we are creating additional awareness about the challenges in the world of CP - and the need for the research we all pursue. We've seen these efforts translate into increased funding, adding a unique value to the field.
Some key facts:
Our Social Media has unprecedented engagement in the world of CP, with over 40,000 engagements per week.
CPF is the Official Partner of the breakthrough ABC sitcom, Speechless.
Our ambassadors include the community's best-known individuals: Speechless star Micah Fowler, internet sensation Zach Anner, comedian Josh Blue, sportscaster Jason Benetti and the multi-talented Maysoon Zayid.
We thank everyone in the Academy for their contributions to our field. Additional thanks to the many members in our Scientific Advisory Council, and all those involved with our work and dissemination efforts.
To discuss how you can benefit from CPF's resources, or to receive notices about new content, email Academy@yourCPF.org
Follow us. facebook.com/CerebralPalsyFoundation
Share our many resources.
Insights From Experts Library http://yourcpf.org/expert-videos-cp/
Our just Say Hi campaign at yourcpf.org/just-say-hi
Zach Anner and the Rainbow Bagel at http://yourcpf.org/videos-we-love/anner-bagel/
CP NOW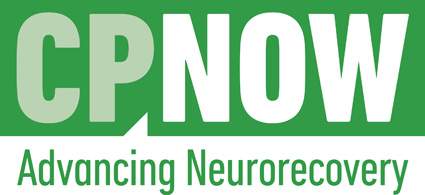 OUR MISSION
To optimize the health, wellness and participation of people with cerebral palsy and their families throughout the lifespan.
We will accomplish this by creating educational resources, initiating wellness campaigns and funding research focused on addressing the early interferences in brain development which can lead to CP. We will also highlight and support research for associated conditions that may interfere with learning or participation in society. Together with cerebral palsy centers, clinicians, researchers, and the CP community, we will work to advance neurorecovery, wellness and lifelong support for people with CP.
2017 projects:
Research CP—A partnership between CP NOW and CPRN to develop a patient centered research agenda for the CP community: http://www.pcori.org/research-results/2016/setting-patient-centered-research-agenda-cerebral-palsy-research-cp
Release of the CP Tool Kit—From Diagnosis to Understanding translated into Spanish and Hebrew.
Release of a new educational resource focused on local advocating for accessibility.
Release of an early diagnosis and intervention resource.
Our website: cpnowfoundation.org
Our blog: cpdailyliving.com
Cerebral Palsy Research Network
The Cerebral Palsy Research Network (CPRN) is a group of doctors, therapists and patient advocates collaborating to improve treatments and outcomes for people with CP. The network combines the expertise of doctors and therapists committed to treating CP with clinical epidemiologists and rigorous data collection practices to plan and execute high quality clinical trials and quality improvement protocols. Our mission is to improve outcomes for people with cerebral palsy through our research.
CPRN's vision is to have every clinician treating people with CP offering the best treatment available that has been proven to be so through high quality research. CPRN centers will consent their patients to include their treatment data in the CPRN registry. This registry will enable clinician researchers to find practice variation and create quality initiatives to improve outcomes for all patients regardless of where they are treated.
The CPRN registry will also provide the basis for planning high quality, high impact studies to answer the most pressing clinical questions that will improve the lives of people with CP. Clinicians participating in CPRN will collaborate to build powerful multi-center studies that can be used to answer these important questions at record speeds because of the broad participation in the network.
CPRN will also address the vexing problem of transition from children's hospitals to adult care and allow patients to continue to contribute outcomes data to the rich dataset that has been curated from their participation. CPRN will enable the study of long-term outcomes from the many interventions that children go through after their initial diagnosis of CP.
Cure CP

Cure CP is a non-profit organization (501c3) committed to funding the support of Cerebral Palsy research.
Our mission is simple, fund and raise awareness for initiatives at research institutions that focus on developing new therapeutic methodologies for the treatment of CP.
2017 is starting out to be a banner year for Cure CP. We had a successful gala in May that raised over $100,000 for CP research. This year the money Cure CP has raised is helping fund two very important CP trials; we are continuing to fund Duke University CP trial being conducted by Dr. Joanne Kurtzberg, using donor cord blood for children with CP. Cure CP is also supporting the efforts of Dr. Michael Kruer at Phoenix Children's Hospital. Dr. Kruer is studying the link between genetics and certain forms of CP. Both of these studies have already received national attention and will hopefully offer treatment and hope for families and individuals impacted by CP.
Pedal-with-Pete Foundation
7 Pedal-with-Pete Foundation

"Pedal-with-Pete is a philanthropic organization, dedicated to raising funds for research to improve the quality of life for persons with cerebral palsy."
The organization was founded by Pete Zeidner after his successful ride around Ohio in 1991 to raise money for brain research. In 1993, the Pedal-With-Pete Foundation was established to raise money for research to help prevent and treat the effects of cerebral palsy. The Pedal-with-Pete Foundation annually moderates three charity cycling events in the midwest. In 2015, Pete's original goal of raising $1M for CP research was met.
Reaching for the Stars
8 Reaching for the Stars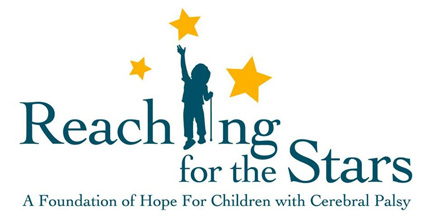 2017 has been a busy year for "Reaching for the Stars. A Foundation of Hope for Children with Cerebral Palsy" - one of the largest volunteer parent-led nonprofit foundations with a focus since 2004 on educating families, supporting research initiatives and spear-heading U.S. advocacy efforts with the mission of the Prevention, Treatment and eventual cure of Cerebral Palsy.The two biggest areas of focus for "Reaching for the Stars" in 2017 centered on advancing U.S. advocacy efforts increasing the support of cerebral palsy research, continuation of National Cerebral Palsy Day 2017 through bi-partisan Congressional support, and educational outreach with the expansion of CPTV and the national launch of Blazing New Trails™ - a new educational initiative to bring information and support to families impacted by Cerebral Palsy (CP).
"Reaching for the Stars" made their 16th trip to Washington DC in June 2017 to meet with lawmakers and key staffers about the critical importance of more research for Cerebral Palsy, the most common motor disability in children, which continues to be vastly underfunded. "Reaching for the Stars", with the input and support of other CP organizations, continue to make advances and build stronger legislative support for CP research initiatives at the NIH and CDC. Securing support for a Cerebral Palsy five-year NIH strategic plan was a significant legislative accomplishment, and new proposed initiatives look at further expansion and support of these research efforts in 2018 and beyond. National Cerebral Palsy Day (March 25th) continues to grow in support and awareness. National Cerebral Palsy Awareness Day 2017 was the 11th year that Senator Johnny Isakson and Senator Robert Casey have co-sponsored the "Reaching for the Stars" initiated national day of awareness marked by the green ribbon.
Educating families has always been a top "Reaching for the Stars" priority and the Blazing New Trails™ innovative educational initiative includes multi-disciplinary Town Hall events around the U.S. featuring panel discussions with local clinicians and providers highlighting the latest updates in care of children with CP, as well as an opportunity to ask questions, visit information tables and mingle with other attendees. These Town Hall events are in addition to new CPTV content, website resources and other educational materials for families. The goal of the Blazing New Trails program is to educate patients with CP and their families about the latest updates in overall management, physical therapies, and adaptive technologies. Blazing New Trails™ is presented by "Reaching for The Stars. A Foundation of Hope for Children with Cerebral Palsy", in collaboration with nonprofit adaptive sports organization BlazeSports America, with sponsorship by Ipsen Biopharmaceuticals, Inc.
Three to Be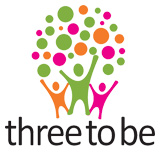 Three to Be's mission is to support children with neurological disorders by investing in hope through research and the here and now needs of their families and communities.
We understand that in order to reach their full potential and future success, children with neurological disorders need the strongest possible support system and advocates in their corner. This begins with their parents and families.
Our goal is to empower their voices and to provide them with the supports that matter most to them, as decided by them and without limitations. For too long, they have heard CAN'T and had decisions made for them. We work to change that!
Every year, we provide $100,000 in direct financial and peer support to the here and now needs of our families. Our funding lets children participate in their communities in ways they otherwise wouldn't be able to.
We also provide $250,000 annually to the CHILD-BRIGHT network, a five-year initiative focused on brining learnings from the lab right into the homes and communities of our families to create a greater quality of life for our kids.
At our core, Three to Be believes that when we blur the line between can and can't, we move beyond limitations to infinite possibilities. Every child has the right to realize their maximum potential and we want to help get them there.