| | | | |
| --- | --- | --- | --- |
| Spring 2016 | Follow us on: | | |
PRESIDENT'S MESSAGE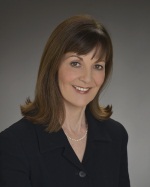 I hope that one of your New Year resolutions was to submit an abstract to our annual conference! As your President, I have been busy working with our superb support team, AACPDM leadership, committees and community partners on our Strategic Plan initiatives. AACPDM members are hard at work and I am happy to report that great progress is being made.
We are proud that National Institutes of Neurological Diseases and Stroke (NINDS) recognized AACPDM as the professional organization best suited to develop Common Data Elements (CDEs) for cerebral palsy research. CDEs are the data that we collect for research and clinical care ranging from basic elements, such as height and weight, to biomarkers obtained from neural imaging. Seven CDE Working Groups are currently developing cerebral palsy CDEs for the NINDS website. When complete, the CDEs with their associated "Instruments" and references will be a wonderful resource to move cerebral palsy research and evidence-based practice forward.
In March, we will host a Community Council Summit to bring together AACPDM members, people with disabilities, parents and non-profit organizations to explore the formation of a AACPDM Community Council. We will discuss ways that this Council could inform our work as well as potential collaborations in education and advocacy to benefit our members and the patients that we serve.
Darcy Fehlings leads a team with Maureen O'Donnell, Iona Novak, Jilda Vargus-Adams and Laurie Glader on the development of the Care Pathways demonstration project, which will be a great resource for clinical care. These care pathways are user-friendly and evidence-based algorithms for the busy clinician. Our partners at Developmental Medicine and Child Neurology are excited to disseminate the first three with a planned launch sometime this March so, stay tuned!
The first on-line AACPDM course with CME credits and CEUs will commence this Spring and the topic will be ICF Core Sets. The Education Committee has championed this effort and is hammering out the final details. We hope that you are able to take full advantage of these AACPDM educational opportunities throughout the year.
I wish you all of you in cold climates a milder Winter this year. We are hoping for more rain in California!
Sincerely,
Eileen Fowler PhD, PT
Director, Research & Education
Center for Cerebral Palsy
University of California, Los Angeles
President, American Academy for Cerebral Palsy and Developmental Medicine
AACPDM and Advocacy - How We Got Here
By Lisa Thornton MD

For many years there has been a strong Reaching for the Stars (RFTS) (parent) / AACPDM (professional) partnership for advocacy efforts in Congress. We started in 2006 with a visit to the Hill with RFTS members and Jan Brunstrom from the Academy. They testified before a House Subcommittee. Congresswoman Joanne Emerson (R-Mo) had Chairman Ralph Regula (R-OH) invite RFTS to testify. Because of this effort, Congresswoman Emerson became a supporter of our efforts and this is what led to the inclusion of language in 2008. Along with their 2006 testimony, they secured sign on letters from several other related organizations including Easter Seals, March of Dimes, Child Neurology Society, and the AACPDM. The sign on letters of support are valuable and showed we had wide spread support of our Congressional efforts.

We have visited Congress almost every year since then seeking increased dedicated funding for CP research and surveillance. We believe that the language in this year's budget represents an inflection point in our efforts, but we must continue to push.

2008
The Senate Appropriations Committee (Sen Durbin D-IL) included "report language" requesting data from the CDC about CP research within the FY 2008 Labor, Health and Human Services, and Education Appropriations bill.

The Committee requests a report by July 31, 2008 on what types of data are most needed for a public health response to cerebral palsy and the strengths and weaknesses of the various methods of collecting epidemiologic data in this population. As part of that report, the Committee encourages the CDC to consider establishing cerebral palsy surveillance and epidemiology systems that would work in concert with similar disorders.

In the Response to Congress, Public Health Response to Cerebral Palsy published by the Centers of Disease Control & Prevention, NCBDDD in September 2008, per your request, Cerebral Palsy is the most common motor disability in U.S. children affecting more than 800,000 children, adolescents and adults in America. This CDC report goes on to explain that the prevalence of CP is higher than originally thought and by adding additional funding for CP to the existing CDC developmental disabilities infrastructure the root causes, and possible prevention of CP can begin to be discovered.

2010
AACPDM Annual Meeting was held in DC and 25 Academy members Headed for the Hill as a group to visit with our members to raise awareness about CP and the critical need for more funding. Before our visit Mark DelMonte, and his team at the AAP Department of Federal Affairs prepped us at a well-attended training event.

2011
September
We made a Hill visit in Feb with RFTS, AACPDM, CPIRF. Attendees from the Academy included Jane Anne Emerson, Debbie Gaebler-Spira, Jerie Beth Karkos, Lisa Thornton.

We had 4 primary goals:
To re-state our policy agenda of $10 million for CP research and surveillance using the same leave-behind.
To continue to educate and develop relationships with our Members
To meet with the Office of Management and Budget to discuss our policy priorities – we did!
To continue to educate ourselves about the funding process in Washington and how to achieve our ultimate goal of advancing research for CP
December
Meeting at CDC National Center on Birth Defects and Dev Dis (NCBDDD) with RFTS and AACPDM re the Congressional Briefing and next steps. We were also starting our regular trips to the NIH at this time.
2012
Along with RFTS and Michael Kutcher we took a large group to DC including Joe Dutkowsky, Jeri Beth Karkos, Jane Ann Emerson, Dennis Hart & Lisa Thornton. We had a meeting with several members and Sen Harkin (D-IA), Chairman of the Senate Appropriations Committee, met with us personally. He was a long-time supporter of people with disabilities. His position was that this was very important, however that did not translate to money. His chief of staff, Adrienne Hallett, helped us refine and craft additional language. On that visit we also met with Senator Johnny Isakson. Because of Michael Kutcher, Sadie Hughes, a FOX TV reporter from Cedar Rapids, Iowa came along and produced a great segment that aired and can be found on the RFTS YouTube Site https://www.youtube.com/watch?v=uIR2whmYb1s.
2013
Visit to DC and the NIH
2014
March – Cynthia Frisina (RFTS) was invited to testify before the LHHS Senate Subcommittee on Appropriations and she asked me to join her as a representative of the Academy to provide the medical basis for our request. We had on our CP tee shirts and there we met Jacob Johnson, the lobbyist who would provide pro bono consultation and the critical guidance needed to move our agenda forward. He got us connected with Laura Freidel, the majority clerk for the Senate Appropriations Committee and for Senator Moran (Kansas - R). At the same time, RFTS created a Change.org petition supporting this Appropriations which was signed by over 7,000 people within two weeks. This swift response, along with parent letters/meetings from key states, caused Senator Moran and Ms. Friedel to support and move our language all the way through the mark up process to the final Senate Appropriations bill 1695 for 2016. Now she is a big supporter and is continuing to help guide us.
May – Met at NIH State of the Science meeting in Bethesda to discuss NIH Research agenda re CP.
2015
We were successful in getting language into the Senate Labor Health, and Human Services and Education (LHHSE) Appropriations Bill. The directive does not have specific money attached, however it does have strong language and expectation of deliverables, and that may be good because CDC and NIH MUST respond and they can decide how best to answer the questions posed.
Next Steps…
CDC – expanding surveillance to develop population-based registries. Also working on center-based registries. Also, a patient reported outcome registry is proposed that will link patient related measures including adult outcomes to both registries.
NIH – Diane Damiano could probably speak to this.
Request language in the next budget to continue to push our research agenda forward for increased funding for surveillance, causation, prevention, treatment, and cure. Congress doesn't like to repeat language so they will be expecting the NIH and CDC to have responded to this 2016 language by February and stronger language/money will be the goal for the 2017 budget. The Senate will want to see progress being made.
Here is the official language from this years' appropriations bill:
In CDC:
The Committee urges CDC to build on established surveillance and research methods in order to develop a robust research infrastructure focused on CP across various geographic U.S. regions. Infrastructure of this type holds promise for answering questions about the causes of CP and for identifying opportunities for prevention.
IN NIH (NINDS):
Over 800,000 Americans are impacted by Cerebral Palsy and it is the number one motor disability in children. Currently, there are no identified best practices at diagnosis or through the life span, no organized standards of care, and no proven therapy protocols. The Committee urges NIH to work with scientists and stakeholders to develop a 5-year strategic plan for CP prevention, treatment, and cure through the lifespan with the goal of reducing the number of people impacted by CP overall, as well as improving the opportunity for recovery of those already diagnosed. The Committee urges NIH participation in work groups to develop a research registry of individuals with different forms of CP that could facilitate research related to the impact of diverse impairments and health issues on functioning, participation, and well-being across the life span.
2015 ANNUAL MEETING UPDATE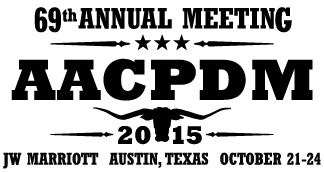 The AACPDM's 69th Annual Meeting gathered a well-rounded group experts at the JW Marriott in Austin Texas, this past October. Over 1,100 attendees attended the meeting where we witnessed Darcy Fehlings passing the gavel to Eileen Fowler to serve as President 2015-2016, to lead us to "New Frontiers"!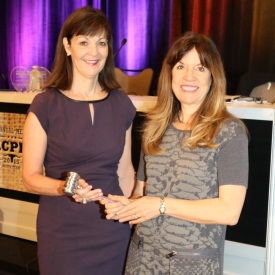 On Wednesday evening, the Welcome Reception was held at the Palmer Events Center where the Academy leadership wowed the crown by performing a flash mob.
Various guest lecturers who lit the stage and inspired attendees.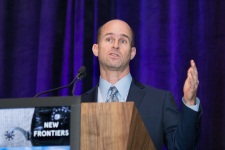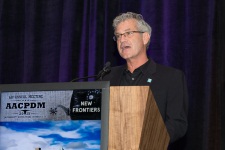 Courses, posters and fun in the sun!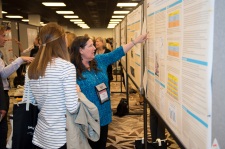 The meeting ended on a "high note" at the famous Stubb's Bar BQ with fabulous food and entertainment!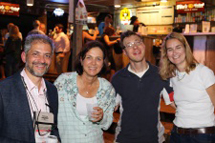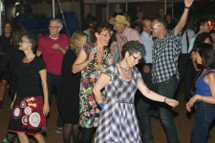 Once again, the members made the 2015 Annual Meeting a success! With a phenomenal group of volunteers that made up the scientific program committee, local hosts and board of directors, this conference again, broke abstract and attendance records! Thank you to all who shared your time and expertise to plan this stellar educational event
We look forward to seeing you in Hollywood, Florida on September 20-24, 2016!
MISSED THE MEETING IN AUSTIN??

One of the great aspects of the Annual Meeting is the inspirational, motivational, informational keynote lectureships. During the 2015 Annual Meeting, the planning team made it possible to allow all members to view the General Sessions. Click to view.
GRANT OPPORTUNITIES!
The Academy is pleased to announce the opening of a grant opportunity designed to facilitate sharing of expertise among members of the AACPDM.
The Transformative Practice Award
Put the expertise available in the AACPDM to work for your practice! Funding is available to support AACPDM members seeking to work with an expert to implement intervention strategies in their practice. Funds can be used to assist with expert travel, on-site meeting and knowledge translation activity expenses.
Read more about the grant at http://www.aacpdm.org/awards/grants. Applications will be accepted until April 4th 2016.
Book Review
Tics and Tourette Syndrome- Key Clinical Perspectives
by Roger Freeman, Mac Keith Press 2015.
This is an explicitly clinical book that is accessible to any practitioner who would like to understand the topic. Each of the 27 brief chapters clearly describes an aspect of the disorder with highlighted practice points and case examples. Evidence for recommendations is cited with summaries throughout the text. Common beliefs are supported or refuted.
The incidence of Tourette syndrome has dramatically increased from previous estimates of 3-5/100,000 to a 2012 estimate of 0.7% in 13 year olds. A popular movie "The Road Within" has a young man with Tourette as the lead character. The cause(s) remain unknown with some evidence of familial linkage but no defined genetic markers.
The author clearly empathizes with his patients while applying logic and evidence to his diagnostic and treatment approach. He includes chapters on working with schools and working with families. He recognizes the limitations of research as well as the benefit of even a small treatment effect for a patient and family.
As a clinician with only passing familiarity with this disorder, I found this book to be extremely user-friendly and understandable. I highly recommend it for anyone with an interest in Tourette syndrome at any level.
Developmental Medicine and Child Neurology
Have you taken advantage of the "Virtual Issues" of DMCN? Here is the link: http://onlinelibrary.wiley.com/journal/10.1111/%28ISSN%291469-8749/homepage/VirtualIssuesPage.html?campaign=dartwol|132801890
These are open access articles that have been chosen for their timeliness and interest to clinicians. They are grouped by topic. The topics to date include: Cerebral Palsy Grows Up, Rett syndrome – in celebration of the work of Bengt Hagberg, Activity and Exercise Therapies, Autism Spectrum Disorders, Paediatric Stroke, Orthopaedic Interventions in Cerebral Palsy, Selective Dorsal Rhizotomy, Hippotherapy and Therapeutic Horse Riding, Epilepsy, Autism, Evaluating Interventions in Cerebral Palsy, and our Editor's Choice.
Communications Committee
The app for the annual meeting was a success! The final report notes 806 active users with an average of 280 average app actions each. The committee functioned as app helpers for attendees. Most users loved having the option to make your own schedule. Please send any recommendations for improvements to Jesse or Amanda.
Our Web mistress Susan Sienko Thomas is retiring, we have a succession plan and Kathryn Doughty will be taking over. Thanks to Susan for many years of patient stewarding of the website and for all of her work in building the new website. Please visit and use the website! www.aacpdm.org Of note, under the Resources tab you will find 4 excellent fact sheets from the Lifespan committee.
Looking ahead, the Communications Committee discussed potential ways to further improve accessibility of AACPDM to the community. Ideas that were proposed included working toward making webinars ADA compliant and closed captioning of AACPDM content.
With planning already starting for 70th Annual Meeting, we encourage potential applicants to submit their audio-visual learning tools for consideration of the Fred P. Sage Award.
Please follow us on Twitter @aacpdm and on Facebook American Academy for Cerebral Palsy and Developmental Medicine.
2016 ANNUAL MEETING

Mark your calendars! The AACPDM 70th Annual Meeting will take place at the Diplomat in Hollywood, Florida, September 20-24, 2016. The venue is nestled between the Atlantic Ocean and Intracostal Waterway, creating a picturesque location to learn, network, and grow.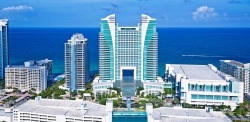 Join us by asking, "Making a Difference… Are We?" as we reflect on new developments in applied and translational sciences, prevention, diagnosis, and technology for treatment for individuals with cerebral palsy and other childhood-onset disabilities while acknowledging how much we have yet to discover.
The days are promised to be filled with thought-provoking educational sessions, engaging keynote speakers, and unforgettable networking moments as we move the vision of the Academy forward.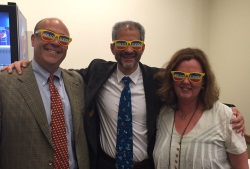 EDITOR'S NOTE
Greetings once again from Upstate New York where we have had an extended fall with warm temps and spring blossoms in December. I have taken this opportunity to finish fall chores and to install my Little Free Library.
I hope everyone who had the opportunity to go to the annual meeting in Austin enjoyed it as much as I did. It was well organized (thanks to Amanda, Jesse and Tracy!) and highly educational. We are making excellent progress on our strategic plan and our academy is on a sound financial and educational footing. I will be posting committee reports throughout the year.
I plan to retire as your newsletter editor in the next year. We will have a succession plan similar to the Web Mistress. If you are interested in volunteering for this position please contact me at loganl@upstate.edu for more information. Please!
Lynne Romeiser Logan