Upcoming Events
Save the Date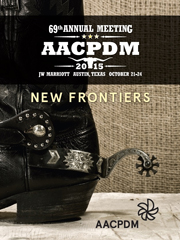 Mac Keith Press Update
| | | | |
| --- | --- | --- | --- |
| Spring 2015 | Follow us on: | | |
PRESIDENT'S MESSAGE
Hello and Happy Spring!
Greetings to the AACPDM membership! This year has seen a significant flurry of activity with the Board, Committees and Volunteers moving the American Academy for Cerebral Palsy and Developmental Medicine (AACPDM) in a BOLD direction identified by our strategic plan. I'd like to highlight some of these activities for you.
We have identified four key priorities from the strategic plan where we are focusing energy: i) creating Care Pathways for childhood-onset disabilities, ii) identifying common data elements and a core set of meaningful outcome measures, iii) forging international partnerships through the formation of an International Alliance of Academies of Childhood Disabilities (IAACD), and iv) exploring the establishment of a community stakeholder group. The Care Pathways project is performing a variety of tasks as the Board just approved a 'demonstration project' in which five evidence-informed care pathways related to cerebral palsy will be developed. These will be launched online for use by the AACPDM membership and then evaluated to guide future directions. The Common Data Elements and Meaningful Outcome Measures project (CDE/MOM) is making headway since they last met with the National Institute of Neurological Disorders and Stroke (NINDS) in November 2014. The Research Committee has categorized working groups for the development of primary and secondary data sets focusing on cerebral palsy. Now the work really begins - stay tuned. The IAACD is in the process of developing a formal infrastructure and governance with an organizational constitution outlining membership and leadership. The European Association of Childhood Disabilities (EACD), the Australasian Academy of Cerebral Palsy and Developmental Medicine, and the AACPDM are the three academies currently forming the IAACD with a prime focus being the support of health professionals who provide services/care for individuals with childhood onset disabilities in developing countries. Partnerships are key to the success of the AACPDM, and work is underway to explore the establishment of a community stakeholder group to partner with key stakeholders (advocacy, patient, medical, research and support groups) to improve the quality of life for individuals with childhood-onset disabilities.
In additional AACPDM news, I am happy to report the AACPDM continues to maintain its solid financial footing and we received a clean audit for 2014 activities. The Finance Committee is working on developing an investment strategy for the endowment and reserve funds, and creating a Board spending policy. The Education Committee is exploring the potential of online educational courses, outside the Annual Meeting and will be distributing a survey this month for member feedback. Our 2015 Annual Meeting (in Austin) has had another record-breaking year of abstract submissions (see more details within the newsletter).
Please join me in congratulating Dr. Peter Baxter for his excellent leadership as Editor of Developmental Medicine and Child Neurology. Dr. Peter Baxter will retire from this position at the end of 2015. It has been a pleasure working with Peter and we wish him all the best in a healthy and happy retirement!
I look forward to seeing many of you in Austin in the fall and receiving updates on how you are making a difference for individuals with childhood-onset disabilities and their families. These are exciting times!
Kind regards,
Darcy L. Fehlings MD MSc FRCPC
Holland Bloorview Kids Rehabilitation Hospital
Head of the Division of Developmental Paediatrics, Professor of Paediatrics, University of Toronto
President of the AACPDM
69th Annual Meeting
Thank you to all who submitted work to be considered for this year's Annual Meeting in Austin, Texas. Once again, our Scientific Program Committee had another record-breaking number of high-quality submissions to review. A total of 544 total abstract were submitted, just over 51% of these submissions were accepted to create a dynamic program consisting of following educational sessions:
120 Free Paper Presentations
62 Scientific Posters
33 Demonstration Posters
27 Breakfast Seminars
36 Instructional Courses
Final details will be available May 18th when online registration opens and the Preliminary Program becomes available. All Submitters were emailed the abstract decisions on March 26th. Please email meetings@aacpdm.org if you did not receive your notice.
---
JW Marriott Austin
Group Rate: $229/night
110 East 2nd Street
Austin, TX 78701
Take advantage of the AACPDM group rate and sleep under the same roof as the main AACPDM 69th Annual Meeting space! The brand new JW Marriott Austin was completed in February 2015. The 34-story hotel is not only the largest hotel in Austin, but also the largest JW Marriott in the United States and the second-largest JW Marriott in the world! Click Here to Make Your Reservation
IMPORTANT NOTE: Due to the Formula 1 Race in Austin from October 23-25, there are limited rooms available. Please check back on the AACPDM Meeting site for other hotel accommodations if the JW Marriott does not have availability.
AACPDM Committee Reports
Adapted Sports and Recreation
Chair: Keiko Shikako-Thomas, PhD OT
The committee wants to develop a "buzz book" of committee members to serve as resources to AACPDM membership. The material will outline the work and expertise related to adapted sports and recreation that committee members do, so that if people want to know more about research or clinical and community programs or "how to" created adapted sports and leisure programs they could contact committee members:
Name, Address, contact information
Main interests, content expertise
List of publications or link to the website to get a list of publications
Links to website of the program
The committee wants to develop a Leisure/Adapted Sports fact sheets. The committee also has been approved to work with the Family Forum planners beginning in Austin.
Lifespan Care Committee
Chair: Wilma van der Slot, MD PhD
2015 Family Forum Highlights
Friday, September 12th (from 3:45-6:35p). The Lifespan Committee and ~ 45 local parents, youth and community leaders collaborated about transition programs, e.g. related to work and relationships for youth and young adults with disabilities and adapted sports. A palpable excitement filled the room. Tables overflowed with resources, equipment and special treats.
The first part of the program covered presentations on the following topics:
Jan Willem Gorter, MD, PhD, FRCPC-Director of "CanChild": Transitions programs for youth/young adults with CP in Hamilton, Canada.
Alesha Thomas-Young adult with CP describing successful transition to college and employment.
Molly Kennedy-Adult with CP illustrating what it is like to grow up with a disability and living independently as an advocate for disability rights.
Wilma van der Slot, MD, PhD, Rijndam Rehabilitation Institute/Erasmus University, Rotterdam, The Netherlands: Presented research and clinical work on: a) Rotterdam's Transition Program for adolescents and young adults with childhood onset disability, including CP, with special attention to work programs. B) a new intervention: disability management for adults with CP.
Susan Labhard, MSN, RN-Transitions Nurse at Shriners Hospital for Children-Portland: Presentation on the importance of "Friends and Relationships" for youth with developmental and physical differences to support quality of life goals. References/resources provided.
Panel Discussion: Topics focused on success living independently and resources to promote quality of life.
The second part of the program covered:
The Duncan Wyeth Award presentation by Ryan Chalmers, Team USA who competed in the 2012 London Paralympic Games and is part of Stay Focused, an adaptive scuba diving group.
Demonstrations and presentations by the Adapted Sports and Recreation Committee.
Adaptive Sports opportunities such as rock climbing, scuba diving, alpine skiing and skateboarding were discussed with videos.
Panel Discussion: It was encouraging to see individuals with differences participating in adaptive skiing, sled hockey, swimming, wheelchair basketball, and a variety of competitive and recreational sports. The message centered on how important it is to get involved in sports and recreation programs no matter what the developmental, intellectual or physical disability. It is not only good for your health, but a great way to socialize and meet friends.
A huge part of the success of the Family Forum, was not only support from local organizations and families of youth with disabilities, but presenters and parents contributions from all over the world-- with the same goal. It was a unanimous decision to ensure that future Family Forums be a part of the AACPDM's decision to encourage a Lifespan approach to disabilities.
Attending Family Forum at AACPDM
By Lynnette Rasmussen, OTRL
As an occupational therapist, I attended the Family Forum session during the recent 2014 AACPDM Annual Meeting in San Diego, CA. The theme for this year was, Transition into Adulthood. The panel consisted of both medical experts and persons with CP.
I would like to share several key points that I gained from both the panel and audience.
Transition to Adulthood
Mental Health: increase mental health support as it is a growing concern that is commonly ignored.
Toward Independence:

Create a, "Transition Kit" that includes personal and medical information regarding their disability to take to medical appointments, checklist for issues related to moving out of the home towards independence, resources, etc.
Teach goal setting and achievement during youth.
Encourage and allow independence as appropriate.
Teach self-advocacy for obtaining services or accommodations (e.g. requesting more time to complete a college exam) as colleges have no established IEP.

For Health Professionals:

Increase awareness regarding emergent treatment of patients with CP at emergency departments with regard to baclofen pumps.
Create a virtual portal to teach physicians about CP and its common sequelae.
Increase resource availability for aging persons with CP that are concerned with need for assistance while remaining independent.
Advocacy
Co-Chairs: Stephanie Deluca, PhD and Kerstin Sobus, MD PT
Through the year we discussed the following items:
The possibility of holding an annual fund raiser; the possibility of a submission to next year's meeting for a roundtable discussion on the Affordable Care Act; and the development of a list of resources for families with newly diagnosed children with Cerebral Palsy.
Education
Chair: Michelle Torne PhD PT
Offering online courses: We decided on a format for the courses. Courses will be asynchronous (not live) and run 3-4 weeks. We propose a series of 3-4 lectures/presentations followed by a discussion board monitored by the presenter, which is open for one week after each lecture. Continuing education credits will be provided to physicians, nurses, PT and OT. AACPDM staff compiled a list of potential vendors to estimate cost. If the board approves, our committee will trial the systems to make a recommendation of the best system to meet our needs. We will also develop a request for proposal as well as selection similar to annual meeting for submissions for online courses. We are hoping to work with the Lifespan committee to offer a course on Transition and care for Adults with CP. Editor's note: Please look for a survey in the near future of your online educational needs as members of the AACPDM
Continuing education units: We discussed options for expanding CEU's for PT's (currently CEU's are provided for Wisconsin and California). We looked at two organizations which provide PT CEU's- IACET and ProCert. ProCert covers more states and is less expensive. Committee recommends that the Academy pursue PT credits through Pro Cert as well as Texas, for the 2015 meeting. Cost for CEU's for 2015 meeting from both of these organizations is less that $400 combined.
ACCME Accreditation: We developed questions last year and a pre and post meeting survey was sent to attendees. AACPDM staff is working on requirements for re-accreditation.
Feedback from annual meeting: We edited the registration profession choices to better capture the attendee's professions. We compiled comments regarding topics requested by attendees from the 2014 meeting.
Information regarding affordable care act: Fransisco Valencia has looked into providing information regarding the Affordable Care Act. He is soliciting articles for the newsletter to help AACPDM members understand how the ACA will affect our patient population
International Affairs
Chair: Jorge Carranza, MD
SCHOLARSHIPS

AACPDM member as part of their application.
We had 37 applications for the 2015 program, currently in the scoring process
We will again be showcasing the international scholarship winners by inviting 5 of them from all areas of the globe to present at the IAC luncheon. 
Enhancing the experience for scholarships winners by having an observer fellowship while in North America
Database of contacts of previous scholarship winners to obtain subsequent feed-back of the impact of their AACPDM meeting experience on their local service provision. These feedback will then be incorporated as part of the AACPDM Newsletter as an "International Column". Linking this with the Communications Committee will be undertaken. This will provide solid feedback to the Board about the long-term benefits of the International Scholarships.
In future, we will ask the scholarship winners to make personal recommendations of two local professionals to provide information and encourage them to apply.

Scoring system will remain the same but emphasis on the comments section. A motion was approved regarding the fact that the scholarship program is intended to open an opportunity for professionals from underserved areas to attend this sort of meetings if they don´t have similar events in their region. That information was added to the AACPDM webpage appropriate section.
PhD students and Orthopedic surgeon applicants will be encouraged to apply for Student Scholarship or Orthopediatrics Travel Scholarship.
From now on we will ask the International applicants to identify and make contact with a local

INTERNATIONAL ALLIANCE OF ACADEMIES OF CHILDHOOD DISABILITY

The IAC is ready to help promote the IAACD worldwide.
Our committee has been approached by International groups interested in joining the IAACD.
We are aware that the IAC chair will be part of the IAACD Steering committee

3. IAC MEMBERSHIP

Currently 18 members plus Honorarium and Board liaison members.
We received six new members including Trinidad and Tobago, South Africa, Brazil, USA (2) and Australia.
Chair-elect appointed: SAMANMALI SUMANASENA, MD (Sri Lanka)

DEVELOPMENT GRANT APPLICATION

IAC reviewed and supported application sent from the EEMCPDM ORGANIZING COMMITTEE led by Dr. Marek Jozwiak for a regional meeting for June 2015 in Poland.
IAC received and reviewed an application sent from the Philippine Society of Neurorehabilitation led by Dr. Teresita Joy Ples Evangelista (and Dr. Joycie E. Abiera) for a Philippine Cerebral Palsy Summit for September or October 2016. Some issues were asked to the organization. In January 2015 they informed us that they would be changing date and type of event for 2017. They would submit a new application once they finalized the new event.

OTHER BUSINESS

A survey (planned by our predecessors at the IAC) aimed to determine the number of members that have been involved in international projects was sent to our Membership. The goal was to help people interested in engaging in similar projects to find colleagues who could share their experience within our Academy. We had responses from 153 members, 139 willing to have their contact information published on the website. The IAC decided to develop a map highlighting countries where a member has/had done professional activities, and by clicking on it, the information will be displayed.
IAC will ask the Academy to develop advertising materials to increase awareness of the AACPDM meetings, membership and scholarship program when IAC members are attending other international meetings.
Membership
Chair: Susan Rethlefsen, PT DPT
Committee membership: The committee needed to recruit more members. Jesse Cunningham sent out an email communication to AACPDM membership and successfully recruited 5 new volunteers.
Membership application reviews: Reviews were being done every 1-2 months, approximately 20-30 applications each time. Committee members felt there were too many applications to review at once, and had difficulty getting them done on time. We now do the reviews bi-monthly, about 5 applications each time. If there are more than 5 to review, they are reviewed weekly. Committee members have been happy with this system, and have been more successful at getting them accomplished on time.
New members:

Since the Annual Conference in September, 2014, 66 new members have joined the Academy. (The numbers below include members admitted, regardless of whether or not dues have been received):

The membership renewal / non-renewal process is ongoing until the end of March. Full analysis of renewal rates and trends in membership for 2015 compared to prior years will be presented in the Fall Membership Committee report.

Need for membership review guidelines: This has not yet been started, but we plan to begin the process in the next month. As per the Board's suggestion from the last meeting, our guidelines will outline steps to take when suspicious applications are reviewed:


When a suspect application is reviewed, the membership chair or AACPDM staff will contact applicant and request a letter of sponsorship/support from a current AACPDM member
If an appropriate letter is subsequently received, application will be re-reviewed by the committee

Mentorship program:


The committee down-scaled the scope of the proposed program from mentorship to an Academy Advisor program, based on the Board's recommendations.
Advisors will be senior members (past presidents and other individuals who have benefitted from Academy membership)
Advisees will be new members (<5 years)
They will advise regarding issues such as:

How the AACPDM can help member in furthering career (ie. scholarships, grants, committee participation, networking, etc.)
Advice in other areas such as research, program development, career development, etc., anything advisor feels comfortable with
Committee is planning a "meet and greet" breakfast to introduce potential participants to the program, and provide a forum for already matched Advisor/Advisee pairs to meet for the first time.   Senior advisors will give 5 minute presentations at the Meet and Greet about how academy has influenced their careers, etc.
The membership committee drafted email communications to be sent to Academy members describing the program.
The staff (Amanda) designed web-based forms for advisor and advisee enrollment, outlining specialty, areas of interest for advising/receiving advice, etc.

The plan for matching advisors with advisees is the following:
Advisees can review potential advisors on the website and self-select one
Membership committee will contact Advisors to determine availability, and coordinate establishment of email contact between the parties.
Advisee will contact advisor to establish contact
Advisor/Advisee pairs will be encouraged to attend the Meet and Greet at the 2015 Annual Meeting, and to arrange their first session during the meeting.
Advisors will only be asked to meet with advisees at the AACPDM meeting, 1-2 times, the first time may be at a "meet and greet" breakfast.
They can continue on their own if desired
Research
Chair: Elaine E. Stashinko, MD
Common Data Elements (CDE) Working Groups.
As part of AACPDM strategic plan, the Research Committee was to identify Common Data Elements for CP and other childhood-onset disabilities and recommend to CDE/MOM Steering Committee.

Our goal was to categorize the common data elements for cerebral palsy in 8 or less groups and include some basic descriptors of what elements/categories may comprise each group. A subcommittee - Sarah, Joline, Jessica, Theresa, Sharon & Elaine- proposed 7 working groups and submitted them to the Steering Committee co-chairs in January, 2015. The recommended CDE working groups are:

Participant Characteristics/Disease/injury related events
Health/growth/genetics/comorbidities/labs
Neuroimaging Diagnostics
Neuromotor skill and functional assessments
Neurocognitive, Social, and Emotional Assessments (note - encompasses mental health)
Engagement and Quality of Life Assessments/Data
Treatments/Interventions and Progress for Targeted Outcomes

Mentorship Award
The Award announcement was posted on Feb 16, 2015 with an April 15 submission deadline. We will try to complete this process by the end of July (rather than August). This would allow us to notify the recipient of the award early so that he/she could attend the annual meeting. Note: our entire Research Committee is involved in this review and voting.

Decision: The committee asked AACPDM staff to request submission of a CV with the initial nomination package this year. The Research Committee will critique the award process this year; a working subgroup will work on generating a one page template for the initial nominee statement for the 2016 Award.
Pedal with Pete applications:
Pedal for Pete received 7 applications that were reviewed and scored by the Research Committee. PwP recommended 3 grant awards to the following:
(1) $25,000 to Dr. Keiko Shikako-Thomas' project titled, CP2: Community Partners for Children's Participation – Pilot project and feasibility study
(2) $11,200 to Pranay Jindal's project titled, Development of ICF-based multimedia education modules and their impact on mothers' knowledge and attitude towards their children with Cerebral Palsy.
(3) $25,000 to Dr. David Scher's project titled, The Effect of Intravenous e-Aminocaproic Acid on Blood Loss and Transfusion Requirements after Bilateral Varus Rotational Osteotomy (VRO): A Prospective, Double-blinded, Randomized Controlled Trial.
Review of Cerebral Palsy Science and Clinical Perspectives
Editors: Bernard Dan, Margaret Mayston, Nigel Paneth and Lewis Rosenbloom.
This essential volume on cerebral palsy honors the past and is a comprehensive view of what we know about cerebral palsy today. Parents, children and adults are all important parts of this story and are included. The authors list reads like a who's who of research about cerebral palsy. Luckily all of these researchers also write coherently! I strongly recommend this book be on the shelf of every clinic for people with cerebral palsy.
The book is divided into four sections: section one concerns concepts, natural history and global perspectives; section two, pathways to cerebral palsy; section three, diagnosis and principles of intervention; sections four, optimizing activity and participation.
The authors in each section have very thoughtfully and thoroughly explored their topics. I particularly enjoyed the discussion of historical disagreements over the best ways to treat children with cerebral palsy. Everything has changed and nothing has changed. Clearly, the practitioners in this field have always strived to provide the best care as we know it.
Section one: The definition and classification chapter explores the important work done in the last decade in this area. The parenting and personal perspectives chapters are terrific reminders of the real-world issues faced by families who have a child with cerebral palsy. A chapter on cerebral palsy in adulthood is an excellent, comprehensive review of the issues likely to be seen in adults.
Section two is Pathways to cerebral palsy. This section reminds us of the myriad ways one can acquire cerebral palsy. The illustrations and photos in this section are incredibly helpful in promoting the understanding of these complex concepts.
Section three: diagnosis and principles of intervention. This immense topic is logically broken down into chapters on the Neural Basis of Motor Control, Clinical Presentation, Neuroimaging, Clinical Neurophysiology, Orthopaedic Assessment, Motion Analysis, Intervention Planning, Implementation and Evaluation, Assistive Technology, Resources.
Section four includes: Muscle Tone, Postural Control, Oromotor Function, Hand function, Lower Limb Function, Cognition, Visual function, Hearing and Vestibular Function, Communication, Behavior and Mental Health, Sleep, Epilepsy, Feeding and Nutrition, Respiratory Problems, Urinary Function,and Sexual Development, Sexual Health, and Lived Experiences.
Each chapter includes excellent, up to date resources for evaluation and treatment. Many items mentioned in the chapters are included in the extensive appendix.
I highly recommend this text as a reference for "everything you always wanted to know …" about cerebral palsy. It is a detailed exploration of what we know and how we got here and is respectful of the variety of ways we understand and treat this disorder.
NOTE FROM THE EDITOR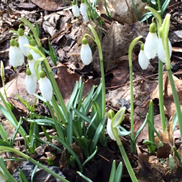 Greetings to all once again from Upstate New York. As I write this, there is still a bit of snow that will not melt in my front garden. What a winter we have had. The snowdrops were never more welcome when they finally appeared last week.
I had the opportunity to review the new McKeith Press book on cerebral palsy. As I was reading it I thought about all the practitioners who have contributed to the body of knowledge we have today. We owe so much to them, above all the desire to continue to push our understanding forward. I think the rapidity of knowledge acquisition and transfer today reinforces the belief that we are doing the best with what we know today but tomorrow we should be ready for a paradigm shift. Those of us who embrace change do well in this environment, while those who cling to what is comfortable feel threatened.
Our Academy seems to have a preponderance of practitioners welcoming evidence based change. Our responsibility to transfer the knowledge we gain in our interactions in the Academy is great and the rewards are greater. I am reminded of several favorite quotations "From those to whom much is given, much is expected" (often heard from my parents when I'd whine about expectations) and "an expert is someone who lives 60 miles away" referring to the difficulty of being a prophet in one's own land (Bible). So it seems that while we recognize the responsibility to be thought leaders, it may not be easy.
Happy Spring everyone.
Lynne