Lifeshots Photo Contest
Due to overwhelmingly positive responses, the AACPDM LifeShots Photo Gallery has returned for its 7th year! The deadline to submit is Wednesday, July 24, 2019.
The Academy has created a photo contest to feature a one-of-a-kind gallery that will inspire all viewers to overcome their many challenges. We look forward to your creative submissions!
What We're Looking For...
Photos of individuals affected by cerebral palsy and other childhood-onset disabilities in the midst of doing what they enjoy or completing a basic task or celebrating a major accomplishment. The photos can contain family members and care providers but we must have a photo release for each person in the photo.
Then, include a title that is unique to the ability being highlighted in the photo. The title/phrase will be mounted next to the photo.
The Academy will select the top photos for display at the AACPDM 73rd Annual Meeting in Anaheim, California, USA. The top three winners will be announced during a General Session at the Annual Meeting.
Grand Prize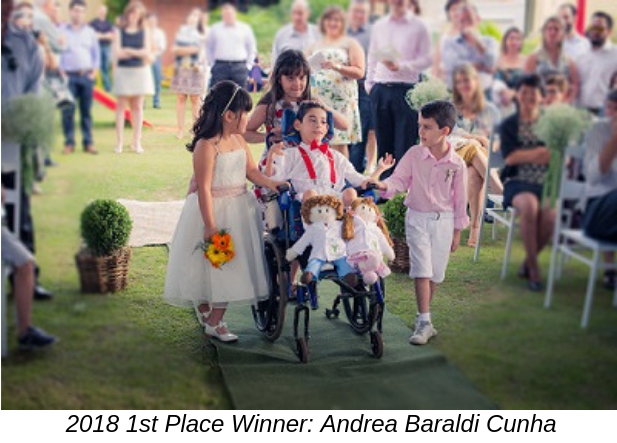 The winner will receive a professionally mounted enlargement of their submitted photo, free basic conference registration to the 74th Annual Meeting in New Orleans, Louisiana on September 22 - 26, 2020 and a brand new electronic tablet.
The 2nd and 3rd place photos will receive a professionally mounted version of their submitted photo and an electronic tablet.
All photographers will be recognized on the photos displayed.
Contest Application Check List
Completed LifeShots Photo Application
Maximum quality original electronic photo file (Electronic copy of the photo(s) in a RAW or maximum quality JPEG format, 300 dpi or larger with an image size no less than 2400 pixels can be delivered via email, flash drive, or CD/DVD)
Photo Release Form for each individual in photo

Important Dates
May 2019
Registration Opens
July 10, 2019
Exhibit Booth Application Deadline
August 7, 2019
Early Bird Registration Discount Ends
August 18, 2019
Hotel Room Block Reservation Deadline
August 21, 2019
Online Registration Deadline
August 22, 2019
Presentation Handout Deadline
September 18-21, 2019
73rd Annual Meeting!