Mac Keith Press News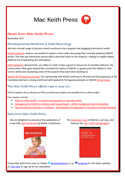 | | | | |
| --- | --- | --- | --- |
| Fall 2017 | Follow us on: | | |
President's Message
| | |
| --- | --- |
| | Greetings to the AACPDM membership this fall of 2017. As the holiday season approaches, I hope we are all focused on Daring Greatly in your own arena, be that in your work as an expert in disability issues, in your life with your own family and friends, or in your struggle with your personal goals. Remember, as Theodore Roosevelt said, "It is not the critic who counts; not the man who points out how the strong man stumbles, or where the doer of deeds could have done them better. The credit belongs to the man who is actually in the arena". |
The Academy met in Montreal in September for what had to be the most beautiful week of weather that Montreal has had in 2017. We were treated to 70 -80 degrees and sunshine every day of the conference. Susan Sienko and Jacques D'Astous organized an equally stunning scientific program held at the Palais des congrès de Montréal with so many of you presenting the state of the art evidence based practice. Our plenary speakers challenged us to think about the historical basis upon which we as a society make decisions for persons with disabilities. They made us laugh, made us cry, reminded us of family perspectives, genetic perspectives, and gave us time to consider where our practice has been and how we can improve on what we do. We danced and ate beautiful food and generally enjoyed what Montreal has to offer. I hope that it was a time to renew your passion for your work. For those of you who could not attend, I hope that you can review the abstracts and watch the YouTube videos posted on the Academy website of the plenary speakers.
If you attended the meeting or previous meetings, you have heard about the 2013-2018 Strategic Plan. Many of the goals of this plan have been accomplished, some have yet to be accomplished and some are partially addressed. At this time, Jilda Vargus-Adams, our first VP, Tracy Burr, our Executive Director, and I will be working on creating a process to develop our next strategic plan. We would like to ask for your contributions as we move forward. A survey will be sent to the membership in January of 2018. Please make your opinions known.
I would also like to draw your attention to two strategic and important events that occurred at the meeting in Montreal. First, the constitution of the International Alliance of Academies of Childhood Disability (IAACD) was signed by the three founding member Academies, the AACPDM, the Australasian Academy of Cerebral Palsy and the European Academy of Childhood Disabilities.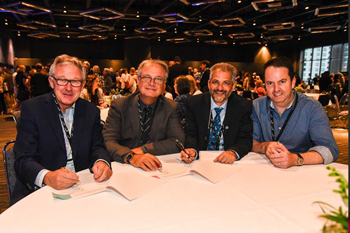 From left to right: Hans Forssberg, MD PhD (EACD), Giovanni Cioni, MD (EACD), Unni Narayanan, MBBS MSc FRCS(C) (AACPDM), James Rice, MD (AusACPDM)
The next meeting of the IAACD (every three years) is being held 17-21 September 2019, in conjunction with the AACPDM's 73rd Annual Meeting in Anaheim, California, USA.
Secondly, the Board of the AACPDM approved the formation of the Community Council. The Community Council is now accepting applications for membership to a 13 member Council, representing the interests of families, advocates, and consumers in the issues relating to the activities of the AACPDM, including and focusing on awareness, education, and research. The Chair of the Community Council will be an ex-officio member of the Board.
Know that your courage and passions are needed as we rise to assist those affected by violence, hurricanes, fires, and other circumstances of life that result in disability. With respect and admiration for your work,
Sarah Winter, MD
President
71st Annual Meeting Highlights
Over 1,050 attendees from 40 countries gathered at the AACPDM 71st Annual Meeting at the Palais des congres de Montreal in Montreal, Canada this past September, where we witnessed Unni Narayanan pass the gavel to Sarah Winter to serve as President 2017-2018. Dr. Winter encouraged presenters and attendees to "Dare Greatly: Enter the Arena".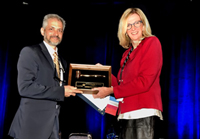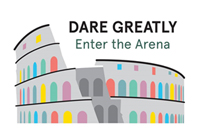 On Wednesday evening, the Welcome Reception was held at the Palais des congrès de Montréal where attendees were able to connect while experiencing local cuisine with French Canadian music in the background and the opportunity to get some fresh air and overlook downtown Montreal for an unseasonably warm September evening.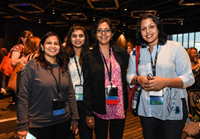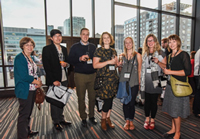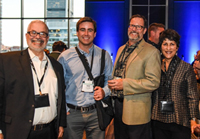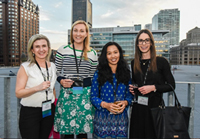 Innovative, inspiring, and thought-provoking speakers and award winners captivated the audience from the General Session stage. Videos of all General Sessions are available online: http://www.aacpdm.org/resources/multimedia#AM2017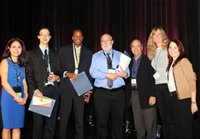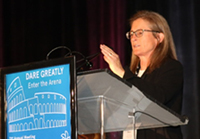 An abundance of educational opportunities were offered each day with 5 Pre-Conference Sessions, over 65 course options, over 100 poster displays, and 120 Free Paper presentation options. We are also grateful to the supporters and exhibitors who helped make this meeting a success.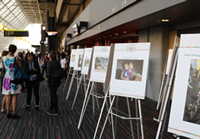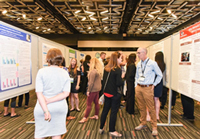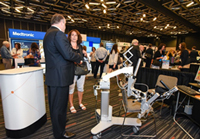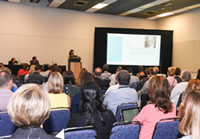 The 71st Annual Meeting closed with the Networking Dinner at the Cirque Eloize, the training facility for Cirque de Solei performers that travel around the world entertaining with music, light and variety act shows.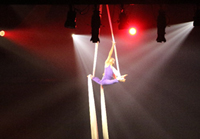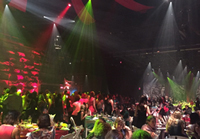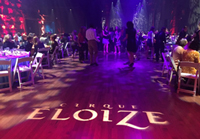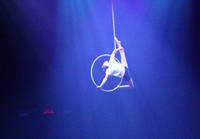 The Community Forum hosted an afternoon program for local families and community members to learn more from AACPDM members and leaders.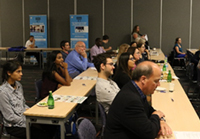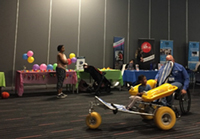 We sincerely thank all who shared their time and expertise to plan and present this unforgettable educational event. The dedicated group of volunteers that made up the Scientific Program Committee, Local Hosts and Board of Directors made the 71st Annual Meeting a huge success!
Book Review
Rett Syndrome
Edited by Walter E Kaufmann with Alan K Percy, Angus Clarke, Helen Leonard, Sakkubai Naidu
2017 Mac Keith Press
It has been 51 years since Dr. Rett reported on several girls in his practice with similar developmental and behavioral features, 34 years (1983) since Bengt Hagberg's report in English sparked an explosion of reports and research efforts into this very complex syndrome with "frequently severe symptomatology [of] dynamic nature". This book is intended as more of a summary of the history, the present knowledge and future directions of Rett syndrome (RTT) in its very readable 16 chapters containing 216 pages. It contains a chapter about "Molecular Complexities of MeCP2 Function…" but is not intended as an in depth report on the gene, rather most of the chapters are about specific clinical features with potential treatments. Included in the history are reports from Dr. Hagberg (since deceased) about his journey into the syndrome, and from Kathy Hunter, founder of the International Rett Syndrome Association, a dynamic parent organization that has intimately contributed and guided the pursuit of understanding about the syndrome. Recognizing this is a rapidly changing field, the volume is liberally sprinkled with guidance for future revisions and explorations. Chapters on sleep, GI, epilepsy, orthopedic, respiratory features are helpful for understanding not only this syndrome but these individual features in children with severe disability without RTT. The concept that RTT is more of a disorder of neuronal plasticity leading to the notion of potential but not yet realized direct treatment is intriguing. This is an excellent reference on RTT.
Members' Published Works
AACPDM members are having their research, commentaries, reviews and editorials published and we are showcasing their contributions published by Developmental Medicine and Child Neurology.
October 2017 Volume 59 Number 10
Commentary
Physical Activity Intervention for Children and Young People with Cerebral Palsy
Author: Jan Willem Gorter, MD (member)
Review
The Efficacy of Interventions to Increase Physical Activity Participation of Children with Cerebral Palsyd: A Systematic Review and Meta-Analysis
Authors: Sarah Reedman, BPhty (member), Roslyn Boyd, PhD PT, (member), Leanne Sakzewski, PhD OT (member)
Original Articles
A Population-based Study of Communicative Participation in Preschool Children with Speech-Language Impairments
Authors: BJ Cunningham, SE Hanna, B Oddson, N Thomas-Stonell, Peter Rosenbaum, MD, FRCP(C) (member)
Educational and Rehabilitation Service Utilization in Adolescents Born Preterm or With a Congenital Heart Defect and at High Risk for Disability
Authors: Annette Majnemer, PhD OT (member), N Dahan-Oliel, C Roblicek, S Hazigeorgiou, B Mazer, Désirée B. Maltais, PhD PT (member), N Schmitz
Refining the Pediatric Evaluation of Disability Inventory-Patient-Reported Outcome (PEDI-PRO) Item Candidates: Interpretation of a Self-Reported Outcome Measure of Functional Performance by Young People with Neurodevelopmental Disabilities.
Authors: JM Kramer, Ariel Schwartz, MSOT, OTR/L (member)
Long-term Impact of Childhood Selective Dorsal Rhizotomy on Pain, Fatigue, and Function: A Case-Control Study
Authors: Alecia Daunter, MD (member), AL Kratz, Edward Hurvitz, MD (member)
September 2017 Volume 59 Number 9
Editorial
Dare Greatly: Enter the Arena
Author: Sarah Winter, MD (member)
Commentary
Growth Charts for Cerebral Palsy: Still Imperfect, But Gaining Value
Author: Steven Day, PhD MA (member)
Review
Use of Active Video Gaming in Children with Neuromotor Dysfunction: A Systematic Review
Authors: Robbin Hickman, PT, DSc, PCS-E (member), L Popescu, R Manzanares, B Morris, S-P Lee, JS Dufek
Original Articles
Changes in Hip Abductor Moment 3 or More Years After Femoral Derotation Osteotomy Among Individuals with Cerebral Palsy
Authors: ER Boyer, Tom Novacheck, MD (member), MH Schwartz
Validation of US Cerebral Palsy Growth Charts Using a UK Cohort
Authors: CM Wright, L Reynolds, E Ingram, TJ Cole, Jordan Brooks, PhD MPH (member)

August 2017 Volume 59 Number 8
Commentary
Pain in Cerebral Palsy: A Neglected Comorbidity
Author: Darcy Fehlings, MD MSc FRCPC (member)
Review
A Systematic Review of Scales to Measure Dystonia and Choreoathetosis in Children with Diskentic Cerebral Palsy
Authors: Kirsty Stewart, DHSc (member), Adrienne Harvey, PhD PT (member), Leanne Johnston, PhD PT (member)
Original Articles
Medial Gastrocnemius and Soleus Muscle-Tendon Unit, Fascicle, and Tendon Interaction During Walking in Children with Cerebral Palsy
Authors: Lee Barber, PhD MPT (member), C Carty, L Modenese, J Walsch, Roslyn Boyd, PhD PT (member), J Lichtwark
Longitudinal Physical Activity and Sedentary Behaviour in Preschool-Aged Children with Cerebral Palsy Across All Functional Levels
Authors: P Keawutan, KL Bell, S Oftedal, RS Ware, Richard Stevenson, MD (member), PSW Davies, Roslyn Boyd, PhD PT (member)
History Of Our Academy
During the Annual Meeting in Montreal this past September, several references were made to the "6 white men" who were founders of the Academy. Although offered partly in jest, we owe a great deal to these men. Peter Blasco has offered an article he first provided years ago on these remarkable men, of which the first part is included here. Because of size, the final installment will be in the next newsletter.
Early History of the AACPDM
In 1862 William John Little (1810-1894), an orthopedic surgeon in England and a world authority on orthopedic deformities, first described what came to be known as "Little's Disease" and then later, cerebral palsy. Dr. Little's hypothesis was that certain patterns of orthopaedic deformity (in combination with other neurological features) were the result of neonatal brain injury.1 Decades later, in the mid-1900s, through the efforts of Jayne Shover, a speech therapist, who was the head of clinical services for the Easter Seal Society (then known as the National Society for Crippled Children and Adults), six remarkable physicians of diverse interests gathered in Chicago on Dec. 11, 1946, as members of a newly formed Advisory Council: Winthrop Phelps – orthopedic surgeon, Temple Fay – neurosurgeon, Bronson Crothers – neurologist, Meyer Perlstein – neurologist, George Deaver – physiatrist, and Earl Carlson – neurologist. The group developed a blueprint for establishing an interdisciplinary society dedicated to the care of children with cerebral palsy. The following year that group re-convened as the charter membership of the American Academy for Cerebral Palsy (AACP), and these individuals have been referred to as the "founding fathers" of our Academy.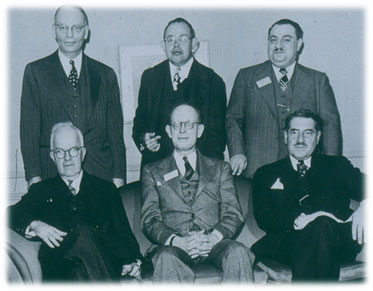 Dr. Phelps, was chosen to be the first AACP president. He was born in 1894 in Bound Brook, N.J., the son of an Episcopal minister. He received a BS degree from Princeton University in 1916 and an MD degree from Johns Hopkins University in 1920. As a fellow in orthopaedics at Harvard Medical School he developed a relationship with Dr. Bronson Crothers, a neurologist and one of the group who later established the AACP. He served on the orthopaedic faculty at Yale from 1925-36 and was chairman from 1932-36. Earl Carlson, who became a child neurologist and was also one of the six "founding fathers", was a student and a patient of Dr. Phelps. He had athetoid cerebral palsy.
In 1932 Dr. Phelps published the first definitive paper on cerebral palsy2 since William John Little and resurrected the term "cerebral palsy" that Sir William Osler had coined 50 years earlier.3 In 1937 Dr. Phelps established the Children's Rehabilitation Institute (CRI) in Cockeysville, Maryland, outside of Baltimore where many early professionals in the field of cerebral palsy trained. The CRI became the John F. Kennedy Institute (now the Kennedy Krieger Institute) in Baltimore. He had a tremendous national and international reputation and was involved in establishing clinics throughout the country. He was undoubtedly the single most far-reaching and influential individual in the Academy's history. He served as president of the Academy for two years (1947 and 1948). Sedgwick Mead, president in 1967, described him as "a complex and shy man."
Dr. Phelps emphasized that not all children with cerebral palsy were intellectually disabled. He championed a holistic approach to the patient, not just a focus on mechanical or neurological deficits. He also pointed out that the concept of "birth injuries" was not just limited to perinatal mishaps but that prenatal (i.e., intrauterine) and postnatal events could produce the identical neuromotor "dyskinesias."
Dr. Phelps was known primarily for his bracing method. In the 1920s many patients with cerebral palsy were being seen in clinics that had been established for the treatment of polio. Dr. Phelps in his extensive clinical travels examined many hundreds of children who had been treated employing principles of polio surgery, often with disastrous results. Hence, Phelps, an orthopedist, did not believe much in surgery and focused on bracing. He would be very proud of the continued scientific questioning of the indications for and value of surgery that is fostered by today's Academy. Dr. Phelps died in 1971.
Bronson Crothers was born in 1884 in Elmira, NY. Dr. Crothers received his MD degree in 1910 from Harvard. He had internships at Massachusetts General and Boston Children's Hospitals in 1910-11, training in internal medicine and surgery. During World War I, Dr. Crothers served as a thoracic surgeon with the British Medical Corps. From 1920-27 he was assistant and then instructor in neurology and in pediatrics (in which he was self-trained) at Harvard Medical School.
The first physical therapy for children with neurological disabilities was provided at Children's Hospital by a gymnast who became one of the first physical therapists. Dr. Crothers had an opportunity to observe this earliest use of physical therapy in his cerebral palsy clinic, which he established late in his career. He was a strong advocate for psychological supports for children with disabilities. He is described as modest, methodical, and carefully analytical. He was elected the fourth president of the Academy in 1951. Bronson Crothers and Richmond Paine wrote the classic treatise, The Natural History of Cerebral Palsy, a scholarly review of the literature on the disorder from the time of Little to 1955, coupled with their own extraordinary clinical experience.4 Dr. Crothers died in 1959.
Meyer A. Perstein was born in 1902 in Chicago. Dr. Perlstein received a bachelor's degree from the University of Chicago in 1923 and an MD degree from Rush Medical College in 1927. He trained in pediatric neurology and was professor of pediatrics at Northwestern University Medical School and was chief of the Children's Neurology Service at Cook County Hospital. Each summer from 1956 through 1967, he presented a two-week course in Chicago on neuromuscular diseases of children. He was renowned for his succinct vignettes of medical information on rounds (known as "Perlstein's pearls"). A tireless, even restless man, he spent his spare hours (i.e., after midnight) making jewelry for friends. He was the first secretary of the Academy from 1947-1952 and the seventh AACP president in 1954. Martin Bax, former editor in chief of Developmental Medicine & Child Neurology recollects:
"As a young representative of the Journal, I was introduced to several of the past presidents, including Winthrop Phelps and Meyer Perlstein; his paper at the meeting was a retrospective study of 4,546 cases of cerebral palsy! I doubt if anyone could produce those figures today. Perlstein poured into my ears a mass of information about cerebral palsy, about which his knowledge was encyclopaedic."
Dr. Perlstein's pet project was the Cerebral Palsy Brain Registry, which he initiated in 1949. This was a project to correlate the clinical and pathological findings in brains of individuals with cerebral palsy. Brain specimens were forwarded to Dr. Perlstein through the Academy and then were examined free of charge by Dr. Herman Josephy, who later became a vice president of the Academy. Dr. Perlstein's son, Paul, who is a neonatologist at the University of Cincinnati, recollects from his childhood numerous formalin-filled containers with brain specimens residing in their family garage. The Brain Registry was supported by regular grants from the Easter Seal Society. In 1956 the Brain Registry was amalgamated with the Armed Forces Institute of Pathology under their Neuropathology Registry, and a grant from NIH was sought to complete the project but was never forthcoming. Dr. Perlstein died in 1969.
To be continued…
72nd Annual Meeting: Call for Abstracts NOW OPEN!
The abstract submission site is now open 72nd Annual Meeting.
Please submit your abstract(s) by January 31, 2018.
Visit the website http://www.aacpdm.org/meetings/2018 for full instructions.
We look forward to seeing you in Cincinnati, Ohio on October 9 -13, 2018!
2018 Annual Meeting Planning Team
Jilda Vargus-Adams, MD
First Vice President

Kristan Pierz, MD
2018 Scientific Program Committee Co-Chair

Lesley Wiart, PhD PT
2018 Scientific Program Committee Co-Chair
Advocacy: 2018 LHHS Appropriations Report Language for CP
While there has been much talk about what the U.S. Congress has not gotten done, the U.S. Congress has made a positive move for cerebral palsy research. The CP Collaborative (a collaboration of multiple organizations promoting and supporting individuals with cerebral palsy, including AACPDM) advocated, drafted, and lobbied for language in support of cerebral palsy research in the Labor, Health, Human Services and Education Appropriations Bill (LHHS Appropriations Bill FY2018) that passed earlier this year. Specifically, this bill has the strongest language in support of cerebral palsy research and surveillance to date. The following two paragraphs are sections in the LHHS Appropriations Bill in support of cerebral palsy research, which are directed at the CDC and NIH.
In CDC - pg. 69 of LHHS Appropriations Bill FY2018
"Cerebral Palsy [CP].—The Committee encourages CDC to build upon existing surveillance and research applications of CP surveillance within the established 11 Autism and Developmental Disabilities Monitoring Network surveillance sites. The Committee recognizes and supports CDC's efforts to include CP surveillance in three existing sites and encourage CDC to expand this effort within current resources to additional sites allowing for a more nationally representative sample."
In NINDS - pg. 91 of LHHS Appropriations Bill FY2018
"Cerebral Palsy [CP].—The Committee commends NINDS for developing the CP 5-year Strategic Plan and urges NINDS to implement Funding Opportunity Announcements in support of the top priorities and increase its CP research efforts for prevention, treatment, and cure through the lifespan. The Committee encourages funding for basic and translational research (including regenerative medicine) for improved outcomes for patients with CP, and recommends collaboration with the research and advocacy community. Furthermore, the Committee recommends that NIH form a transNIH working group of program officers who manage their Institute's CP portfolio and that this group regularly interact with CP patient advocacy groups."
This is a monumental step forward for CP research. We are looking forward to the CP community being able to capitalize on the work that is already being done at the CDC and NIH. However, more work remains. Specifically, we are eager to see a strategic plan from the CDC as to how the CP surveillance will be expanded within the current resources. Furthermore, we will continue to advocate for funding to be designated for these and future CP research and surveillance efforts.
2017 Travel Scholarship Recipients
Through generous donations, OrthoPediatrics and the Academy, we were able to provide travel funding to 50 AACPDM members to attend the Annual Meeting in Montreal. Through the AACPDM travel scholarship programs, it expands the horizons of education and research worldwide to individuals that might not otherwise be able to attend. Below are all the scholarship recipients that were able to make the trip in September: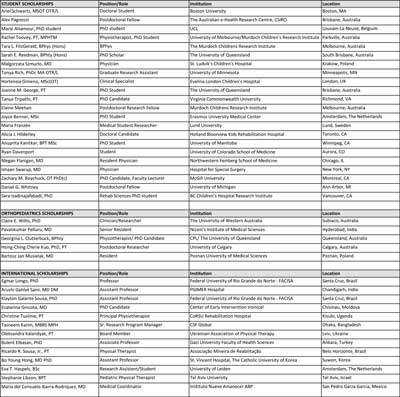 Letter from the Editor
Greetings and welcome,
It was great to meet with many of you again at the annual meeting. This edition of the newsletter includes highlights of the meeting of which several videos are available online to any who missed a great time. Also included is the origins of those who received scholarships to the meeting, showing efforts of the Academy to support information and education. Peter Blasco has provided an interesting history of the "Founding Fathers" of the Academy, who were far ahead of their times. The academy has many activities that are not detailed here, mostly through the various committees, several which have openings for new members. One might also consider following the Twitter feed for headlines of interesting topics. I hope you enjoy this newsletter and contributions are always welcome.
Steve Couch, MD
eNewsletter Editor