Save the Date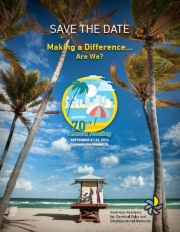 Featured Resource
AACPDM Fact Sheets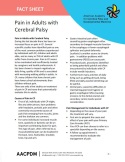 | | | | |
| --- | --- | --- | --- |
| Summer 2016 | Follow us on: | | |
PRESIDENT'S MESSAGE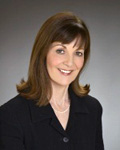 I hope that everyone is enjoying what remains of your summer and looking forward to an exciting September meeting in Florida! This year has been very busy and productive year. Strategic Plan initiatives that were scribbles on poster boards in 2013 have been implemented and others are on their way thanks to the hard work of our membership.

Education: You can now take advantage of AACPDM educational opportunities all year long. AACPDM Continuing Educational Webinars, with CME credits and CEUs, were successfully launched in the Spring. The first course, International Classification of Functioning (ICF) Core Sets, was completed by 74 participants and the second, Orthopedic surgery for Adults with CP, is currently underway. Kudos to the Education Committee who championed this effort and are busy developing the next webinars.

Partnerships:

In March, the AACPDM hosted a Community Council Summit and brought together AACPDM members and thirteen stakeholder groups and individuals that support people with disabilities and their families to explore the formation of an AACPDM Community Council. The formation of the Council was enthusiastically embraced and goals were established around research advocacy, education and branding. A subgroup was formed to continue development of the Council. Working together, we will increase our strength to push forward research, education and policy that is meaningful to our membership and the patients that we serve.

The first meeting of the International Alliance of Academies for Childhood Disability (IAACD), hosted by the EACD, was held in Stockholm in June and was a great success both scientifically and collaboratively. It was exciting to see so many AACPDM members in attendance for this historic conference. We welcomed newly formed international academies who wish to join the IAACD and worked to continue development of the organizational constitution outlining membership and leadership. The primary focus of the IAACD is to improve the health of children with disabilities in low-resource countries. AACPDM will host the second IAACD meeting in October 2019 in Anaheim, California.

Research:

This was a very busy and productive year for the Common Data Elements (CDEs) project. CDEs are the data that we collect for research and clinical care ranging from basic elements, such as height and weight, to biomarkers obtained from neural imaging. Over 50 AACPDM members worked on this project with guidance from the National Institutes of Neurological Diseases and Stroke (NINDS). The CDEs with their associated "Instruments" and references have been cataloged and are being readied for public comment by NINDS. Please stop by the AACPDM booth during the Florida conference to go on-line and explore this wonderful new resource for evidence-based research.

Care Pathways are user-friendly and evidence-based algorithms for the busy clinician. Our members have been hard at work developing six demonstration care pathways for CP in the areas of osteoporosis, sialorrhea, hip surveillance, early detection, dystonia and contractures. A preview will be available at the AACPDM booth during the conference.

I mourn the end of summer but look forward to reconnecting this fall and learning how all of you are working to improve research and practice to benefit the patients and families that we serve!

Sincerely,

Eileen Fowler PhD, PT
Director, Research & Education
Center for Cerebral Palsy
University of California, Los Angeles
President, American Academy for Cerebral Palsy and Developmental Medicine
2016 ANNUAL MEETING
70th ANNUAL MEETING - REGISTRATION INFORMATION
Advanced registration is now closed but you can still register on site. See you Florida!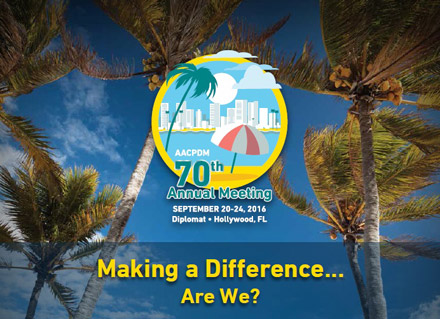 GRANT OPPORTUNITY
Sponsored by:




Up to $25,000 - Open now

The Pedal-With-Pete® Research Grant provides seed funding to develop a high quality clinical research project/program. The award is expected to produce a competitive interdisciplinary, multi-investigator/center grant proposal for submission to larger agencies/funders of research in any area relevant to the AACPDM. Any member of the AACPDM is eligible to apply. Only one grant application per member will be considered in a given budget year. The budget limit is US $25,000 (subject to approval, amount awarded may be amended).

The full application outline is available by clicking here. Please note that all applications must be submitted online. The application deadline is September 30, 2016.
AACPDM ADVISOR SUPPORT PROGRAM
The AACPDM Advisor Support Program promotes career development and provides networking opportunities for students (Advisees) and experienced AACPDM members (Advisors) within the Academy. Individuals interested in serving as an Advisor will be paired up with students, once they have selected you from the online profile section.

Advisors and Advisees will be able to meet and converse at the Conference on Thursday, 22 September for our breakfast Meet 'N Greet. This event provides a forum for the exchange of knowledge in a relaxed atmosphere.

For more information on this program, please visit: https://www.aacpdm.org/membership/advisor-program

or email the AACPDM office at info@aacpdm.org
COMMITTEE REPORTS
Adapted from the mid-year board reports

Adapted Sports and Recreation

By Keiko Shikako-Thomas, PhD OT - Committee Chair

The committee wants to develop a "buzz book" of committee members to serve as resources to AACPDM membership. The material will outline the work and expertise related to adapted sports and recreation that committee members do, so that if people want to know more about research or clinical and community programs or "how to" created adapted sports and leisure programs they could contact committee members:
Name, Address, contact information
Main interests, content expertise
List of publications or link to the website to get a list of publications
Links to website of the program
The committee wants to develop a Leisure/Adapted Sports fact sheets. The committee will be working organizers of the Family Forum in the upcoming months.

Lifespan Care

By Jennifer Miros - Committee Chair

The Family Forum (September 12, 2015)
The Lifespan Care Committee and ~ 75 local parents, youth and community leaders collaborated about transition programs, e.g. related to work and relationships for youth and young adults with disabilities and adapted sports. A palpable excitement filled the room. Tables overflowed with resources, equipment and special treats.

The first part of the program covered presentations on the following topics:
Jan Willem Gorter, MD, PhD, FRCPC-Director of "CanChild":

Transitions programs for youth/young adults with CP in Hamilton, Canada.

Alesha Thomas:

Young adult with CP describing successful transition to college and employment.

Molly Kennedy:

Adult with CP illustrating what it is like to grow up with a disability and living independently as an advocate for disability rights.

Wilma van der Slot, MD, PhD, Rijndam Rehabilitation Institute/Erasmus University, Rotterdam, The Netherlands:

Presented research and clinical work on: a) Rotterdam's Transition Program for adolescents and young adults with childhood onset disability, including CP, with special attention to work programs. B) a new intervention: disability management for adults with CP.

Susan Labhard, MSN, RN-Transitions Nurse at Shriners Hospital for Children-Portland:

Presentation on the importance of "Friends and Relationships" for youth with developmental and physical differences to support quality of life goals. References/resources provided.

Panel Discussion:

Topics focused on success living independently and resources to promote quality of life.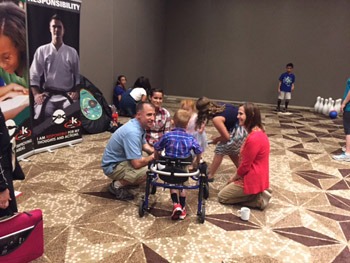 The second part of the program covered:
The

Duncan Wyeth Award presentation by Ryan Chalmers

, Team USA who competed in the 2012 London Paralympic Games and is part of Stay Focused, an adaptive scuba diving group.
Demonstrations and presentations by the

Adapted Sports and Recreation Committee

.

Adaptive Sports

opportunities such as rock climbing, scuba diving, alpine skiing and skateboarding were discussed with videos.

Panel Discussion:

It was encouraging to see individuals with differences participating in adaptive skiing, sled hockey, swimming, wheelchair basketball, and a variety of competitive and recreational sports. The message centered on how important it is to get involved in sports and recreation programs no matter what the developmental, intellectual or physical disability. It is not only good for your health, but a great way to socialize and meet friends.
A huge part of the success of the Family Forum, was not only support from local organizations and families of youth with disabilities, but presenters and parents contributions from all over the world-- with the same goal. It was a unanimous decision to ensure that future Family Forums be a part of the AACPDM's decision to encourage a Lifespan approach to disabilities.

Attending Family Forum at AACPDM

By Lynnette Rasmussen, OTRL

As an occupational therapist, I attended the Family Forum session during the recent 2014 AACPDM Annual Meeting in San Diego, CA. The theme for this year was, Transition into Adulthood. The panel consisted of both medical experts and persons with CP.

I would like to share several key points that I gained from both the panel and audience.

Transition to Adulthood
Mental Health: increase mental health support as it is a growing concern that is commonly ignored.
Toward Independence:

Create a "Transition Kit" that includes personal and medical information regarding their disability to take to medical appointments, checklist for issues related to moving out of the home towards independence, resources, etc.
Teach goal setting and achievement during youth.
Encourage and allow independence as appropriate.
Teach self-advocacy for obtaining services or accommodations (e.g. requesting more time to complete a college exam) as colleges have no established IEP.

For Health Professionals:

Increase awareness regarding emergent treatment of patients with CP at emergency departments with regard to baclofen pumps.
Create a virtual portal to teach physicians about CP and its common sequelae.
Increase resource availability for aging persons with CP that are concerned with need for assistance while remaining independent.
Advocacy

By Stephanie Deluca, PhD; Wendy Pierce, MD - Committee Co-Chairs

The committee discussed the following:
The possibility of holding an annual fund raiser
The possibility of a submission to next year's meeting for a roundtable discussion on the Affordable Care Act
The development of a list of resources for families with newly diagnosed children with Cerebral Palsy
Communications

By Carl Gelfius, MD - Committee Chair

Fred P Sage award was reviewed and selected among 9 submissions. The announcement will be made during the annual meeting, stay tuned for a follow up announcement after the meeting.

The mobile app for the annual meeting was a success! The final report notes 806 active users with an average of 280 average app actions each. Please send any recommendations for improvements to the office at info@aacpdm.org.

Our Webmaster Susan Sienko Thomas is retiring, we have a succession plan and Kathryn Doughty will be taking over. Thanks to Susan for many years of patient stewarding of the website and for all of her work in building the new website.

Looking ahead, the Communications Committee discussed increasing accessibility to all AACPDM participants
Working to facilitate viewing of a webinar on creating accessible documents
A Beginners Guide to Creating Accessible Documents
Education

By Jeremy Bauer, MD - Committee Chair

Offering online courses: There will be 2 pilot online courses in 2016. Courses will be asynchronous (not live) and run 3-4 weeks. Continuing education credits will be provided to physicians, nurses, PT and OT. AACPDM staff compiled a list of potential vendors to estimate cost. If the board approves, our committee will trial the systems to make a recommendation of the best system to meet our needs. We will also develop a request for proposal as well as selection similar to annual meeting for submissions for online courses. We are hoping to work with the Lifespan Care committee to offer a course on Transition and care for Adults with CP.
Please look for a survey in the near future of your online educational needs as members of the AACPDM
Continuing education units: We discussed options for expanding CEU's for PT's (currently CEU's are provided for Wisconsin and California). We looked at two organizations which provide PT CEU's- IACET and ProCert. ProCert covers more states and is less expensive. Committee recommends that the Academy pursue PT credits through Pro Cert as well as Texas, for the 2015 meeting. Cost for CEU's for 2015 meeting from both of these organizations is less than $400 combined.

Information regarding affordable care act: Francisco Valencia has looked into providing information regarding the Affordable Care Act. He is soliciting articles for the newsletter to help AACPDM members understand how the ACA will affect our patient population.

International Affairs

By Samanmali Sumanasena, MD - Committee Chair

International Scholarship Applications
There were 32 applications
17 awarded scholarships and 15 to attend the meeting
The Committee will be showcasing the international scholarship winners by inviting 5 of them from all areas of the globe to present at the International Networking Luncheon. The Committee will attempt to enhance the experience for scholarships winners by having an observer fellowship while in North America.

The committee will be tracking previous scholarship winners to obtain subsequent feed-back of the impact of their AACPDM meeting experience on their local service provision. This feedback will then be incorporated as part of the AACPDM Newsletter as an "International Column". Linking this with the Communications Committee will be undertaken. This will provide solid feedback to the Board about the long-term benefits of the International Scholarships.

In future, we will ask the scholarship winners to make personal recommendations of two local professionals to provide information and encourage them to apply. Scoring system will remain the same but emphasis on the comments section. A motion was approved regarding the fact that the scholarship program is intended to open an opportunity for professionals from underserved areas to attend this sort of meetings if they don't have similar events in their region. That information was added to the AACPDM webpage appropriate section. PhD students and Orthopedic surgeon applicants will be encouraged to apply for Student Scholarship or OrthoPediatrics Travel Scholarships.

From now on we will ask the International applicants to identify and make contact with a local AACPDM member as part of their application.

Development Grant Applications
EEMCPDM Organizing Committee led by Dr. Marek Jozwiak for a regional meeting for June 2015 in Poland.
Philippine Society of Neurorehabilitation led by Dr. Teresita Joy Ples Evangelista (and Dr. Joycie E. Abiera) for a Phillipine Cerebral Palsy Summit for September or October 2016. The organization will submit a new application once they finalized the event details.
Other Business
Review of the survey (planned by our predecessors at the IAC) aimed to determine the number of members that have been involved in international projects was sent to our Membership. The goal was to help people interested in engaging in similar projects to find colleagues who could share their experience within our Academy. We had responses from 153 members, 139 willing to have their contact information published on the website.

The IAC implemented a map highlighting countries where a member has/had done professional activities, click on the map below: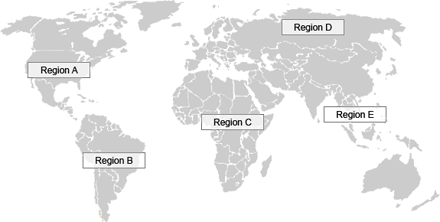 Membership

By Ann Harrington, PT DPT PhD - Committee Chair

Student Scholarships were awarded! There were 29 applications submitted and 28 were awarded a scholarship with the minimum of $500 in funding.

The Committee discussed strategies to increase enrollment and retention of membership.
Membership application reviews are being performed weekly.

Advisor Support Program:
The committee is identifying new and continuing Advisors. The next action step will be to identify Advisees and match them up in order to begin communications prior to the Annual Meeting. A breakfast meet and greet session will occur on September 22nd during the Annual Meeting in Hollywood, Florida.

Research

By Joline Brandenberg, MD - Committee Chair

Common Data Elements (CDE) Working Groups
The entire project is closing and the National Institute of Neurological Disease and Stroke (NINDS) is uploading the CDE's and outcome measures of the AACPDM Working Groups for a full internal review prior to it being available on the public website.

Mentorship Award
Collected applications, received 6 applications. Stay tuned for the winner announcement at the Annual Meeting.

Research Grants
CP Alliance grant was awarded to Bernadette Gillick (and team) on "Perinatal Stroke: Understanding Brain Reorganization through Infant Neuroexcitability and Neuroimaging". They received $18,435 USD.
Pedal for Pete Foundation grant submission is open, deadline is September 11th.
SUBMIT AN ARTICLE TO THE AACPDM Quarterly eNewsletter!
The AACPDM eNewsletter is an excellent opportunity to network, share ideas and disseminate information about important industry happenings, article reviews, keynotes, and special events.

Although we cannot guarantee that all submissions will be published, we invite you to submit short articles and topic suggestions, achievement announcements, or comments.

Send your submission to info@aacpdm.org with the subject line "eNewsletter Submission". Please include a completed copy of the copyright release form, both for original and reprinted material.

For more information on past AACPDM eNewsletters, see them here.
AACPDM eCOURSES

The AACPDM launched online education with 2 AACPDM eCourses this year!

Topics included:
Let's apply the ICF in day-to-day practice (April)
Orthopedic Surgery for Adults with Cerebral Palsy (July)
What is an AACPDM eCourse?
It is 3-4 week, online, self-paced, course in which you can earn CME/CEUs.
The cost is minimal: $100 members / $150 non-members.

Stay tuned, the NEXT eCourse to open in November 2016!
BOOK REVIEW
Developmental Assessment: Theory, Practice and Application to Neurodisability

By: Patricia M Sonksen

Mac Keith Press 2016

This is a highly readable book which offers sound advice on assessing young children with multiple impairments. The emphasis on the interdependency of domains is critical to understanding how children develop and how we can document their development. Experienced clinicians will always ask "is she not reaching for the toy because her spasticity is limiting her, or can she not see it?", this book attempts to indoctrinate the new clinician into thinking about development globally. Links are continually made between motor behavior, cognition and sensation.

Chapter 1 gives a fabulous introduction into the deep understanding of a child's development one may achieve by thinking about the diagnostic clues present in the profiles of a given assessment. Examples of action plans for children are given. Methods of adjustment for test protocol for children with disabilities are suggested.

Chapter 2 covers important practicalities often assumed by experienced clinicians. Guidelines for ambience and communication with parents and children are clear and reflect many years of thought about what makes an experience successful. Expectations for history taking and timing of assessment are sensible.

The following chapters cover vision, hearing, social cognition, non-symbolic cognition, non-spoken symbolic development and imaginative play, spoken language, gross motor and fine motor development, and speech sound production in great detail. The initial emphasis on the integration of domains is not lost while the details are explored. Although this is appears to be a daunting task, the author reminds us that if we start assessing at the 50th percentile for each child, if that seems reasonable based on your brief observation, few items will need to be tested in each area and they will be of the most interest to us and the child.

Chapter 12 discusses how to gather the domain assessments into a comprehensive view of the child. Chapter 13 covers assessment of children with severe or multiple impairments. Chapter 14 talks about developmental guidance using children with varying degrees of visual impairment as examples.

As an evaluator of children with multiple, sometimes subtle impairments, I appreciate Dr. Sonken's ability to elucidate her methods so completely. She obviously has listened, watched and interacted successfully with young children and parents and intends that we should all do the same.
JOB POSTINGS
Did you know that the AACPDM posts open positions on the website? Check it out!

CURRENT OPEN POSITIONS
Full details are located here:
http://www.aacpdm.org/job-postings/view
FUTURE ANNUAL MEETINGS
Save the date on for the future AACPDM Annual Meetings in order to connect with your colleagues from around the world!

70th Annual Meeting
September 21-24, 2016
Diplomat
Hollywood, Florida

71st Annual Meeting
September 12-16, 2017
Palais des congrè de Montréal
Montreal, Quebec, Canada

72nd Annual Meeting
October 9-13, 2018
Cincinnati Convention Center
Cincinnati, Ohio

73rd Annual Meeting
September 18-21, 2019
Marriott Hotel
Anaheim, California
ONLINE SURVEY
Dear AACPDM Member,
We would like to invite you to participate in an online survey titled "Identification, classification and assessment of dyskinesia in children with cerebral palsy". The survey will take approximately 10 minutes of your time.

Link to survey: https://redcap.mcri.edu.au/surveys/?s=PN99FPXRRF&location=2

This survey is part of a Knowledge Transfer Fellowship research project through the Centre of Research Excellence in Cerebral Palsy (CRE-CP) Australia investigating the identification, classification and assessment of dyskinesia in children with cerebral palsy. The CRE-CP is a five year project funded by the National Health and Medical Research Council in Australia that aims to improve the health and well-being of all people affected by cerebral palsy and their families.

The results from this survey will form the basis of what we as clinicians require in a "Toolkit" to help us correctly identify dyskinesia and uniformly measure dyskinesia in children with cerebral palsy. Consistency with identification and measurement of dyskinesia in children with cerebral palsy will inform the literature and promote consistent reporting of intervention results. The long term benefits will therefore inform selection of the most appropriate interventions for children with dyskinetic cerebral palsy.

You have been asked to participate in this survey due to your knowledge and/or clinical work with children with cerebral palsy. The aim of this survey is to explore your clinical knowledge and current clinical thinking around dyskinesia in children with dyskinetic cerebral palsy.

If you would like more information about the project or if you need to speak to a member of the research team please contact:
If you have any concerns and/or complaints about the project, the way it is being conducted or your rights as a research participant, and would like to speak to someone independent of the project, please contact: Director, Research Ethics & Governance, The Royal Children's Hospital Melbourne on telephone: (03) 9345 5044.
Dr Kirsty Stewart
Phone: 61 2 9845 2800
Email: kirsty.stewart@mcri.edu.au
EDITOR'S NOTE
Summer 2016

Greetings everyone. Upstate New York has had a very slow start to summer with cool temps and lots of rain. I am completing a long-planned house renovation and now have the kitchen I've wanted all of these years. Counter and cupboard space to spare! By the time I see you I hope I will have forgotten the angst required to get the kitchen of my dreams in a small, old (1916) bungalow. Suffice it to say it has been a very long four months. My friends and co-workers have been wonderfully supportive but I think it is safe to say they are as happy for it to be nearly finished as I am.

In this edition of the newsletter we have a review of an important book from Mac Keith Press. Developmental Assessment: Theory, Practice and Application to Neurodisability by Patricia M Sonksen is the embodiment of a thoughtful, experienced, successful clinician. If you want to know what is going through the mind of someone who appears intuitive about child assessment, here it is. If you want to know how to accomplish a thorough development assessment, here you go.

Registration for the annual meeting is open. I hope to see you all there.

I will be retiring as newsletter editor in the next year. Please consider this opportunity to be of service to the academy. The staff is incredibly helpful and the feedback is gratifying.

Lynne Romeiser Logan
EACD MEETING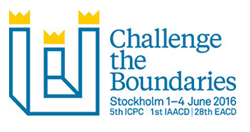 International Conference on
Cerebral Palsy and other Childhood-onset Disabilities
Stockholm 1-4 June 2016

JOINT MEETING:
5th International Conference of Cerebral Palsy (ICPC)
28th Annual Meeting of the European Academy of Childhood Disability (EACD)
First Meeting of the International Alliance of Academies of Childhood Disability (IAACD)

The meeting was a huge success! Over 1,500 attended the meeting in Stockholm, Sweden, this past June. Next year's meeting will be held in Amsterdam, 17-20 May 2017.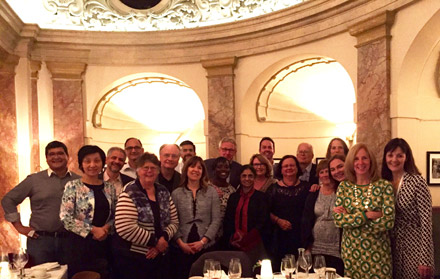 International Dinner
An International Dinner was attended by leadership from the EACD, ICPC, IAACD, AACPDM, AusCPDM, Latin America Academy, East African Academy, Mexican Academy, Indian Academy and a delegation from China.
ARTICLES BY AACPDM MEMBERS

Efficacy of three therapy approaches in preschool children with cerebral palsy: A randomized controlled trial.

http://onlinelibrary.wiley.com/doi/10.1111/dmcn.12966/full

Authors
Anne J A Kruijsen-Terpstra1,
Marjolijn Ketelaar1,*,
Olaf Verschuren1,
Jan Willem Gorter2,
Rimke C Vos3,
Johannes Verheijden4,
Marian J Jongmans5 and
Anne Visser-Meily1
First published: 24 November 2015
DOI: 10.1111/dmcn.12966
Cited by: 1 article
SOCIAL MEDIA
CONNECT WITH US!