PRESIDENTS MESSAGE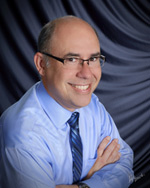 Welcome, it is an exciting time in the life of our Academy! The Milwaukee meeting is still fresh in our memory, and some of the highlights are pictured on these pages. From my perspective as President, the meeting was a huge success! Our final attendance tally was the highest in recent memory, beating out even the very successful meetings in Toronto and Las Vegas. I witnessed a lot of enthusiasm throughout the meeting that makes me optimistic about the years ahead. Planning for next year's meeting is already well underway, and I look forward to an even better turn out in San Diego!
The theme of the Milwaukee meeting was Research and Practice and the program included a review of the state of the science and the state of the art with regard to our care of people with child onset disabilities and their families. We have made tremendous progress over the past 25 years, but we still have far to go. The AACPDM has played an essential role in the development of our Research and our Practice and, I believe, is poised to continue our leadership, in partnership with our "sibling" Academies around the world.
A major triumph of the past year that will shape our actions moving forward is the development of our new Strategic Plan. Beginning in November 2012, under the leadership of Maureen O'Donnell and the facilitation of Kate Bower from Cygnet Strategy, we undertook a year-long process to develop this plan. We took pains to get as much input as possible from all our members, as well as from other interested stakeholders, via electronic survey and personal interviews. We then had a Strategic Planning Meeting in March and developed a draft plan. This draft was presented to the Committees at the Milwaukee Meeting where the Plan was fleshed out more into a final draft that was subsequently approved by the Board. The Executive Committee is currently putting the final touches to the document, which we expect to circulate and post on our website very soon. I am proud of the work that went into this plan, and I think that it has energized the Board and the Committees. As we determine the priorities in the plan, we will share more details about the activities we will be undertaking first. Watch the website and this newsletter in the months ahead!
The Strategic Plan process has set our trajectory, and the plan itself will help us focus our energies. Together, we will continue our work toward improving Research and Practice for the benefit of all those we serve.
Best wishes for peace-filled holiday season!
Rich Stevenson, MD
President
RECENT TWEETS
AACPDM ?@aacpdm CDC: Half Of Kids With Disabilities Skip Flu Shots - Disability Scoop http://www.disabilityscoop.com/2013/09/13/cdc-disabilities-flu/18707/ …via @disabilityscoop
---
AACPDM ?@aacpdm Screen time again linked to kids' extra weight: MedlinePlus http://www.nlm.nih.gov/medlineplus/news/fullstory_142871.html#.UpTUM_t9Ocw.twitter
---
AACPDM ?@aacpdm Some autistic children gain speech with help of iPads http://upi.com/2571086 …via @disabilityscoop
---
AACPDM ?@aacpdm @ Rosenbaum P. Invited commentary: Motor function outcome in postnatal insult-related cerebral palsyhttp://www.ncbi.nlm.nih.gov/pubmed/24240840 …via @disabilityscoop
2013 ANNUAL MEETING
The 67th Annual Meeting was held at the Wisconsin Center in Milwaukee, Wisconsin, this past October. Close to 1,000 attendees attended the meeting, Research and Practice.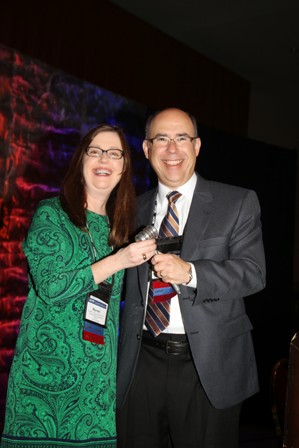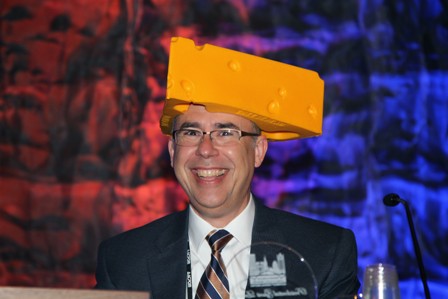 On Wednesday evening, the Welcome Reception was held at the Milwaukee Art Museum at the Quadracci Pavilion. It is a sculptural, postmodern addition to the Milwaukee Art Museum completed in 2001, designed by Spanish architect Santiago Calatrava.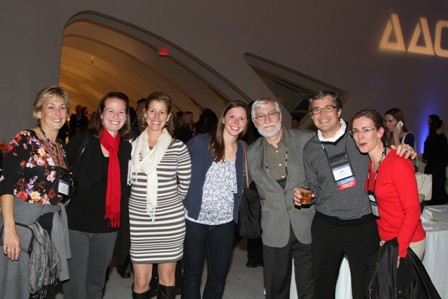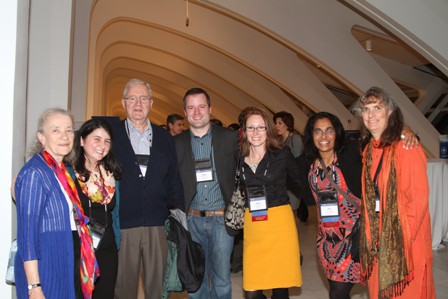 The first annual AACPDM LifeShots Photo Gallery was displayed during the Welcome Reception.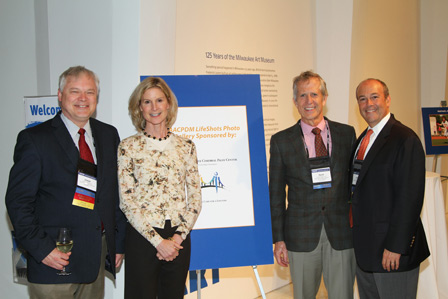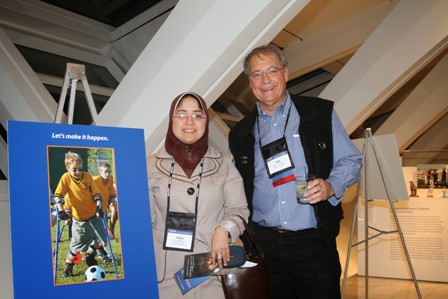 Various guest lecturers walked the stage and enlightened the attendees.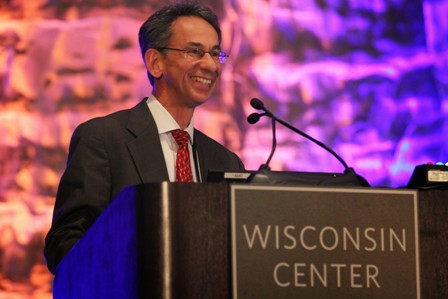 Fourteen international scholars attended this year's Annual Meeting.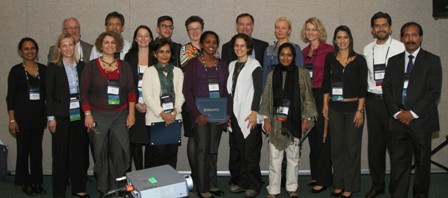 The meeting ended on a "high note" at the Harley Davidson Museum with fabulous food and entertainment!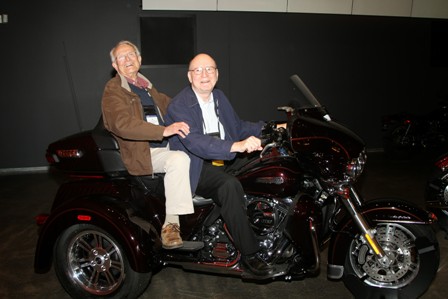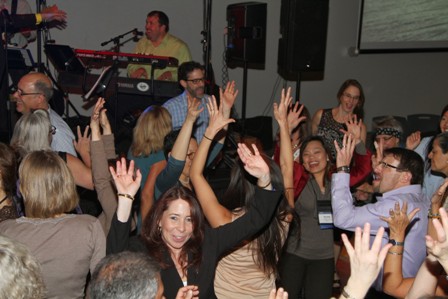 GRANT OPPORTUNITIES!
The Academy is pleased to announce the introduction of a new award designed to facilitate sharing of expertise among members of the AACPDM.
The Transformative Practice Award is aimed to provide financial support for collaboration among AACPDM members in good standing for the purpose of implementing an evidence-based management strategy into clinical practice.
One award up to $4,000.00 USD is available.
The application deadline is 28 February 2014 and the recipient will be announced at the 2014 Annual Meeting in San Diego.
For the terms of the award and the application form click here.
---
2014 Cerebral Palsy International Research Foundation Research Priorities
Explore and test strategies for assessing, developing, and maintaining positive mental health among persons with cerebral palsy across the age spectrum. Of particular interest are projects focused on adolescents and adults (young, middle-aged, and elderly).
Compare and contrast one or more state's (restricted to the U.S.) effective approach in implementing the Affordable Care Act (ACA) as it applies to individuals with cerebral palsy and other disabilities. Such a study should assist other states in improving health care while making the most effective use of limited resources. Consultation with UCP (United Cerebral Palsy) National Office or UCP local affiliates is recommended.
Letters of Intent are due by January 15, 2014; full proposals due March 1. For application instructions, click here. All questions to Dr. James Blackman, Medical Director, email jblackman@cpirf.org.
COMMITTEE REPORTS
These reports are abstracted from the reports to the Board on October 17, 2013.
Website Designs
The website sub-committee of the Multimedia Education Committee have been working with the consulting company, ALSO Collective to develop an infrastructure for the website. The committee understands that the Board needs to see a final visual identity by the end of the year so that the Board can provide feedback. She noted that committee chairs were asked to review their web content a month ago and no one responded. The goal is to have the website up by early January in time for website submissions.
COMMITTEE CHAIRS AND PAST CHAIRS- PLEASE RESPOND!
Complex Care Committee (ad-hoc)
This committee was interested in the specifics regarding an international alliance and would reach out to EACD and AusACPDM (Sarah Love, President). The committee would like to take an active role in developing care pathways and curriculum development would tie into the competencies that are identified. Stevenson suggested that consideration should be given to sending a small group of AACPDM members to EACD meeting in Vienna, Austria next year. Lisa Thornton is the Board Liaison for this committee.
Treatment Outcomes Committee
Linda Krach is the current chair. The committee updated the methodology and revised to make it up to date with ICF. The committee asked if the Board wanted the committee to continue with this. The committee created a checklist of the methodology. The Guidelines Sub-committee investigated the GRADE system and initiated a GRADE review as a test case. The committee had concerns about doing GRADE reviews without appropriate expertise and resources and found it logistically challenging. The committee would like to participate with other committees/volunteers with care algorithms. The committee seeks guidance about whether to continue to do systematic reviews as a committee.
In August/September, the committee was asked to review a position paper published by the American College of Obstetricians and Gynecologists on Neonatal Brachial Plexus Palsy. The committee did not have time to perform a thorough review. The Board thought they could review future papers and make a recommendation to the Board on supporting/endorsing other organizations. The Board suggested that the TOC develop a process of how to handle requests such as this one that require a quick turn around and specific expertise.
Research Committee
Jessica Rose is the Chair and Elaine Stashinko is Chair-Elect. The committee reviewed the goals and strategies of the Strategic Plan and are excited about their involvement. The feedback from the research survey conducted last year is in line with the strategic plan. The committee will be sending out a survey to the previously funded grant recipients to determine success of the grants awarded. The board had a general consensus to not fund the research grant for members and just continue with the Pedal with Pete sponsorships.
Membership Committee
Jean Stout is the chair of the committee. Membership was up 169 new members. Student membership were up which coincided with the increase of posters authored by students. The committee would like to manage a mentorship program linking students to seasoned members of the Academy. The introduction of the graduated membership fee… has it been done, if so, what are the results? The committee would like to add date of birth to the member application so that the Academy can track the average age of members. Stevenson suggested a mentee/mentor badge for the participating members/students.
Lifespan Care Committee
Jan Willem Gorter is chair. The pre-meeting course was successful and they plan to submit another pre-meeting course next year. They want to pursue a journal supplement on Lifespan Issues for Mac Keith Press. They may require financial support for this endeavor.
Website Designs
The website sub-committee of the Multimedia Education Committee have been working with the consulting company, ALSO Collective to develop an infrastructure for the website. The committee understands that the Board needs to see a final visual identity by the end of the year so that the Board can provide feedback. She noted that committee chairs were asked to review their web content a month ago and no one responded. The goal is to have the website up by early January in time for website submissions.
RESOURCES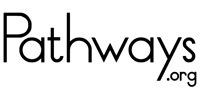 Detecting Early Motor Delays at Well-Baby Visits
In the past 25 years, the number of children with early motor delays has dramatically increased. The American Academy of Pediatrics Council on Disabilities estimates that as many as 400,000 children are at risk for an early motor delay . Suggested reasons for this sharp increase are varied and include: a rise in multiple and premature births, increased survival rate of children with cardiac, neurological, and genetic disorders, and post birth positioning.
An early motor delay can refer to a variety of conditions ranging from low tone to cerebral palsy. Most severe motor irregularities are detected at birth and minor delays become apparent as early as two months of age. These delays can affect a child's ability to learn basic skills such as grasping, crawling, standing, walking, and talking. Synapse development for motor skills, seeing, and hearing peaks at 3 months of age , so the sooner a child with a suspected motor delay is referred for an evaluation, the better. The commonly used "wait and see" method can slow a child's developmental progress. Treatment and prevention for delays can be as simple as doing more tummy time while the baby is awake, while complex cases could require physical, occupational, or speech therapy.
When trying to detect early motor delays it is helpful to know the signs of typical and atypical development. Pathways.org offers free videos and handouts that show typical and atypical development in infants at 2, 4, and 6 months of age. The videos show an infant assessment created by Dr. Elspeth Kong, a Swiss pediatrician, and demonstrate how the power of observation can be a physician's greatest tool in evaluating a child. The assessment encourages physicians to focus on the quality and symmetry of a movement rather than the existence of a movement.
Physicians should also regularly recommend tummy time to parents. When talking about "Back to Sleep" it is important to include "Tummy to Play". In 2008, a national survey of pediatric occupational and physical therapists was conducted. Sixty-six percent observed an increase in motor delays in babies under 12 months of age, and a majority of these therapists suggested that lack of tummy time contributed to the increase. Seventy percent of the therapists noted that most parents have little or no understanding of tummy time . By increasing tummy time many children can avoid conditions like positional plagiocephaly, positional torticollis, and other conditions associated with early motor delays.
Tummy Time can start as soon as a baby comes home from the hospital. Parents often struggle with tummy time when their baby cries; however making tummy time a part of a baby's routine can help minimize the struggle. If a parent is unsure of how to begin tummy time, then suggest the video "5 Essential Tummy Time Moves". This video can help give parents some tips and make tummy time easier. The accompanying handout can be helpful to discuss these positions during office visits.
A child can be referred to the state's Early Intervention Services if an early motor delay is suspected. Early Intervention offers a number of services to children and their families including physical, occupational, and speech therapy. Visit the tools and resources section of Pathways.org to find information on programs in other states.
Visit Pathways.org for additional free resources on children's motor, sensory, and communication development. Handouts, brochures, and videos are available for parents and health professionals to download, copy, and share freely.
BOOK NOOK
We have two important new reference books this month to review.
From Clinics in Developmental Medicine: The second edition of Gross Motor Function Measure (GMFM-66 & GMFM-88) User Manual by authors Dianne J Russell, Peter L Rosenbaum, Marilyn Wright and Lisa M Avery once again gives us detailed instruction on administration and interpretation of this seminal test. Two shorter approaches to giving and scoring the GMFM-66 are described. A second version of the Gross Motor Ability Estimator has been developed. (GMAE-2) and is available at http://motorgrowth.canchild.ca/en/GMFM/gmae.asp . Online score sheets for all of the test versions are available at http://motorgrowth.canchild.ca/en/GMFM/gmfmshoresheets.asp .
The chapters are familiar to those who know this work well. An extensive overview is provided in Chapter 1. Reasons to use one version over the other are described here. The conceptual background is Chapter 2. This chapter defines the GMFM as an evaluative measure and contrasts classification instruments and criterion Vs norm-referenced scoring. Validity, responsiveness and reliability are clearly defined here. Chapters 3&4 provide development and validation of the GMFM-88 and 66. Chapter 5 gives the rationale for development and usage of the short forms of administration. The item set approach reduces the number of items tested by administration of specific key test items that determine one of four item sets appropriate for that child's skills set. The basal-ceiling approach constructs an item set for each individual child using three consecutive perfect scores (basal level) and items continue to be given until the child fails three consecutive items (ceiling level). Chapter 6 instructs one in general guidelines and specific item scoring for all versions of the test. Chapter 7 uses a case scenario to illustrate the use and interpretation of the tests. Score sheets illustrate in great detail how one moves from a scored test to interpretation of results. Chapter 8 discusses the application of the GMFM-88 to a large population of children with cerebral palsy, the creation of the Gross Motor Function Classification System (GMFCS), and the development of motor growth curves for children with cerebral palsy. The analogues to the GMFCS for manual ability and communication are described. Ongoing endeavors to classify and further evaluate the function of people with cerebral palsy are discussed.
As always, these authors write clearly and concisely with their audience in mind. Questions are anticipated and guidance is freely given. Explanations of complex topics such as validity are well-done and relevant to the work at hand. This volume adds to our knowledge base and tracks the recent history as well as future developments related to the GMFM.
Identifying & Addressing Developmental-Behavioral Problems: A Practical Guide for Medical and Non-Medical Professionals, Trainees, Researchers, and Advocates by Frances Page Glascoe, Kevin P. Marks, Jennifer K. Poon and Michelle M. Macias is published by PEDStest.com. The goal of this book is to promote evidence-based methods of screening/surveillance for developmental and behavior problems, collaboration between medical and non-medical providers and cultural competence. The website www.pedstest.com/TheBook contains downloadable materials for many of the activities noted in this book. The 22 brief chapters cover critical issues for infants and children and those who care for them. There is an excellent navigation guide in the beginning connecting the chapters with web pages and supporting materials. Each chapter is logically laid out with the focus on what providers need to know and do. The critical issues for each subject are defined and explored with examples of how one might encounter them. Excellent arguments are made for evidence-based approaches Vs informal assessments. Tables are used frequently to efficiently give specific information. Case studies are also used to illustrate the key concepts described in several chapters. Templates are given for common activities both in the book and online. Parents are considered partners and as such their education about the process and results is deemed essential. Methods of parent education and recognition of challenges such as literacy are included. Suggestions are given for innovative and alternative means of communication. An entire chapter on how to (and NOT to) give difficult news gives evidence-based guidance to the professional.
This is a comprehensive, timely reference book for both primary care clinicians and specialists dealing with children from birth through school age. Recognition of the reality of a busy office practice allows for efficient yet effective developmental and behavioral care of children and parents. This book should be required reading for residents, fellows and their teachers involved with young children. It is essential as a reference book for advocates and other professionals.
NOTE FROM THE EDITOR
Greetings again from Upstate New York where we are awaiting the first large snow/ice storm of the season. I hope everyone enjoyed the annual meeting; lots of conviviality, great continuing education, inspiring speakers and fun parties. If you didn't get to the meeting and would like to join a committee, please complete a Volunteer Application.
Please follow us on twitter (www.twitter.com) @aacpdm. You will get quick updates on research, things of interest on the web, and whatever else might be appropriate to cerebral palsy and developmental medicine.
If you are an author and would like us to call attention to your recent publication, email me at loganl@upstate.edu. I love to spotlight members' work.
Please do turn your evaluations in if you attended the meeting, these inform future offerings.
I look forward to seeing you all next year in sunny San Diego.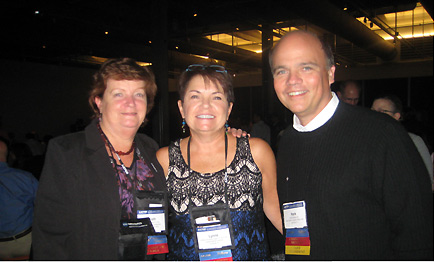 Faith Bishof, Lynne Romeiser Logan, Hank Chambers