President's Message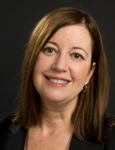 Hello friends and colleagues!
I hope you have survived the winter – a tough one in many places – and are enjoying the rejuvenation of spring!
The AACPDM has been busy through the winter and early spring. Rich Stevenson and his Scientific Program Committee led by Lisa Samson-Fang and Mark Romness with the support of Marie Grevsmuehl from our office have been busy planning the Annual Meeting for Milwaukee in October 2013. We were all thrilled to see the large number of abstracts submitted for the meeting - thanks to all of you. The program is shaping up very nicely and will be posted on line very soon. You will see the high quality educational line up – and great social events too! Keep an eye open for it on the Annual Meeting webpage.
In addition to planning the Annual Meeting, all the committees continue to be busy. You have received and responded to surveys from a number of the committees – thanks again. The committees are shaping up their actions based on your input. Be sure to watch for the enhanced social media presence of the Academy thanks to the effects of the Multimedia Education Committee.
The Board approved a new endeavor – the Transformative Practice Award– at the March 2013 meeting. You'll find information about that opportunity in this newsletter. Thanks to all who have worked on putting that together. Strategic planning has been a huge focus for the Board and Board Executive this past fall, winter and spring. Strategic planning is one of the most important activities of our Academy. It's critical if we are to keep ourselves current and relevant to our members. We had last undertaken strategic planning almost five years ago and produced a plan which was used successfully in guiding our direction. Given the five year time frame, this was an opportune time to rejuvenate our direction and plans.
Getting the strategic planning process "right" is important. We have done our best to be thoughtful and inclusive. First, we reviewed "data" about our Academy's success and our areas for improvement based on our membership data and your feedback/evaluations over the past number of years. This past February, we collected survey data from all of you by emailing a survey to the full membership. We had a good response rate to that survey – thank you! We also emailed a survey to all the Past Presidents to gather their thoughts. We (through our strategic planning consultant) conducted phone interviews of a some number of "key informants" that included some non-members, student members (or as we like to think of them "future members"), sponsors/corporate colleagues, research partners and others. Having compiled all this information into a briefing package, we then held an AACPDM Strategic Planning Retreat. The Board, all the committee chairs and some key informants (such as some student and new members who represent our future) participated in a 1 1/2 day, jam-packed, energetic strategic planning exercise in Chicago in March. Our consultant expertly led us through exercises ranging from the strategic tactic of mind-mapping (see the photo attached) through concrete exercises focused on goal setting with specific measurable objectives. We were excited to see some crisp themes emerge, some of which will constitute new directions for the AACPDM.
We are in the process of finalizing the report and the next steps. This work is important enough that you will receive a separate email from us with an update. We expect to continue to work on refining the plan and its specific actions when we are together at the Annual Meeting in Milwaukee. Thanks to all who participated and to Tracy Burr for her critical assistance. It's exciting work and will help guide us into the future.
All the best until we next meet,
Maureen O'Donnell MD MSc FRCPC
President, AACPDM
News You can Use
AACPDM Announces the
TRANSFORMATIVE PRACTICE AWARD
The AACPDM is pleased to announce the introduction of a new award designed to facilitate sharing of expertise among members of the Academy. The Transformative Practice Award will provide financial support for collaboration among members for the purpose of implementing an evidence-based management strategy in clinical practice. One award of up to $4000.00 will be available for 2013. The application deadline is Friday, August 16, 2013 and the recipient will be announced at the 2013 annual meeting.
For the terms of the award and the application form click here.
67th Annual Meeting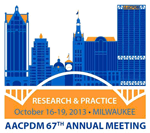 Thank you to everyone who submitted an abstract for the AACPDM 67th Annual Meeting. A total of 448 abstracts were submitted!
As abstracts are at the foundation of our meeting, we expect to have a strong and diverse scientific program at the Annual Meeting. The Scientific Program Committee worked diligently during the month of February reviewing abstracts and then met in person in March to finalize this year's educational program. We anticipate the following breakdown of presentations:
90 Free Paper Presentations
38 Instructional Courses
18 Breakfast Seminars
108 Poster Displays
We look forward to an outstanding Annual Meeting in Milwaukee! Check it out!
The preliminary program and registration for the AACPDM 67th Annual Meeting will be available by May 31st. For more details and up to date information please visit the 67th Annual Meeting website.
Book Your Hotel Now!
Welcome to the Hilton Milwaukee Downtown!
509 West Wisconsin Avenue
Milwaukee, WI 53203
The Hilton Milwaukee Downtown hotel is a classic art deco hotel with rich furnishings
Group Room Rate Single/Double: $159.00
This rate is valid until September 15, 2013. Click here to make your reservation.
Strides in Research
Did you know you can subscribe to a weekly digest of research concerning cerebral palsy?
J Child Neurol. 2013 Apr 12. [Epub ahead of print]
Further Evaluation of the Scoring, Reliability, and Validity of the Hypertonia Assessment Tool (HAT)
Knights S, Datoo N, Kawamura A, Switzer L, Fehlings D. Bloorview Research Institute, Holland Bloorview Kids Rehabilitation Hospital, Toronto, ON, Canada.
Abstract:
We assessed the impact of videotape analysis on scoring of the Hypertonia Assessment Tool (HAT) that discriminates between hypertonia subtypes. The HAT was administered to 28 children with cerebral palsy (mean age 9 years, range 4-17 years, 61% male). HAT examinations were videotaped; scores were assigned before and after videotape review. Neurological examination provided the gold standard diagnosis. Interrater reliability, criterion validity and individual item validation were assessed using prevalence and bias-adjusted kappa (PABAK). Videotape review did not significantly change the HAT item scores or diagnoses. Item validation eliminated 1 dystonia item. Interrater reliability was moderate for dystonia (PABAK = 0.43) and excellent for spasticity and rigidity (PABAK = 0.86-1.0). Criterion validity was substantial for spasticity (PABAK = 0.71), moderate for dystonia (PABAK = 0.43-0.57) and excellent for the absence of rigidity (PABAK = 1.0). The HAT can be administered without videotape review. Dystonia item 1 did not change the HAT hypertonia diagnosis and will be removed from the HAT.
PMID: 23584688
AHRQ published an excellent new evidence report on feeding interventions for children with cerebral palsy. If you haven't seen this report, take a look. This is a systematic review with evidence based recommendations. To summarize: there is moderate evidence for oral appliances to stabilize the jaw, improve sucking, tongue coordination, lip control, and chewing. All other interventions (G-tube, J-tube, positioning, sensorimotor interventions, altering food consistency, feeding devices) showed low or insufficient evidence. The outcome measures were growth, respiratory outcomes, quality of life, morbidity and mortality, reflux and harms.
---
Selected abstracts from DMCN
A multi-site study of functional outcomes following a themed approach to hand–arm bimanual intensive therapy for children with hemiplegia
Dido Green, Mitchell Schertz, Andrew M Gordon, Amarlie Moore, Tamara Schejter Margalit, Yvonne Farquharson, Dafna Ben Bashat, Maya Weinstein, Jean-Pierre Lin, Aviva Fattal-Valevski
Aim
This study investigated the effects of a theme-based ('magic') variation of the hand–arm bimanual intensive therapy programme, in two different countries, in improving activity performance for children with hemiplegia, including those with severe movement restrictions.
Method
Twenty-three children with spastic hemiplegia (13 males, 10 females; mean age 10y 7mo, range 7–15y; Manual Ability Classification System level I, two; level II, 13; level III, eight), participated in one of three, 2-week, summer camps. A within-participant experimental design was used with the Assisting Hand Assessment and Children's Hand Experience Questionnaire as primary outcome measures. Evaluations occurred immediately before the first day, on the last day, and 3 months after intervention. Two groups underwent additional assessments 2 weeks before the camp.
Results
Significant intervention effects were seen on the Assisting Hand Assessment (p=0.002) and on the Children's Hand Experience Questionnaire (p<0.001), the latter maintained at follow-up. The affected hand was reported to be used in 25% of bimanual activities before the camp, progressing to 93% after camp, and decreasing to 86% at follow-up. Severity of impairment did not influence progress.
Interpretation
This themed approach to intensive intervention showed positive results in bimanual use, with improvements in independence sustained at follow-up. Although children across camps and motor severity made progress, some questions remain about intensity and duration of intervention to optimize longer-term outcome.
http://onlinelibrary.wiley.com/doi/10.1111/dmcn.12113/abstract
---
Validation of the Focus on the Outcomes of Communication under Six outcome measure
Nancy Thomas-Stonell, Bruce Oddson, Bernadette Robertson, Peter Rosenbaum
Aim
The aim of this study was to establish the construct validity of the Focus on the Outcomes of Communication Under Six (FOCUS©),a tool designed to measure changes in communication skills in preschool children.
Method
Participating families' children (n=97; 68 males, 29 females; mean age 2y 8mo; SD 1.04y, range 10mo–4y 11mo) were recruited through eight Canadian organizations. The children were on a waiting list for speech and language intervention. Parents completed the Ages and Stages Questionnaire – Social/Emotional (ASQ-SE) and the FOCUS three times: at assessment and at the start and end of treatment. A second sample (n=28; 16 males 12 females) was recruited from another organization to correlate the FOCUS scores with speech, intelligibility and language measures. Second sample participants ranged in age from 3 years 1 month to 4 years 9 months (mean 3y 11mo; SD 0.41y). At the start and end of treatment, children were videotaped to obtain speech and language samples. Parents and speech–language pathologists (SLPs) independently completed the FOCUS tool. SLPs who were blind to the pre/post order of the videotapes analysed the samples.
Results
The FOCUS measured significantly more change (p<0.01) during treatment than during the waiting list period. It demonstrated both convergent and discriminant validity against the ASQ-SE. The FOCUS change corresponded to change measured by a combination of clinical speech and language measures (K=0.31, p<0.05).
Conclusion
The FOCUS shows strong construct validity as a change-detecting instrument.
http://onlinelibrary.wiley.com/doi/10.1111/dmcn.12123/abstract
---
A systematic review of tests to predict cerebral palsy in young children
Margot Bosanquet, Lisa Copeland, Robert Ware, Roslyn Boyd
Aim
This systematic review evaluates the accuracy of predictive assessments and investigations used to assist in the diagnosis of cerebral palsy (CP) in preschool-age children (<5y).
Method
Six databases were searched for studies that included a diagnosis of CP validated after 2 years of age. The validity of the studies meeting the criteria was evaluated using the Standards for Reporting Diagnostic Accuracy criteria. Where possible, results were pooled and a meta-analysis was undertaken.
Results
Nineteen out of 351 studies met the full inclusion criteria, including studies of general movements assessment (GMA), cranial ultrasound, brain magnetic resonance imaging (MRI), and neurological examination. All studies assessed high-risk populations including preterm (gestational range 23–41wks) and low-birthweight infants (range 500–4350g). Summary estimates of sensitivity and specificity of GMA were 98% (95% confidence interval [CI] 74–100%) and 91% (95% CI 83–93%) respectively; of cranial ultrasound 74% (95% CI 63–83%) and 92% (95% CI 81–96%) respectively; and of neurological examination 88% (95% CI 55–97%) and 87% (95% CI 57–97%) respectively. MRI performed at term corrected age (in preterm infants) appeared to be a strong predictor of CP, with sensitivity ranging in individual studies from 86 to 100% and specificity ranging from 89 to 97% There was inadequate evidence for the use of other predictive tools.
Summary
This review found that the assessment with the best evidence and strength for predictive accuracy is the GMA. MRI has a good predictive value when performed at term-corrected age. Cranial ultrasound is as specific as MRI and has the advantage of being readily available at the bedside. Studies to date have focused on high-risk infants. The accuracy of these tests in low-risk infants remains unclear and requires further research.
http://onlinelibrary.wiley.com/doi/10.1111/dmcn.12140/abstract
Committee Updates
LIFESPAN CARE COMMITTEE
The Lifespan Care Committee of the AACPDM is collecting names of individuals and/or clinics that provide care for adults with pediatric onset disabilities (cerebral palsy, spina bifida, muscular dystrophy, etc).
We plan updating our listing of these providers on the AACPDM website to provide information to members, other professionals and consumers about these services. Although we will include the caveat that we are not endorsing these services, we do want to give information that will be valuable to the user, so we are most interested in names of individuals who have experience and knowledge with these populations.
If you would like to be included in this list or recommend other providers, please send:
Name(s)
Contact information
Specialty
Any other information that would be useful, such as the scope of service (e.g., adults with cerebral palsy).
Please send this information to the AACPDM office at info@aacpdm.org by June 15th for inclusion in the listing. Feel free to send it any time after that for inclusion in updated lists.
MULTIMEDIA EDUCATION COMMITTEE
The multi-media committee is busy trying to get your attention! We are shepherding a redesign of the website, planning many more tweets and contributing to our Facebook page in addition to the usual work of the committee in evaluating submissions for the Sage award. Please follow us on twitter @aacpdm, like us on Facebook (AACPDM) and go to your website (www.aacpdm.org). If you have something you think the membership would like or need to know, send it to us. loganl@upstate.edu (newsletter or tweets), kmurphy@gillettechildrens.com (tweets), susan@voicedoctor.net (webmistress Susan Sienko Thomas).
Our Amazing Patients
Source of News and Information for People who use Wheelchairs
Book Nook
Measures for Children with Developmental Disabilities: An ICF-CY approach
Editor: Annette Majnemer, PhD OT
Congratulations to Board member Annette Majnemer, editor of Measures for Children with Developmental Disabilities: An ICF-CY approach.
This excellent reference book provides a compendium of tests across domains including those not typically included in occupation based texts such as novel neuroimaging tools and wakefulness and sleep. Reliability, validity and sensitivity are addressed in each measure as well as advantages and disadvantages. The organization by ICF domain allows for diagnosis-free selection of measurement tools which should encourage more complete assessment of important domains across diagnoses.
The first chapter on selection and use of outcome measures is a detailed primer on the importance of evaluating measures to be sure they meet the purpose for testing. The significance of psychometrically sound measurements is reviewed and reinforced in every chapter.
The second chapter succinctly reviews the ICF framework and why it is useful when selecting an appropriate measurement tool.
The following section suggests appropriate tools to measure body structure and function including those mentioned above as well as genetic tests, intellectual and psychosocial functions, temperament and personality, attention, emotional function, perceptual, language, general sensory function, pain, voice and speech and movement. Global developmental functions and activity and participation each have a section. Contextual factors and holistic health and well-being also have sections. The evaluation of services is included under contextual factors.
Chapter authors are from around the world, some well-known in their fields, others will be new to you. There is enough consistency in the format to allow for easy browsing but each chapter is structured appropriately to its subject.
This book should have a place in every environment where children are assessed.
Resources
Are you familiar with the American Association on Health and Disability? Dedicated to improve overall health and reduce health disparities for people with disabilities through health promotion and wellness. http://www.aahd.us/
For Physical Therapists seeking funding: The Foundation for Physical Therapy now is accepting applications for the 2013 Florence P. Kendall Doctoral Scholarships and the 2013 Research Grants.
The deadline for all applications is Wednesday, August 14, 2013, 12:00 pm ET.
Questions? E-mail the Foundation or call 800/875-1378.
Be among the first to receive news about research, funding opportunities, and much more. Sign up today for the F4PT Alert mailing list by contacting Rachael Crockett.
Note from the Editor
Spring has been slow in coming this year in central New York. We had a local snowstorm this week (4/2) that dumped up to 7". Sigh, I am ready for things to be green not white! Our local college basketball team has advanced to the Final Four, so Syracuse Orange is everywhere today in preparation for tomorrow's semifinal game (ed note: we lost). Our semi-pro hockey team the Syracuse Crunch is in first place in their division and I'm off to support them tonight. Hope a game breaks out amidst all the fighting.
In this edition you will find a review of a member's book and a link to an excellent new evidence report on feeding in children with cerebral palsy. We have reports from the midyear meeting which included strategic planning, the multi-media committee and a bit about our upcoming meeting in Milwaukee. Also we are highlighting recent articles by our members published in DMCN and elsewhere. If you'd like me to highlight your most recent article, email me with the reference and abstract.
Please respond to the lifespan committee's request if you provide adult services.
Please drop me an email if you'd like to write something or announce something in this newsletter. I am always looking for appropriate books to review. The only thing keeping this newsletter from being more frequent is content you can use.
Best to all,
Lynne
Section on Pediatrics
Non-US PT's and other clinicians in pediatrics are eligible for this benefit through the American Physical Therapy Association's section on Pediatrics. http://www.pediatricapta.org/ is the link to the pediatrics section's partners option for non-pediatric section members who are pediatric practitioners. The cost is $75 and creates a way for non-APTA members to get the benefits of membership without the cost.
Why Should You Become a Partner of the Section on Pediatrics?
As a Partner of the Section on Pediatrics you will receive the following benefits:
An annual online subscription Pediatric Physical Therapy, the Section's award-winning, Medline-listed quarterly journal. You will be able to access PPT online and via podcast.
Free optional membership in the Section's six Special Interest Groups: Pediatric Sports-Fitness, Adolescents & Adults with Developmental Disabilities, Neonatology, School-based Physical Therapy, Early Intervention, and Hospital-based Physical Therapy.
Members-only information on the Section's Web site, including the latest reimbursement and legislative news.
A twice annual Section newsletter, posted on our Web site, and monthly E-News blast e-mails.
Answers to your questions via the Section on Pediatrics Online Community.
Discounts on registration for Section courses, including the Section on Pediatrics Annual Conference, and on Section products.
Most importantly, you'll be part of a network of members – in your state, in your region, and across the country – and a part of a collective voice for pediatric physical therapy.
facebook page https://www.facebook.com/APTASectionOnPediatrics
twitter @APTASoP
OrthoPediatrics Travel Scholarships

The OrthoPediatrics Travel Scholarships to the 67th Annual Meeting are designed to allow six (6) residents/fellows in training or medical professionals early in their career to attend our Annual Meeting who would not otherwise be able to attend.
Scholarship Recipients Receive:
Complimentary basic registration to the Annual Meeting
Complimentary Instructional Courses
Valuable networking opportunities
Opportunity to learn from multi-disciplinary experts in the field of childhood-onset disabilities
Reimbursement of travel, hotel and meal expenses up to $1,500.00
Application Submission Process
Applicants are expected to submit a request letter of support, explaining their needs/benefits to receive the travel grant. The letter will entail their role in treating patients with cerebral palsy and other childhood-onset disabilities.
Residents/Fellows in training will need a support letter from their education institution. Physicians in their first year of practice and allied health professionals need a support letter from their supervisor.
The entire submission to be submitted in one PDF file format to scholarship@aacpdm.org by June 30th. Click here for full details.