Board of Directors nominees
Slate of Nominees
AACPDM Board of Directors
Second Vice President: Unni G. Narayanan, MBBS, MSc, FRCS(C)
Unni Narayanan is a pediatric orthopaedic surgeon at the Hospital for Sick Children and the Holland Bloorview Kids Rehabilitation Hospital in Toronto. He is an Associate Professor in the Department of Surgery at the University of Toronto and a Senior Scientist in the Bloorview Research Institute.
A native of Madras (Chennai), India, and a graduate of Madras Medical College, he completed his orthopaedic residency at the University of Minnesota, a cerebral palsy/gait analysis fellowship at Gillette Children's Hospital, and his paediatric orthopaedic fellowship at The Hospital for Sick Children in Toronto. He followed this with a Masters degree in clinical epidemiology at the University of Toronto, before he was appointed to his current position.
His clinical practice is focused primarily on the care of children with cerebral palsy. He also has an interest in the management of congenital, and acquired lower limb deformities and length discrepancies and pediatric trauma.
Dr. Narayanan's research involves the exploration of patient priorities and preferences for the development of outcome measures for use in clinical trials to evaluate the effectiveness of interventions and health care technologies for musculoskeletal disorders in children. His research is funded by the Canadian Institutes of Health Research (CIHR) and other agencies. His work has been recognized with the Mac Keith Press Young Investigator Award from the AACPDM in 2005, the Angela Kuo Memorial Investigator award from Pediatric Orthopaedic Society of North America (POSNA) in 2006, and the Arthur H. Huene Memorial Award from POSNA in 2013 for his work on CP hip outcomes.
He has served on the Board of Directors of the AACPDM and POSNA, been a member of and chaired various committees in both Societies. In 2006 he was the Scientific Program Chair of the 60th (Diamond Jubilee) Annual meeting of AACPDM. He has served a 5 year term on the Orthopaedic Examination Board for the Royal College of Physicians and Surgeons of Canada.
A significant proportion of his time is devoted to teaching orthopaedic & pediatric residents and pediatric orthopaedic fellows at The Hospital for Sick Children, where he serves as the Director of the Fellowship program as well as the director of the pediatric orthopaedic program for the Orthopaedic Residents of the University of Toronto. He has received numerous teaching and research awards for his work. Dr. Narayanan has traveled widely as an invited speaker or visiting professor both within North America and internationally to speak about his research and lecture on cerebral palsy, outcomes research, evidence based orthopaedics and a wide range of pediatric orthopaedic subjects.
Director at Large: Mark Romness, MD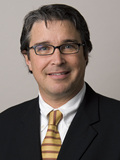 Dr. Romness is Associate Professor in the Department of Orthopaedic Surgery with dual appointment in the Department of Pediatrics at the University of Virginia (UVA), Charlottesville. He is Associate Medical Director of the Motion Analysis & Motor Performance Laboratory with focus on clinical studies and is Medical Director of the Orthopaedic Orthotics and Prosthetics Division. He received his Doctorate of Medicine and completed his residency in Orthopaedics at Northwestern University Medical School in Chicago. His Pediatric Orthopaedic fellowship was at the Royal Children's Hospital in Melbourne, Australia.
Dr. Romness has been a member of the AACPDM since 1993 when he joined the Newington Children's Hospital that merged to form the Connecticut Children's Medical Center in 1996. He has been at the University of Virginia since 2004. He has served on the AACPDM Awards Committee, Nominating Committee and was Scientific Program Co-chair for the 2013 Annual Meeting in Milwaukee. He was involved with last year's AACPDM Strategic Plan development meetings and will support the goals and core values of the Academy that were developed at those meetings.
Dr. Romness' career has focused on medical education and he is Undergraduate Medical Director for the Department of Orthopaedics at UVA. He is also current President of the Virginia Orthopaedic Society and a member of the American Academy of Orthopaedic Surgeons, Pediatric Orthopaedic Society of North America and Eastern Orthopaedic Association.
Director at Large: Lisa Samson-Fang, MD
Dr. Samson-Fang recently shifted her career focus having moved from University of Utah academic setting to a a private practice setting combining developmental pediatric consultation with primary care pediatrics with an enhanced focused on the Medical Home model of care and care of CSHCN, She also provides developmental pediatric consultative support to Shriner's Hospital in Salt Lake City and is pediatric consultant to the Shriner's Osteogenesis Imperfecta Clinic. She continues to teach in her current setting currently working with Pediatric Psychiatry Fellows and mentoring a PNP in training with for her clinical project (use of motivational interviewing in management of pediatric obesity). Dr. Samson-Fang's recent collaborations have been with the United Cerebral Palsy Foundation (parent support website), the Utah Medical Home Portal (web site to support primary care clinicians in providing optimal care for CSHCN). She is a member of the American Board of Pediatrics and is on the ABPs Pilot Testing Committee for the General Pediatric Certifying Examination. She is an active member of the AACPDM as a presenter and committee member (Treatment Outcomes). She was Scientific Program Committee C0-Chair in 2013.
Last updated: June 24, 2014