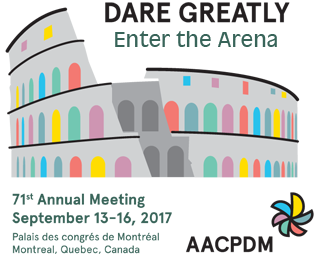 AACPDM 71st Annual Meeting
September 12-16, 2017, Montreal, Quebec, Canada
Handouts
All sessions for which handouts were submitted are included below. If you do not see a link listed, it is because we did not receive a handout for the course. If you are a presenter who would like to submit your handout for inclusion on this page, please email meetings@aacpdm.org
Wednesday, September 13, 2017
EPIGENETICS SYMPOSIUM: ENVIRONMENTAL AND GENOMIC FACTORS IN NEURODEVELOPMENTAL DISABILITIES
ULTRASOUND SYMPOSIUM: NEUROMUSCULAR ULTRASOUND: HANDS ON ULTRASOUND TRAINING COURSE FOR CHEMODENERVATION PROCEDURES
GCMAS SYMPOSIUM: QUANTITATIVE TECHNIQUES FOR ASSESSMENT OF UPPER EXTREMITY MOVEMENT DYSFUNCTION
PC 1: COLLABORATIVE DEVELOPMENTAL MONITORING TO PROVIDE OPTIMAL INDIVIDUALIZED SERVICES FOR CHILDREN WITH CEREBRAL PALSY
PC 2: A MULTIDISCIPLINARY ROADMAP TO NAVIGATING PAIN IN ADULTS WITH CEREBRAL PALSY
Thursday, September 14, 2017
Breakfast Seminars
BRK01: A PRACTICAL APPROACH TO GENETIC TESTING FOR CHILDREN WITH NEURODEVELOPMENTAL DISORDERS
BRK02: A PROGRAM TO MEASURE WALKING ACTIVITY PRE AND POST SURGERY IN YOUTH WITH CEREBRAL PALSY
BRK03: COMPETENCE IN COMPLEX CARE: EDUCATIONAL APPROACHES TO EMPOWER FUTURE HEALTHCARE TEAMS
BRK04: MORE THAN "JUST DATA": GETTING THE MOST OUT OF A CEREBRAL PALSY REGISTER
BRK05: READY TO EAT? CAN TRAINING CAREGIVERS IMPROVE PARTICIPATION IN FEEDING FOR CHILDREN WITH CEREBRAL PALSY
BRK06: SLEEP PROBLEMS IN THE CHILD WITH PHYSICAL DISABILITIES
BRK07: SO YOU WANT TO BUILD A ROBOT FOR REHABILITATION....
BRK08: UNDERSTANDING THE SPEED OF AGING IN ADULTS WITH CEREBRAL PALSY
BRK09: WHEN A PICTURE PAINTS A THOUSAND WORDS: ACCURATE DESCRIPTION AND APPLICATION OF THE GROSS MOTOR FUNCTION CLASSIFICATION SYSTEM
BRK10: YES, CLINICAL RESEARCH CAN BE DONE IN YOUR BUSY PRACTICE!
Instructional Courses
IC01: A MULTI-DISCIPLINARY APPROACH TO SURGERY FOR TREATING HIP DISPLACEMENT: A PERI-OPERATIVE JOURNEY FROM PLANNING TO OUTCOMES
IC02: APPLICATION OF MIYOGA, A NOVEL EMBODIED MINDFULNESS MOVEMENT PROGRAM, FOR CHILDREN WITH CEREBRAL PALSY
IC03: DIFFERENTIATING BETWEEN PRIMARY, SECONDARY AND COMPENSATORY MECHANISMS IN GAIT IN PERSONS WITH CEREBRAL PALSY
IC04: FUNCTIONAL NEAR-INFRARED SPECTROSCOPY (FNIRS): A NOVEL EMERGING MOBILE BRAIN IMAGING TECHNOLOGY FOR INVESTIGATION OF CORTICAL ACTIVATION DURING FUNCTIONAL MOTOR TASKS IN INDIVIDUALS WITH CEREBRAL PALSY
IC05: HYPERTONIA MANAGEMENT IN CEREBRAL PALSY: PAST IDEAS AND LESSONS, CURRENT PRACTICE AND OUTCOMES, FUTURE INNOVATIONS AND POSSIBILITIES
IC06: MAXIMIZE NEUROPLASTICITY AND MINIMIZE MALADAPTIVE HABITS IN CHILDREN AND TEENAGERS WITH CEREBRAL PALSY
IC07: PATIENT REPORTED OUTCOMES: STATE OF THE SCIENCE 2017
IC08: PRINCIPLES AND BASICS OF CLINICAL RESEARCH FOR CLINICIANS
IC09: STEPPING INTO PHYSICAL THERAPY MANAGEMENT FOR INDIVIDUALS WITH CEREBRAL PALSY FOLLOWING SINGLE EVENT MULTI-LEVEL SURGERY
IC10: THE NATIONAL INSTITUTE OF NEUROLOGICAL DISORDERS AND STROKE (NINDS) AND AMERICAN ACADEMY OF CEREBRAL PALSY AND DEVELOPMENTAL MEDICINE (AACPDM) CEREBRAL PALSY COMMON DATA ELEMENTS (CDE) RECOMMENDATIONS
IC11: THE SINGLE EVENT MULTI-LEVEL SURGERY (SEMLS) WENT WELL, NOW WHAT? AN EVIDENCED-BASED GUIDE TO MANAGEMENT IN THE FIRST YEAR AFTER SURGERY TO IMPROVE GAIT
IC12: THE YEAR'S TOP TEN ARTICLES ON DEVELOPMENTAL DISABILITIES
IC13: USING COGNITIVE TRAINING (CO-OP APPROACH) AS A REHABILITATIVE TOOL FOR CHILDREN WITH NEURODEVELOPMENTAL DISORDERS INCLUDING CEREBRAL PALSY
Friday, September 15, 2017
Breakfast Seminars
BRK11: A MODEL FOR CARE COORDINATION IN A PRIMARY MEDICAL & ORTHOPEDIC CEREBRAL PALSY CENTER
BRK12: BOTULINUM TOXIN A AND SPASTIC EQUINUS – WHEN TO START, HOW OFTEN AND WHEN TO STOP: A ROAD MAP FOR MANAGEMENT
BRK13: CEREBRAL VISUAL IMPAIRMENT IN INFANCY: FROM NEUROPLASTICITY TO INTERVENTION
BRK14: COMPLEX CARE MEETS BIOMEDICAL ENGINEERING: A PARTNERSHIP THAT WORKS
BRK15: DARE GREATLY: INVOLVING YOUTH WITH NEURODEVELOPMENTAL DISABILITIES AS CO-RESEARCHERS
BRK16: INTERPRETING HIP SURVEILLANCE X-RAYS WITH THE HIPSCREEN APP: A PRIMER FOR THE RADIOLOGY NOVICE
BRK17: MEET ME IN THE ARENA: FIGHTING FOR RECREATIONAL OPPORTUNITIES FOR CHILDREN AND YOUTH WITH DISABILITIES
BRK18: QUALITY IMPROVEMENT THROUGH THE CEREBRAL PALSY RESEARCH NETWORK
BRK19: READING BETWEEN THE LINES: USING METABOLIC AND GENETIC TESTING TO FURTHER ASSESS PATIENTS WITH CEREBRAL PALSY
BRK20: SPINA BIFIDA: MANAGEMENT TOWARDS AN OPTIMAL UPRIGHT STANDING AND WALKING
Instructional Courses
IC14: A MULTIDISCIPLINARY APPROACH TO IMPROVING GAIT IN CHILDREN WITH CEREBRAL PALSY WITH RHIZOTOMY: PATIENT SELECTION, SHORT TERM OUTCOMES AND LONG TERM OUTCOMES
IC15: AN OVERVIEW AND UPDATE OF EVALUATION AND MANAGEMENT OF PAIN IN PEOPLE WITH CEREBRAL PALSY
IC16: BRAIN STRUCTURE AND FUNCTION IN CHILDREN WITH CEREBRAL PALSY: STATE OF THE CLINICAL SCIENCE
IC17: ETHICAL ISSUES IN NEURODEVELOPMENTAL DISABILITY: AN OPEN FORUM ON PROCESSES TO ADDRESS THEM
IC18: EVALUATION OF ORTHOSIS FUNCTION IN CHILDREN WITH NEUROMUSCULAR DISORDERS USING MOTION ANALYSIS OUTCOMES
IC19: GAIT ANALYSIS AT YOUR FINGERTIPS: ENHANCING OBSERVATIONAL GAIT ANALYSIS USING MOBILE DEVICE TECHNOLOGY AND THE EDINBURGH VISUAL GAIT SCALE
IC20: HOW TO INCORPORATE MOTOR LEARNING STRATEGIES INTO MOTOR SKILLS-BASED INTERVENTIONS FOR CHILDREN WITH CEREBRAL PALSY
IC21: INTRODUCTION TO THE NEW AACPDM HIP SURVEILLANCE CARE PATHWAY FOR CHILDREN WITH CEREBRAL PALSY: WHAT'S THE CONSENSUS? HOW CAN IT BE IMPLEMENTED?
IC22: MEASURING THE QUALITY OF LIFE (QOL) OF CHILDREN WITH CEREBRAL PALSY: CHOOSING THE BEST INSTRUMENTS
IC23: ORTHOPAEDIC SURGERY FOR THE SPINE AND LOWER LIMB IN CHILDREN WITH CEREBRAL PALSY
IC24: PEARLS AND PITFALLS OF PARTICIPATION-FOCUSED INTERVENTIONS FOR CHILDREN WITH PHYSICAL DISABILITIES
IC25: PROVIDING POWER MOBILITY FOR CHILDREN WITH MULTIPLE, SEVERE DISABILITIES: TRAINING METHODS AND OUTCOMES
IC26: TRANSFORMING HEALTHCARE FOR WOMEN WITH DISABILITIES: EDUCATIONAL TOOLS TO PROMOTE SEXUAL AND REPRODUCTIVE HEALTH FOR YOUNG WOMEN WITH CEREBRAL PALSY
IC27: TROUBLE-SHOOTING FOR CAREGIVERS OF CHILDREN WITH TRACHEOSTOMIES OR HOME CARE VENTILATORS IN THE OUTPATIENT SETTING
Saturday, September 16, 2017
Breakfast Seminars
BRK21: BRIDGING THE GAP BETWEEN NEUROSCIENCE AND CLINICAL RESEARCH IN UNILATERAL CEREBRAL PALSY
BRK22: CHALLENGING CLINICAL SCENARIOS WHERE RETINAL SCANNING FOR COMMUNICATION CAN BE SUCCESSFUL
BRK23: DYSTONIA, SPASTICITY AND CHOREOATHETOSIS: HOW TO RECOGNIZE, DISCRIMINATE AND MEASURE THEM IN CEREBRAL PALSY?
BRK24: FACILITATING PARENT PARTICIPATION IN INTENSIVE THERAPIES: THE PARENTS AS PARTNERS APPROACH
BRK25: INCORPORATING RESISTANCE TRAINING INTO EPISODIC CARE IMPROVES FUNCTION AND PARTICIPATION IN YOUTH WITH CEREBRAL PALSY
BRK26: MOTOR LEARNING IN PEDIATRIC REHABILITATION: THEORY, RESEARCH AND PRACTICE
BRK27: NEUROPATHIC PAIN IN CHILDREN WITH CEREBRAL PALSY
BRK28: STEP INTO THEIR SHOES: BURNOUT WITHIN FAMILIES CARING FOR CHILDREN WITH SPECIAL NEEDS
BRK29: TACTILE INTERVENTION FOR CHILDREN WITH CEREBRAL PALSY: A FRAMEWORK TO GUIDE CLINICAL REASONING AND FUTURE RESEARCH
BRK30: TRANSITIONING ADOLESCENTS AND YOUNG ADULTS WITH CEREBRAL PALSY INTO THE ADULT MILIEU OF HEALTH CARE AND THE WORLD BEYOND
Instructional Courses
IC28: ADAPTIVE SPORTS AND ACTIVITY TRACKING FOR INDIVIDUALS WITH CEREBRAL PALSY (CP)
IC29: ASSESSMENT AND TREATMENT OF ADULT PATIENTS WITH CEREBRAL PALSY AND COMORBID DEPRESSION
IC30: BEYOND RCTS: PRODUCING HIGH LEVEL EVIDENCE USING SINGLE CASE EXPERIMENTAL DESIGN TRIALS
IC31: CLINICAL TOOLS FOR ASSESSMENT OF SELECTIVE VOLUNTARY MOTOR CONTROL IN PATIENTS WITH SPASTIC CEREBRAL PALSY: SELECTIVE CONTROL ASSESSEMENT OF THE LOWER EXTREMITY (SCALE) AND TEST OF ARM SELECTIVE CONTROL (TASC)
IC32: HIP SURVEILLANCE AND MANAGEMENT IN PRACTICE: FROM INITIATION OF SURVEILLANCE TO SURGERY AND BEYOND
IC33: NEURO-ORTHOPAEDIC JOURNAL CLUB: TOP 10 ARTICLES IN THE LAST YEAR RELATING TO THE ORTHOPAEDIC MANAGEMENT OF CHILDREN WITH NEUROMUSCULAR DISORDERS
IC34: PAIN ASSESSMENT WITHOUT BORDERS: KEEPING CHRONIC PAIN ASSESSMENT AT THE FOREFRONT OF CARE FOR CHILDREN WITH CEREBRAL PALSY
IC35: STEPPING INTO THE ARENA: NEUROPLASTICITY IN CHILDREN AND ADULTS WITH CEREBRAL PALSY
IC36: SUPPORTING THE MENTAL HEALTH OF MOTHERS OF CHILDREN WITH A DISABILITY: BUILDING THE CAPACITY OF HEALTH PROFESSIONALS AND EARLY INTERVENTION SERVICES
IC37: TREADMILL PROTOCOLS ACROSS AGES AND STAGES: A FRESH LOOK AT DOSAGE
IC38: ULTRASOUND GUIDED INJECTIONS USING ALCOHOL AND PHENOL IN SPASTICITY MANAGEMENT
IC39: WHEN SPASTICITY AND DYSTONIA CO-EXIST: RE-THINKING CP MOTOR CLASSIFICATION AND MEASUREMENT
Important Dates
December 2016
Abstract submission opens
January 6, 2017
Scholarship applications open
January 31, 2017
Abstract submission deadline
March 2017
Abstract decision notifications sent by the end of March
April 5, 2017
Scholarship applications close
May 2017
Registration opens
Preliminary Program available
Scholarship notices sent out
August 1, 2017
Early Bird registration closes
August 16, 2017
Advance registration closes
August 23, 2017
Hotel group rate cutoff, while rooms are available
September 13-16, 2017
AACPDM 71st Annual Meeting